IFB CONFERENCE, NY FASHION WEEK BLOGGERS PANEL: BRANDS, ADS & SPONSORED POSTS. SLEEVEY WONDERS SLIP-ON SLEEVES.
It was an honor to speak at IFB Conference during NY Fashion Week. I uploaded a video of my moments on the mike.
Keep reading for the goods, and to learn about a marvelous garment for Lolita dresses!
I spoke on the "What are Bloggers Worth?" panel, to an audience of hundreds. What advice did I give? How was my performance?
Watch the video above and on YouTube to decide. (You can also subscribe to my lacarmina channel.)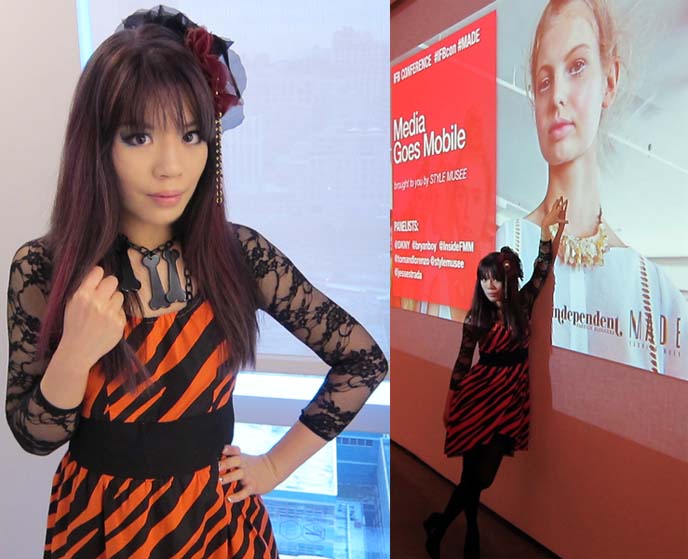 I'm in love with my lace sleeves, a gift from Sleevey Wonders. Since I dislike wearing heavy blouses under sleeveless dresses and Lolita JSKs, these garments are an elegant solution. Made with 4-way stretch fabric, they transform the same dress into a completely different look (a clever way to expand your wardrobe). And the design is slimming: no Photoshop!
Sleevey Wonders generously offered 15% off all orders, with the code LACARMINA15 — so support indie and women-run businesses, and shop away. You can also add their Facebook for more ideas to beautify your wardrobe.
Another lovely Lolita accessory: handmade hair flowers clips. A present from Angelica Brigade.
Always fun to see Bryanboy. He spoke on the IFB social media panel.
Jennine Jacob of The Coveted founded IFB and organized this event — she rocked it. (Photos above by BFA.)
Tiger striped dress: gifted by Sourpuss. (Click to buy the same dress, in cupcake pink and black print.)
Bone necklace: got at the Monomania shop in Laforet Harajuku. Similar to this.
Yukiro wears a Nyanpire cat cosplay jumpsuit from Tokyo.
The other ladies on my panel: Susan Schwartz – Glamour; Jessie Thorpe – Denimology; Jenni Radosevich – I Spy DIY; Kat Griffin – Corporette; Lauren Tesar – Lifebooker.
Always a pleasure to see our friends at Lyst.
Jinna Boo of Grease & Glamour moderated the panel.
To those of who you came: it was wonderful to meet you.
And to those who couldn't make it… hope to see you next time!
Check out more photos from the Evolving Influence event.
Did you enjoy my fashion blogging talk? Intrigued by the Sleevey Wonders garments? I wear a different pair of sleeves in my Industrial dance video for Japan.
Click-click-click below…