Category Archive for
New Orleans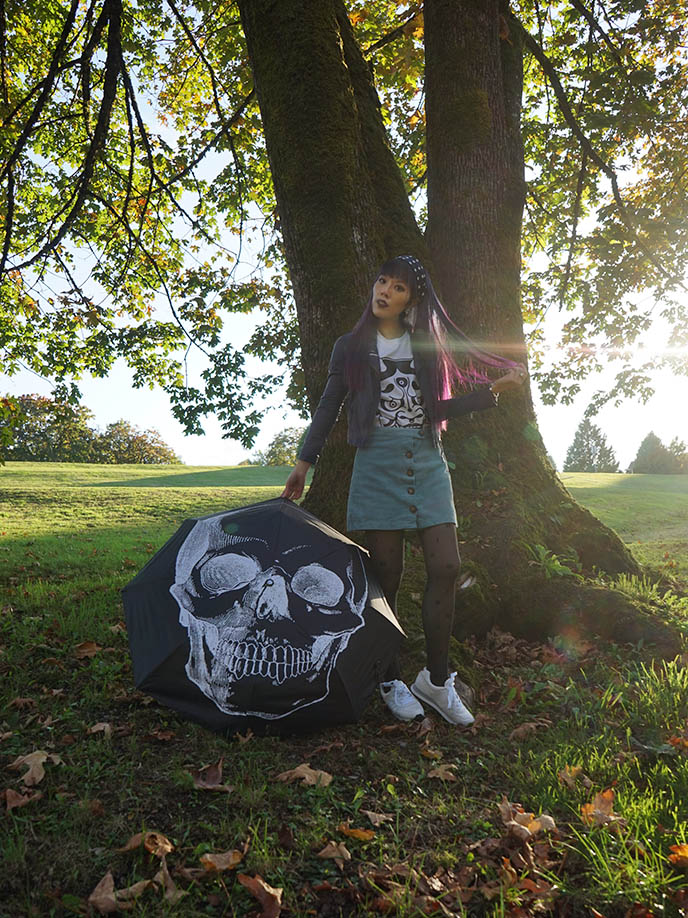 When leaves hit the ground, the veil between the living and the dead is at its thinnest… and I am in my element.
Happy October, everyone. I've missed the fall so much!
I have several Halloween tricks and treats for you, including a major trip…
My skull umbrella from Raven Goods is a hint at where I'm heading at the end of October.
I'm thrilled to announce that I'll be celebrating Day of the Dead in Mexico, on a cultural tour with Borderline Projects and Morbid Anatomy! I can't wait to share our Yucatan journey, which includes intimate encounters with the brushing of the bones, and Dia de Los Muertos.
Scroll to the end of this post for the full info about my deathly travels in Mexico, and how you can join next year's adventure.
I'll also give you a teaser of my Purge TV show adventure: I'm making a little cameo in the finale episode. (Above: I had the hardest time figuring out which one was my trailer…)
Blumhouse Productions and USA Network flew me to New Orleans, so I could get a behind-the-scenes look at the TV production. In our downtime, we did a little purging on Bourbon Street!
Keep reading to see my exclusive set visit, and… new tattoos??
(Season two of The Purge TV show begins airing October 15, on USA Network. I'm in the tenth / last episode.)
First, let's welcome the spookiest time of the year with some devilish outfit photos.
OOTD: Goth umbrella Raven Goods, demon tee 1991NewYork, corduroy skirt Forest Ink, stockings UK Tights, hair scarf and sneakers Lola Ramona.
Isn't this grinning cranium umbrella fabulous? It's my new favorite accessory, from indie Goth boutique Raven Goods.
Raven Goods has a magnificent curated selection of items in black or dark tones: perfect for creatures of the night like ourselves. Their web shop includes dark and Gothic home decor, jewelry, and crystals.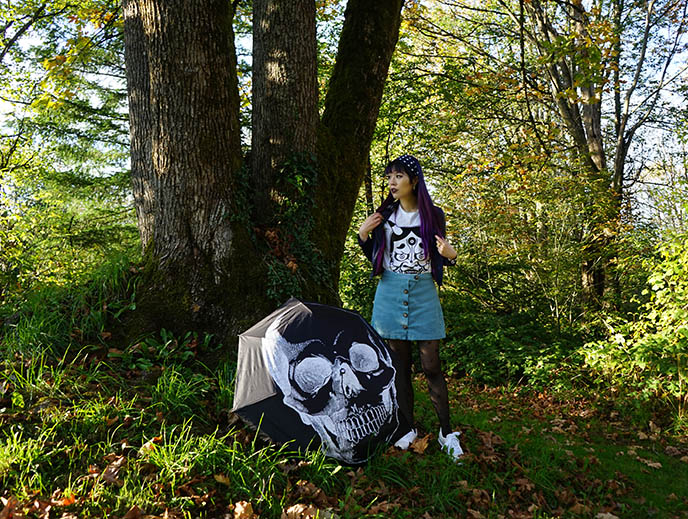 I'm all about supporting small businesses like Raven Goods, which is owned and operated by a husband and wife team. Their dark fashion and home design products are offered at reasonable prices, and they give friendly and fast personal support to their customers.
I love the reflecting crystal in the center of the skull (it looks a bit like a nose ring). The retractable umbrella is perfect for traveling, and doubles as a parasol: the black SPF fabric protects you from the sun.
Take a peek at RavenGoods.com if you fancy items like Victorian anatomy plates, Rococo Gothic bedding, ram's head rings, and dark angel wing earrings.
I invite you to see more on their Instagram @shopravengoods and Twitter @ravengoods.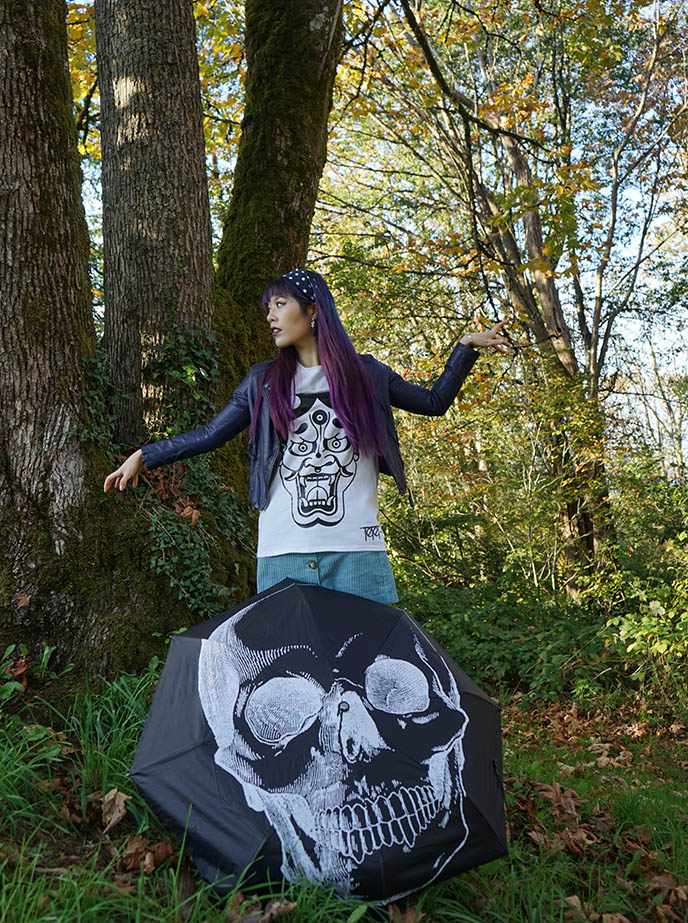 My scowling Japanese devil mask top is by 1991NewYork. It's actually a Hannya, representing a jealous Shinto female demon!
1991 New York is a streetwear brand by NY tattoo artist Hiten Damodar. His screen printed tees are 100% cotton and made in the USA, and feature his tattoo designs based on mythology. (You can see more of his striking designs on his site.)
How do you like my "white demon" look of the day? As you can see, it's possible to do a Gothic look without wearing black.
This is also an example of how to style white sneakers with an outfit.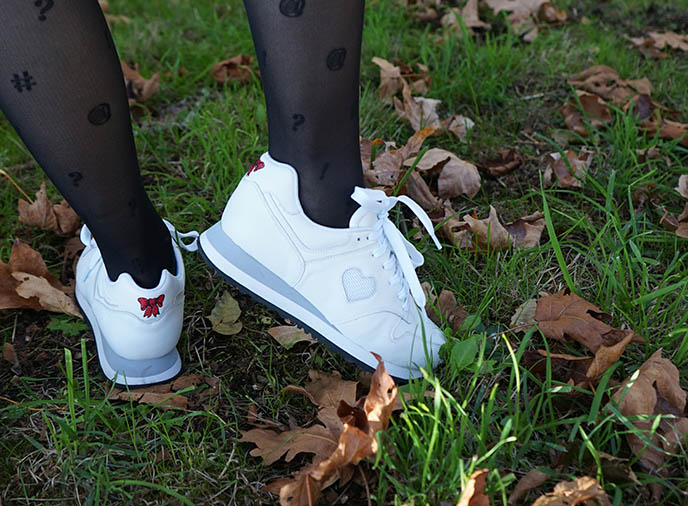 Lola Ramona sent me these Serena Bullseye white leather sneakers, and they're the cutest kicks I've ever seen. In love with the mesh heart on the sides, and red ribbon design in the back. The bouncy sole and comfortable lace-up style makes these sneakers perfect for fall walks.
I matched them with Lola Ramona's retro polka dot scarf, which I wore as a headband. My stockings with keyboard symbols is by UK Tights.
Click the thumbnails below for more shoe styles from Lola Ramona:
Now, let's talk about NOLA! I was invited along with several other journalists to visit the set of The Purge TV, which was shooting its second season after a successful debut.
Before flying to New Orleans, I felt inspired to put together a Purge cosplay. Using caulking and paint, I DIY-ed a Kiss Me mask like the one worn by Kimmy the Candy Girl, in "The Purge: Election Year" movie.
My mask and I sat down to delicious New Orleans lunch: blackened cod po'boy and salad. On this press trip, I got my fill of grits, mahi mahi, gumbo, catfish, and Sazerac cocktails… but boy, are portion sizes immense in the South. Ironically, I was so full from these meals that I was close to Purging!
Quite fittingly for a horror television show, The Purge (season 2) is shot in New Orleans. Many of the new episodes make the most of the city's spooky vibe.
I hadn't been in New Orleans since my first visit in 2014, and it felt great to be back right before Halloween. We only had a few days here, but it was enough to explore a few spots — like Marie Laveau's House of Voodoo.
With its vampire and voodoos connections, New Orleans is one of the Goth-est cities on the planet.
For more travel tips, see my NOLA Gothic guides from my previous trip. I covered the graveyards, haunted places, alternative nightlife and art galleries, you name it.
I've got the urge to purge…
Horror fans will be familiar with The Purge movies by Blumhouse Productions. In this universe, once a year for 12 hours, pretty much all crime is legal.
Some citizens love the annual bloodbath, and get creative in the ways they commit murder. Others hide in fear, or fight against the "New Founding Fathers" that implemented the Purge.
The Purge is now also a highly-rated TV show. The second season follows several characters in a year between the Purges, leading to intertwined storylines. I've watched several episodes of the new season so far, and it's bloody fantastic — better than the first, IMO.
As an invited journalist, I got to go on set while The Purge was filming, and meet the actors and crew. I can't reveal any spoilers, but soon, I'll give you an inside look at the masks, daring stunts and more.
I also got to be an extra in the final episode, in a scene with actors Derek Luke and Rochelle Aytes! (They play a husband and wife whose perfect life is shattered when an assassin breaks into their house on Purge night.)
My lips are sealed when it comes to exactly what I do in my appearance on The Purge TV show. You'll just have to wait until the last episode for my big scene…
However, I can show you this "Kimmy the Candy girl" costume I put together, in tribute to the evil schoolgirl from The Purge: Election Year film!
Here's a wink. I got to wear fake tattoos for my scene in the Purge TV finale!
The makeup artist put this temporary skull tattoo on my hand. I told the crew they could go wild with my hair and makeup, and so they did, as you'll see…
I made sure this crucifix tattoo was upside down. So much fun to embody a different character, and have giant Gothic tattoos for a day.
Here's another look at my Kiss Me mask, and Purge Election Year candy girl outfit.
Compare my cosplay to the character in the Purge movie, above. I think it turned out quite bloody well!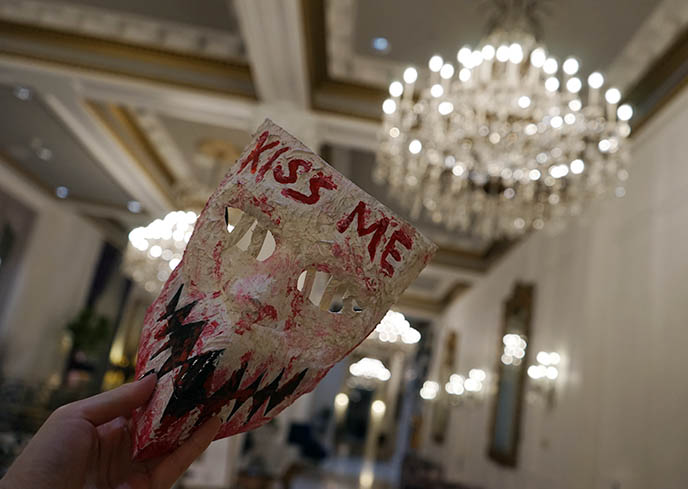 "This is your emergency broadcast system announcing the commencement of the Annual Purge."
The Purge TV show (season 2) starts airing Oct 15 on USA Network. Give it a watch; I assure you that you won't be disappointed. (And you can see me on-screen in the final episode, which will be broadcast Dec 17 at 9pm ET.)
I think you can tell I'm loving Halloween season… Next, I can't wait to celebrate Day of the Dead in Yucatan Peninsula!
Every year, Borderline Projects and Morbid Anatomy offer a curated tour that lets you experience Dia de los Muertos traditions with local communities in Mexico.
I'm joining this year's Mayan Rebirth trip, which will take me to Merida, Campeche, and surrounding areas. Take a peek at our 4-day Mexico itinerary: it includes a "Food for the souls" ritual, a "Festival of the Souls" celebration in a cemetery, and a "Cleaning of the Bones" ceremony in a small town.
Gracias to Borderline Projects for inviting me to take part in this Death In Mexico travel series; I can't wait to learn first-hand about Mayan rituals and folk traditions.
This year's tour is sold out, but there is already a RSVP list open for the 2020 edition. You can email info@borderlineprojects.com for more info and to reserve a spot for next year.
A last look at my nylons from UK Tights, and cute white leather sneakers by Lola Ramona. (See more shoe styles below from this designer.)
Can't wait to get my hands on more Mexican sugar skulls!
(Gothic umbrella Raven Goods, skirt Forest Ink, hair scarf Lola Ramona, Japanese tattoo t-shirt 1991NewYork).
Stay tuned to my Instagram/Twitter @lacarmina to see my adventures in Yucatan for Halloween and Day of the Dead. I also invite you to add Salvador Olguin & Borderline Projects on Facebook, Instagram and Twitter for updates on their cultural journeys.
I'll be stopping in Mexico City as well, so please let me know if you have any travel tips for me. See you at Dia de los Muertos… and watch out for The Purge!
Every Goth who goes to New Orleans is naturally drawn to the graveyards here. St Louis Cemetery is the most famous one, and home to the tomb of voodoo queen Marie Laveau.
However, I'm going to take you on a tour of a lesser-known but more fascinating resting place: Lake Lawn Metairie Cemetery (5100 Pontchartrain Boulevard, New Orleans, LA).
My friend Molly and I heard about Metairie through our playwright / artist friend, Cynthia von Buhler. Like in a lucid dream, we wandered between Metairie's dramatic marble tombs…
… and kissed the Egyptian Sphinx. Read on, and we'll take you to the Weeping Angel (as seen on the cover of Nightwish and Evanescence albums), and more marvels.
If there's one place where a vampire cape is appropriate attire, it would be a graveyard in New Orleans. Mine is by Black Peace Now, a Japanese brand (so it's well made, not a costume piece).
My long blue dress is from Alice's Pig, and the coffin purse is by Killstar. Shoes are Michael Kors. More Goth inspiration below:
Molly reflects, "I remember learning that cemeteries were the first parks, where you would go for a day out in the sunshine, and this felt true to me at Metairie. I felt a tremendous sense of peace, in this place where thousands of people were resting who had experienced the same things we do: love, sadness, learning, changing, curiosity. It made me feel strangely connected to people around me."
"I always like to think that I'm so different and weird, but the sheer scale of the number of graves made me feel wonderfully not unique… that in one of those tombs lay someone who must have viewed the world like I do, even if it was in another era and thus, with different circumstances. Basically, it made me feel like the 'good old days' weren't really different."
I enjoyed walking quietly down  the well-manicured paths, and noticing small details like this butterfly headstone.
Details of my purple-blue-red hair, braided at the top to show the colors. My hairstylist is Stephanie Hoy, at Stratosphere salon in Vancouver, Canada.
The cemetery is enormous. It's not located in the city of Metairie, but within NOLA city limits (about a 30 minute taxi ride from the French Quarter).
Molly and I saw maybe three other people during our stroll. She says, "We were definitely rare tourists at Metairie, but I thought the staff was incredibly kind and welcoming. I liked seeing how well organized the records of the tombs were. It felt like the memories of people's loved ones were safe here, which is how I felt about NOLA in general."
The cemetery was once a horse racing course. In the late 19th century, it turned into the final resting place of notable and wealthy locals.
At first glance, the white marble mausoleums look similar. But the closer you look, the more you see.
The staff told us that there are about 10 different types of crosses gracing the roofs. Above is one with a crown.
The atmosphere at Lake Lawn Metairie wasn't sad or eerie. Instead, it felt like a peaceful space for reflection. I admired the intricate carvings on this tomb (the family is not related to the Moog synthesizer, though they share the name).
At Avenue D, Plot 113, we found what we were looking for. This is the Lucien Napoleon Brunswig tomb, shaped like an Egyptian pyramid.
Brunswig (1854-1943) founded a large pharmaceutical company. I'm not sure why he chose to have such a unique and striking tomb. There isn't any other design like this in Metairie (although actor Nicholas Cage erected a pyramid for himself in Saint Louis Cemetery).
Practicing my disco moves, to match the guardian on the left.
She points to a Winged Sun, surrounded by two cobra snakes. This ancient Egyptian symbol is associated with divinity, royalty and power.
There's something uncanny about this Sphinx, who wears the royal "nemes" striped headcloth. When you look in his eyes, it is as if he stares back. I haven't sensed this with any other statue.
He's the keeper of riddles and mysteries. Who carved him? Why? Is the crack down his nose intentional? An accident, or tribute to the noseless Great Sphinx of Giza?
I don't know. (If anyone holds the keys to these mysteries, please let us know in the comments).
All we can say for sure is that the Sphinx deserved a kiss. Our friend Cynthia did this first, and inspired us to make the same pilgrimage. Perhaps you'll come here too, and add another peck to his lips.
Molly holds on to his big paw. The Sphinx is, after all, a mythical creature with the head of a man, and body of a lion. (Oh, I want to go to Egypt so badly…)
Metairie has the largest collection of funerary statues in the city. I could have wandered here for hours.
(Sneakers are Michael Kors)
Some had colorful stained glass windows.
Some plots were empty. Some had fresh graves.
Others were dark and crumbing.
For the most part, however, the tombs were strikingly well cared for. This doesn't at all feel like a tourist destination (unlike Saint Louis Cemetery, where you'll see groups going on guided tours).
Our shadows approach the Army of Tennessee memorial. This monument honors fallen Confederate soldiers of the American Civil War.
We paid a visit to the Chapman tomb's Weeping Angel, which glows under blue stained glass. (It's found between Avenue G and Central Ave, at plot #1.)
This "Angel of Grief" is modeled after the 1894 sculpture by William Wetmore Story. You might recognize this moving image from the album cover art of Goth bands, Evanescence and Nightwish. 
Angels also rest on the top of monuments…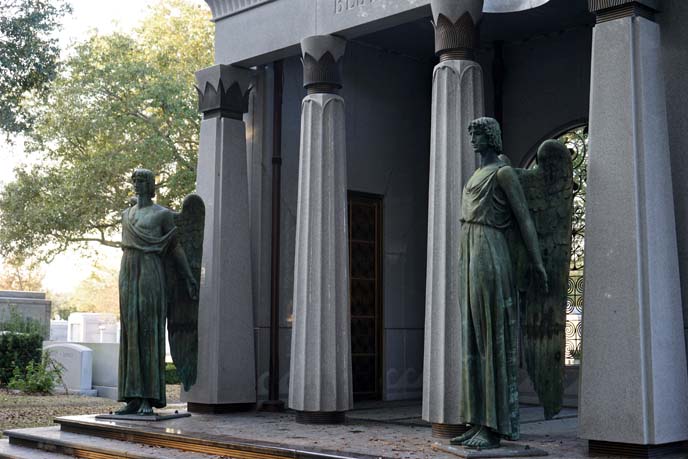 … and stand on guard at the entrances. As you can see from the photo above, some of these memorials are the size of a house.
I felt like I had landed in a strange new world. When I glimpsed the Sphinx, I felt like the time-traveler in H. G. Wells' "The Time Machine."
A buried family, guarded by their faithful dog who holds fresh flowers.
The dog is shedding tears for the dead.
Details of my wood Moat House wood sunglasses, and Killstar coffin purse.
Believe it or not, this was one of my favorite travel experiences of 2014. It's hard to describe, but I think Molly expressed this feeling well at the beginning of this post. Standing by tombs from the 1800s, we felt like we were part of the same human experience.
On the other side of the lawn, there's a garden and Heaven's Pets.
A place to remember our loyal animal friends, who leave "paw prints in our hearts forever."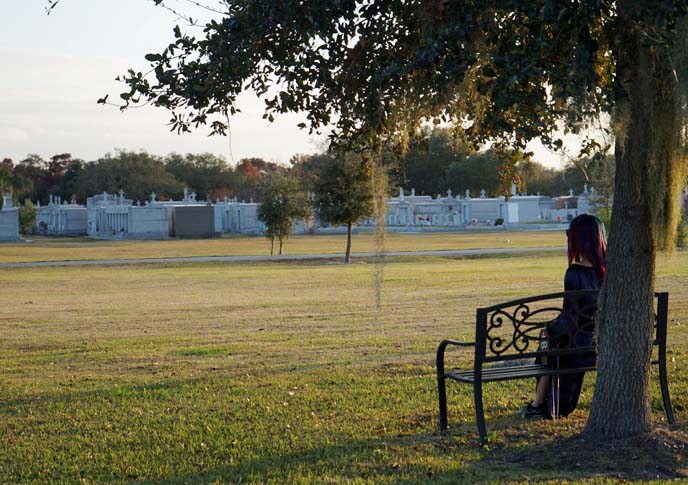 Thoughts upon thoughts, as the sun began to set.
And then I spread my vampire cape, and flew away.
How do you feel about visiting cemeteries? If you have any insight into the Riddle of the Sphinx, please let us know in the comments. (The staff wasn't able to tell us anything, and I couldn't find much more about the enticing Brunswig tomb.)