CLUB CEMETERY & MIDNIGHT NECROPOLIS: TOKYO GOTH INDUSTRIAL 80S DANCE PARTY.
Music and fashion will make or break a nightcrawl, as you saw from Saturday's disappointing Dark Castle Halloween special. Sunday's Club Cemetery (an all-nighter at Shinjuku's Club Hoop) showed 'em how it should be done. Music? The flyer says it all: "Gothic / Dark Electro / New Wave / Psitive Punk / Death Rock."
Fashion? Stricts-ville: "Lolita & Gothic Lolita & Casual & Pop Clothes cannot enter it." What's a Goth to wear (besides black) ? Check out the video below – I hope it makes you laugh! I waffled over the vintage Yohji Yamamoto leather-and-crystal-studs bracelet ($126 from 10/TOW in Shibuya), but I'm glad I treated myself.
Too often, you'll run into foreigners who try to pick up chicks, or randoms who come to gawk at a freaky scene. I love D's Valentine's events because everyone is there for the music. DJ Chihiro started and ended the night; Kiki mixed 80s Goth and post-punk (we went wild at New Order's Blue Monday). You may recognize Naohiro (bottom left) as the singer of †13thMOON†.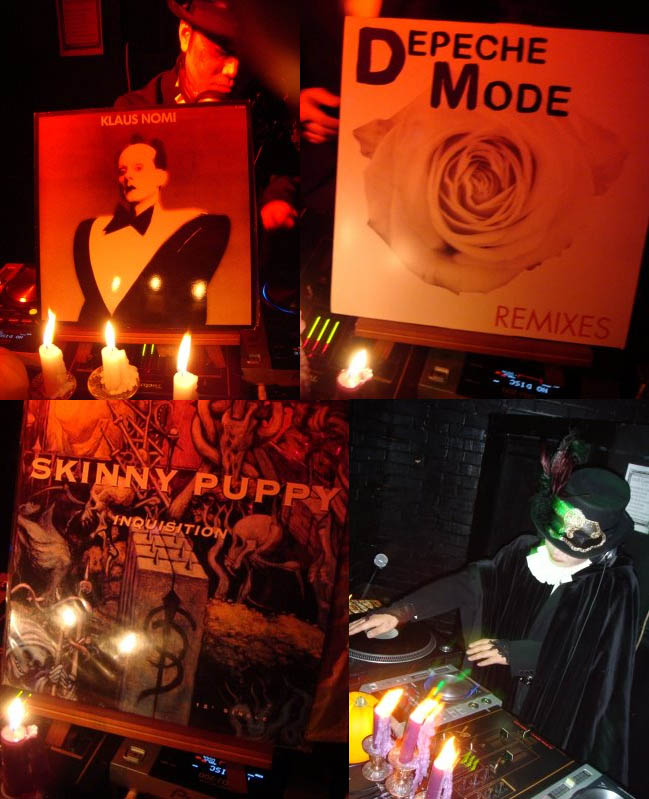 But the DJ that killed it was special guest EZ 2 GO. He was the only one who spun vinyl, propping up the album covers next to the dripping candles, mini-pumpkins, red-eyed skeletons, and RIP tombstones. He started his set with a stroke of genius: Kate Bush! Then came Thunderpuss, Nina Hagen, Skinny Puppy, Depeche Mode… even castrato-voiced Klaus Nomi!
Around 4am, we rolled over to Club Marz and snuck into Midnight Necropolis, ninja-style. We missed BAAL's live act, but caught DJ Taiki's set (described as "Electro / Industrial / EBM / Futurepop / Technobody.") Taiki has been organizing Goth parties in Osaka since 1999 (Black Veil, Vampire Garden) and also runs a music & occult clothing store. When the lights went up at 5:30am, everyone took out their cameras and vogued. I think the only rule in fashion should be: Do What You Want, and try to Do It Yourself.
Do you like the video blog format? Shall I do more of them? Come back tomorrow for another reader favorite: Man Heaven.