DARK MARCHEN SHOW @ ALAMODE NIGHT GOTH CLUB: IRONICAL OPERA SCREAM THEATER.
I was spellbound by The Dark Marchen long before I arrived in Tokyo, having watched YouTube videos of the troupe's performances and poked around their labyrinthine website. As I previously wrote, "The players draw you into a fin-de-siecle salon frequented by a monocled rabbit and a mute with her face wrapped in gauze. A scream, an old show booth, an old circus and a secret club are all parts of this whole…"
Rose de Refucil and Guiggles stepped out of their dollhouse coffins for last Sunday's Alamode Night at StudioCube326 in Tamachi. Rooster-haired Candiman (who is from Vancouver, like me! ) dragged around incompetent Dame-Ballerina and mutilated a parrot. I fell in love with the glasses-wearing otaku-pierrot who spent the entire night shuffling his giant feet, but put on a rabbit head and giant clock for the performance. King (a gourmet chef by day) turned into a dystopic dandy with a waxed moustache and winged top hat. Halfway through, he broke off one of his platform heels, but managed to keep on strutting!
My aerobics-Gothic outfit is undoubtedly influenced by the 80s Jazzercise videos I've been watching on YouTube. The purple eyelashes are from Okadaya.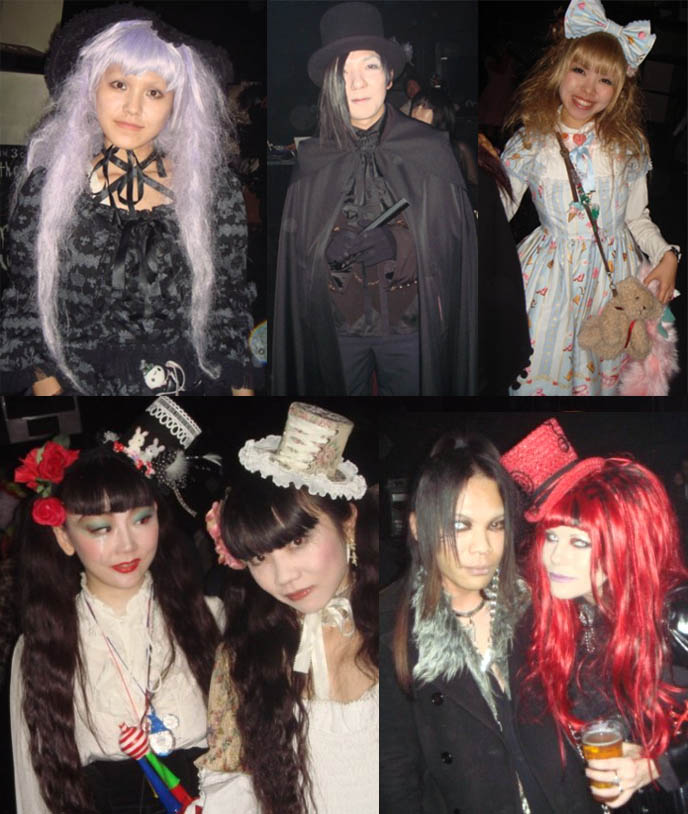 As usual, Alamode Night drew a friendly crowd of Goths and Lolitas. Trashtastika, a regular reader of my blog from Australia, tried on King's hat and mugged with event organizer D's Valentine (bottom right).
The night also featured a fashion show from Pays-Des-Fees. (I believe this is meant to be French for "land of the fairies" – and not a sign of a good credit rating.) Like Emily Temple Cute, the clothes mixed 1950s/Lolita and used more casual fabrics and prints. Acrobats, clowns, and ballerinas pranced behind the models.
The earlier performers were all looks and no substance. Noro (left) sang pop candy to a bare room, and Pudding Alamode (center, right) grated the hell out of me. Sure, the girls are cute and stylish – but their performance was worse than your average karaoke. Punk Lolita on the right was undeniably off-key, and when she forgot the words to a song, she covered her head and mumbled. In between, Pudding Alamode engaged in cutesy talk and made sure to bend over for the old men in the audience (who fled right after their set). Some things are better in Japan; some things are worse…