NYC GOTH CLUBS & LOLITA CLOTHING STORES. NEW YORK GOTHIC INDUSTRIAL FETISH PARTIES. ALTERNATIVE NIGHTLIFE MANHATTAN.
New York City is known as Gotham for a reason: it's one of the best cities for all things Goth. Here's a round-up of my favorite NYC spots for darkwave/industrial/neo-Victorian clubbing, shopping (including a boutique that carries Tokyo Gothic Lolita brands), alt-punk neighborhoods and more. (Photos by Shichi.)
ST. MARKS PLACE & LOWER EAST SIDE remains the Goth/Punk hangout.
† Tokyo Rebel (above) is a boutique that carries Japanese Gothic and Lolita brand clothes, such as Angelic Pretty, Sex Punk Revenge, Algonquins, Atelier Pierrot and more.
† Trash and Vaudeville sells punk and Gothic clothing such as Lip Service, Shrine and Tripp. Downstairs, there's a great selection of hair dye, accessories and shoes. The exterior is also an ideal spot for a photoshoot.
† Search and Destroy is packed with vintage punk tees, gas masks, horror hentai…
† Kenka is an authentic izakaya (Japanese homey bar food) — one of my favorite places to chow.
† Tokyo Toy, a store filled with Japanese figures and collectibles, is around the corner.
† Check out this post for more alternative/Goth shopping recommendations, mostly in the East Village.
† Don't forget to stop by Kinokuniya Bookstore to stock up on Japanese fashion magazines and drink tea. You'll also find my books on the shelves.
NEW ROMANTIC GOTH ROCOCO PARTIES & JROCK CONCERTS
† Dances of Vice is your go-to for Rococo, Victorian, Jazz Age and New Romantic parties in NYC. The Edward Gorey-themed Halloween ball was filled with wonderful costumes.
† Glamdammit puts on glam nights, such as David Bowie birthday party.
† Killer B'z Productions specializes in events with dark themes, such as the Vampire Masquerade Ball.
† NYC is a gathering place for steampunk. There are often designer markets or special events, such as the Steampunk Haunted House.
† New Yorkers are lucky: many J-rock and Visual Kei bands pass through the city. I saw Lilac, Gurigula and Uzuhi at Webster Hall.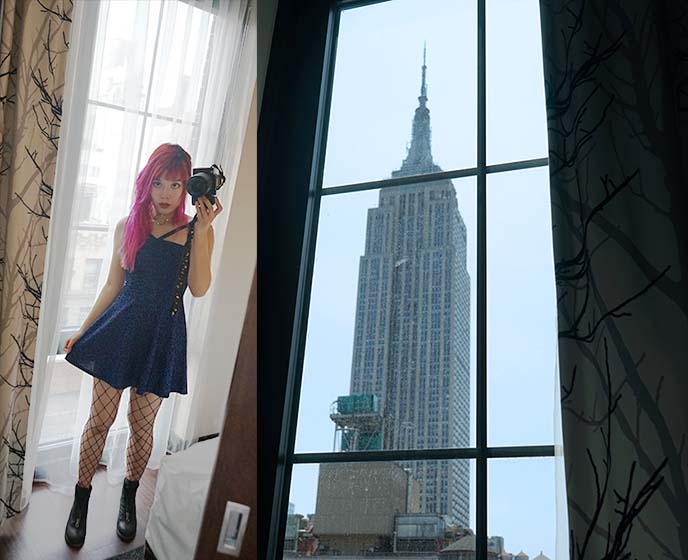 I've added links on the right sidebar to the rest of my Goth Tokyo and LA city guides. If you or your friends are travelling to any of these cities, I hope you'll find them helpful. Please pass along the links, and feel free to ask me questions in the comments.
† WHO IS LA CARMINA? † I am a professional Goth/subcultures blogger, travel TV host and arranger, author of 3 books (Penguin USA and Random House), designer and CNNGo.com writer. My popular blog on Japan Gothic Lolita fashion / Visual Kei – www.lacarmina.com/blog – has been featured in major publications (The New Yorker, Washington Post, WWD, Village Voice, Time Out New York, LA Times). I've appeared on The Today Show and co-hosted an episode of Bizarre Foods with Andrew Zimmern for Travel Channel, which airs in 75 countries. NHK Japan filmed a documentary about my work; recent TV hosting and arranging credits include Dutch Pepsi, Sony Australia, Canal Plus France, and CNN International in Tokyo. I will be the Asia host for educational travel TV series, Project Explorer.
View my TV reels and full biography.
I run a coolhunting / trend consulting / TV hosting and arranging company: La Carmina & The Pirates.
– We specialize in Japan, Goth, alternative, cosplay, burlesque, LGBT, fashion, pop culture.
– Our services include TV production coordinating, on-camera hosting, Japanese translation and guiding, coolhunting, consulting.
– We've worked with CNN, NHK, Travel Channel, Canal Plus, Sony Australia, Dutch Pepsi, NRK Norway.
– For more about our services, please visit our Pirates website.
Please feel free to contact La Carmina if you'd like to work with me in any capacity (TV hosting, arranging, writing, etc.) You can also keep in touch via my social networks below. Domo arigato gozaimasu!
Japanese Word of the Day #11: Funeral = O-soshiki
Song of the Day #352: Glamrock – Crucified (an Army of Lovers cover. The makeup, OMG!)