ANI-JAM ANIME CONVENTION IN FRESNO, CALIFORNIA: JOIN US! MANGA JAPANESE CONVENTION GUESTS OF HONOR, FANART.
Hold onto your top hats: Sebastiano Serafini and La Carmina are returning to California!
We're being flown in as Guests of Honor at Ani-Jam anime convention in Fresno, CA (near Los Angeles and San Francisco). Seba and I will be leading panel discussions, and hanging out… we hope to meet you there!
WHAT: Ani-Jam anime convention
WHERE: Radisson Hotel & Conference Center, 2233 Ventura Street, Fresno, CA
WHEN: August 20 and 21, 2011
PRICE: Here's the link to discounted registration for you. Only $25 for 2 days of fun.
Please tell your friends and save the date. Can't wait to see you.
I'm continuing to spruce up my website (I hope the blog is loading faster, especially for overseas readers). The Media section has been re-vamped, so that all my press clippings and links are on one page.
Profiles include: The New Yorker, Washington Post, WWD, Village Voice, Fox News and LA Times.
I'm always open to answering interview questions. If you'd like me to participate in an interview or feature, feel free to contact me.
Big hug to Samantha Parkinson for the beautiful artwork above. She wrote: "I have been enjoying your blog and reading about your adventures and travels for several years, and thought I would create a piece of art as a gift for you."
Got a drawing of me and/or my cat, Basil Farrow? I invite you to submit it, and I'll post it on my blog, with links and credit to you.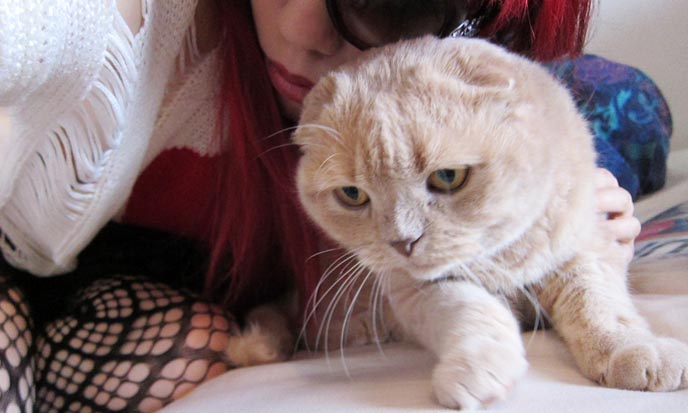 PS: Please keep the entries coming to win hair bows & accessories! It's simple to enter; the instructions are here.
I'm enjoying your Facebook comments about your summer plans and goals. I'm responding to everyone's questions and giving advice; I hope you find it helpful. (To participate, leave a comment on my Wall.)
Song of the Day: Lime – Come And Get Your Love (A total Italo Disco summer track.)
❤ Squealed at this post? Please give it a Like (below) ❤