CUTE HAIR ACCESSORIES GIVEAWAY! WIN BIG BOW CLIPS & HEADBANDS FROM SPROOS SHOP. LUMETE UNIQUE SUNGLASSES.
Announcing a cute hair accessories giveaway, courtesy Sproos Shop! Read on for the easy instructions…
Sproos sent me a selection of big hair bows and barrettes, which clip on easily and stay in place. They're a fun, visual way to instantly doll up your hair. Perfect for summer — and turning heads!
I'm in love with the sunglasses that Lumete sent me. The New York-based company creates unique designs, ideal for alternative fashionistas (Dita Von Teese is a fan). These Oummaa Black Cherry frames have serpentine silver etching and Swarovski crystals on the sides.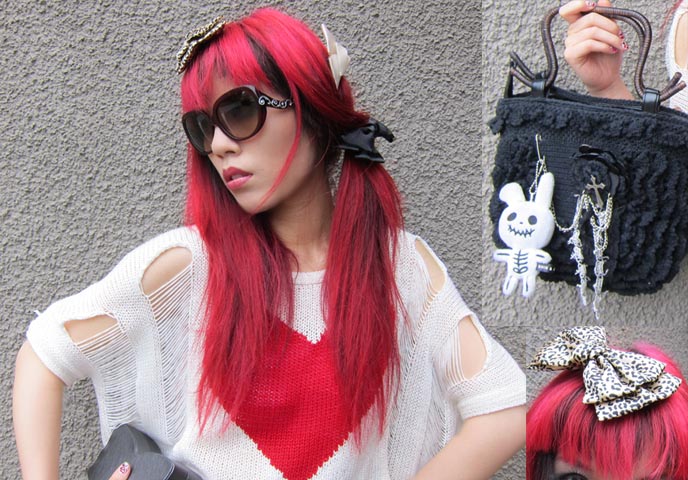 Heart sweater top: from a fashion mall in Mongkok, Hong Kong
Gothic rose skirt: Spider, a Lolita shop in Hong Kong
Pattern tights: from Hong Kong
Spooky crochet purse: h.NAOTO, from Closet Child in Tokyo
Shoes: John Fluevog
My leopard print bow matches my baby lion, Basil Farrow. (Note my black and white striped nail art.)
Here's how five of you can WIN chic hair accessories from Sproo Shop!
Prize: 5 winners will win 2 accessories of their choice from Sproos. To enter, simply perform three easy steps…
1) Recommend my blog by clicking this Google Plus One button:
2) Like my Facebook Page and blog, by clicking the thumbs up below:
3) Finally, visit my Facebook Page's Wall and comment, telling me your summer plans or goals.
Going on a trip? Working? Got any resolutions for the summer? Need help? I'll respond with my thoughts and advice!
Contest is open internationally and ends Monday July 25th at midnight. 5 winners chosen at random. Sproos is responsible for shipping prizes to winners; some items might be low or out of stock.
There are mountains of cute hairbands, bows and clips on Sproos Shop's website, Twitter and Facebook. With discount code "Carmina" at checkout, you get 10% off. Shipping and returns are also free in the US.
You have a spanking good chance at winning these adorable accessories, so I hope you'll enter this contest (it's simple, just three steps!)
What type of hair accessories do you typically wear? Have you tried big bows?
Song of the Day: Taiji Sawada at X Japan's last live. (RIP to the former X Japan and Loudness bassist, who passed away yesterday. He was recently unruly on a plane and tried to hang himself in a Saipan jail cell. I spoke to someone close to him, who said people had been worried about him… Taiji shall be remembered.)
❤ Squealed at this post? Please give it a Like (below) ❤