SURREALIST ART EXHIBITION VANCOUVER: SALVADOR DALI, JOAN MIRO, MAX ERNST. CONTEST TO WIN HAIRBANDS & BOWS!
Have you seen the new Woody Allen movie, Midnight in Paris? It's a wonderful picture of the 1920s Paris art and literati scene: Hemingway, Fitzgerland and friends. For me, the Salvador Dali and the Surrealists steal the show, with their outerspace ideas and animalier parties.
So I was giddy to receive media passes the surrealism exhibit at the Vancouver Art Gallery, running until September 25th.
I am… a zebra?
Zebra striped headband: gifted from Sproos Shop. (Click here to win one.)
Zebra print top: gifted from Lip Service
Button down dress: Algonquins
Sheer stripy tights: from Hong Kong
Black shiny ankle boots: Closet Child, Tokyo
Feather boa tail: Paramount Pictures movie wardrobe sale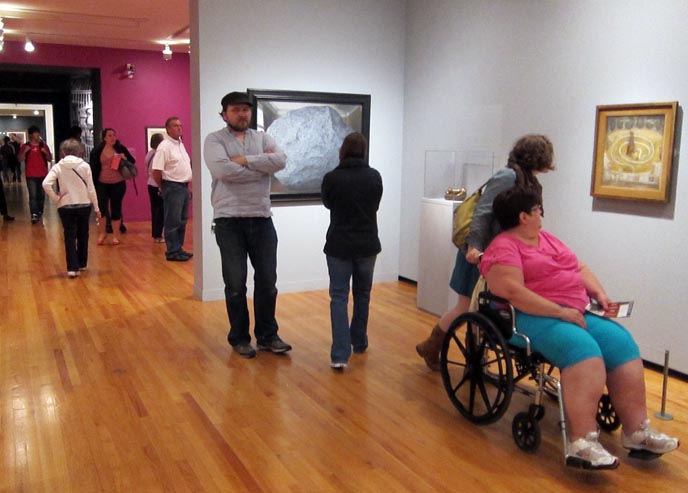 The collection of Surrealist works was large and varied (sculpture, paintings, photographs, journals). Tenets of the movement was well-explained with colorful placards.
In this painting, Salvador Dali explores the concept of "anti-art," using abstract shapes and unconventional materials such as sand. The image is supposed to be suggestive of female sexuality. Perhaps these black things are… legs?
I was delighted to see Dali's famous Lobster Telephone (1936), and Max Ernst's moody painting of a "forest."
I didn't realize that the Surrealists were fascinated by West Coast native Canadian art, especially totems and masks. This smiley-face artifact, from a British Columbia tribe, hung in a Surrealist salon.
My friend illustrates Joan Miro's automatism technique (tapping into the emotional unconscious as one paints). My tail is pointing to Miro's groundbreaking "this is the color of my dreams" painting.
I felt that some of the Surrealists' work lost impact after 90 years. Photos of pig legs lined up against a wall, or three statues covered with sacks, aren't shocking or particularly intriguing today.
However, Claude Cahun's work still has power. She explored gender-bending and radical identities, like in the bald self-portrait above.
Two of my favorite Surrealists are Rene Magritte and Giorgio de Chirico, who tapped into the dream-world with whimsy. Paintings like Magritte's "The Six Elements" (top left) are still haunting today.
This is not a pipe. I am not a zebra. Or am I? Is it? Are we?
Decide for yourself at the Color of My Dreams Surrealism exhibit in Vancouver, Canada.
PS: This is your last chance to win adorable hair accessories from Sproos! It only takes 1 minute to enter…
1) Recommend my blog by clicking this Google Plus One button:
2) Like my Facebook Page and blog, by clicking the thumbs up below:
3) Hop over to my Facebook Wall and comment, telling me your goals and expectations for the summer. I'm replying to everyone, with my ideas and inspiration!
PPS: Since many of you ask about my kawaii Japanese-style makeup, here's a closeup. To make your eyes look huge, draw and blend an uplifting shape. Put white at the corners of the eyes and under the brow bone. Define the outer edges with white eyeliner. False lashes on top.
Too vague? Don't worry. I'll post a step-by-step photo guide to eye makeup — done by a professional, for my Goth magazine cover shoot — very soon.
Are you familiar with the major Surrealist artists, and their works? What do you think of this movement?
I look forward to seeing your entries to win cute hair bows, bands, and clips! Simply perform the 3 easy steps above; there are more photos and details here.
Song of the Day: Ayumi Hamasaki – Surreal (Music box version)
❤ Squealed at this post? Please give it a Like (below) ❤