MY BIRTHDAY! TOKYO FIXER: NEW TRAVEL TV SHOW HOSTING, JEWELRY COLLECTION & THE CUTEST BABY CAT IN THE WORLD.
Squishes and cuddles for all of you! Thank you for your kind birthday wishes. (I landed on this planet on August 17th.)
Many of you asked if I'm celebrating. Next week, I'm in Fresno and LA for Ani-Jam — and yes, there's a sparkly Hollywood party in the works… Flyer and details to come.
Next week's a wild one. I will reveal several big new travel TV projects, and unveil a cute design collaboration. Life is crazy. Things are happening.
So for my actual birthday, you can understand that all I want to do is snuggle my Scottish Fold cat, Basil Farrow.
There have been some stormy waters, and I've been doing a bit of reflecting lately. And I've come to some revelations.
My pirate ship keeps on sailing — whether there's a million people on board, or only me and my cat.
So don't let any anchors weigh you down. Throw em overboard. Or better yet, make them walk the plank.
If you try to change who you are, for the sake of getting ahead, you'll lose yourself. And people will see right through you.
I'm steering this ship: I know who I am, what I love to do, and what/who makes me happy. And I owe it to all of you spooky kids to keep going strong.
So that's my little birthday present to you, along with these cute kitty photos.
If you feel like supporting the site, you can by…
1) Clicking this Google Plus One button:
2) Giving a Facebook thumbs up (below):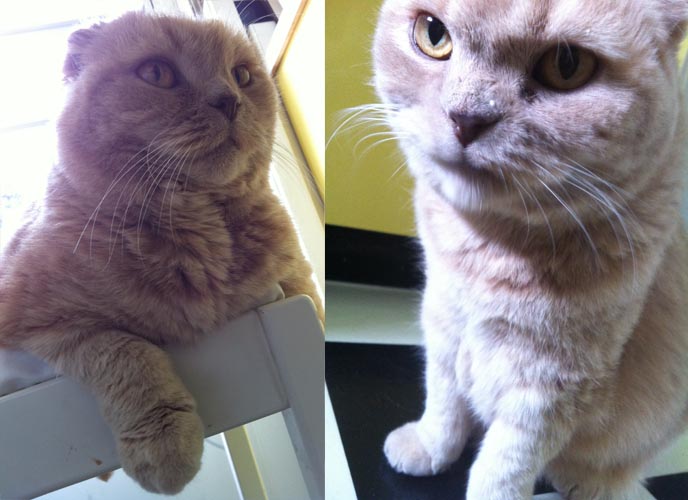 3) And please keep in touch by joining my Facebook page, so you'll be the first to get Tokyo fashion coverage and news. Simply click below…
Again, thank you for your birthday messages. I could't do any of this without you.
Song of the Day: Nirvana – Come As You Are
❤ Squealed at this post? Please give it a Like (below) ❤