TOKYO, JAPAN GOTH ALTERNATIVE FETISH CLUBS, NIGHTLIFE, EVENTS. TOKYO DECADANCE BAR, MIDNIGHT MESS DANCE PARTY.
Hello Tokyo, Japan! Spookyville is back in black. And we've made a frightening new video about our nightcrawl to Decadance Bar and Midnight Mess. Scroll down to witness the Gothic madness…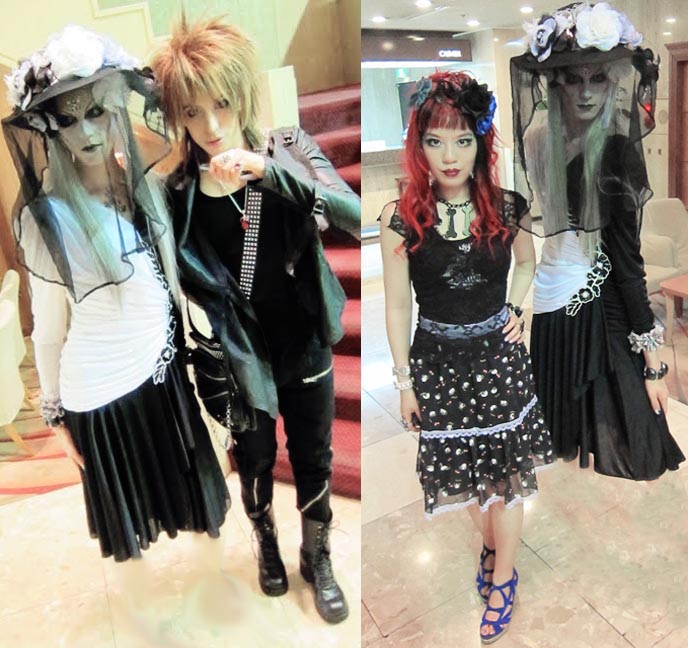 Yukiro Dravarious has gotten ghostlier than ever. La Carmina wears:
Bone necklace: My new favorite. From the Monomania shop in Laforet Harajuku.
Demented panda skirt: Got it for a steal at Kinji, the secondhand store in Harajuku (shop photos to come).
Lace top and tank: Old things
Blue shoes: from the B+ab store in Hong Kong.
Hair bows: gifted from Sproos Shop (more photos here)
Our first stop: Tokyo Decadance Bar. We ran into Kanae downstairs at Christon Cafe, the cathedral-themed restaurant. Love her military fashion show.
Two Gothic Lolita-like girls sat at the entrance of Decabar, indulging in cake! (I like how they put their personal spin on Lolita fashion.)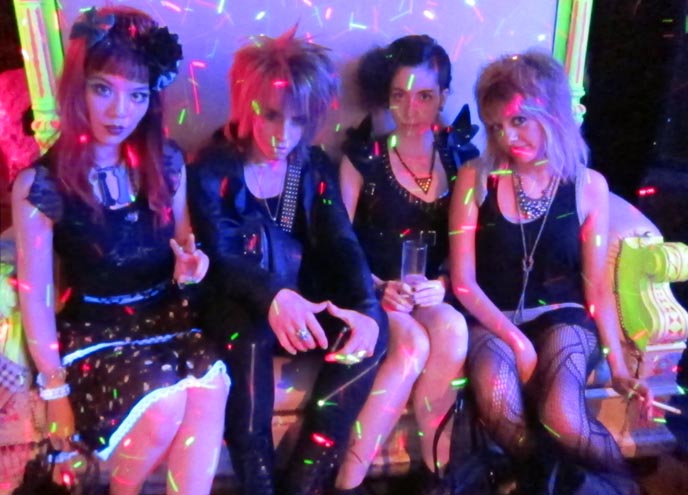 Drinking absinthe while being zapped with neon lights.
Tokyo Decadance Bar has a new design, highligting the colorful flyers and cybergoth fashion. (More photos of the bar in this post.)
An evil, leering face painted on the wall. (I think it's supposed to be bartender Kengo.)
And in the glass case: a kigirumi head. (From a full-body anime doll costume.)
Time to dance all night at Midnight Mess. We met up with Gothic beauties Kana, Cotton Bale, Raisu.
While waiting for the doors to open, we filmed a funny video — please watch it here! (You can also see footage from Kenzo-A's Rituals party.)
There's nothing like the streets of Tokyo at night.
Kenny Creation and a blue-haired lass.
Lovely to see Selia again.
On stage, she turns into a nightingale, singing opera in multiple languages. (You can see a snippet here.)
Mistress Maya, who runs this dark event, ties up a new victim and drips hot candle wax over her body.
Don't you wish you could join our nightcrawl? You can see the action up-close in the video above and on YouTube (please subscribe).
Where are these Tokyo Goth Industrial clubs? How do you get in? For full info, including addresses and maps, please read my Club Guide.
Are you happy to see that Tokyo's Gothic scene is thriving? What do you think of the outfits; which are your favorites?
PS: Congrats to Seba's band DNR: they're playing at V-ROCK (largest Visual Kei music fest) in Tokyo, along with Gackt, Versailles, Vivid, Sophia, Mix Speakers Inc, Black Veil Brides and more Jrock greats!
Song of the Day: The Gothic dance track in the party video (can anyone recognize it?)
❤ Squealed at this post? Please give it a Like (below) ❤