BUST MAGAZINE FEATURE: FASHION NATION, LA CARMINA BLOGGER INTERVIEW. WOMEN'S LIFESTYLE, BEAUTY, STYLE.
Kittycats, I have a full-page color photo and interview in the October/November issue of Bust Magazine!
It's an honor to be featured in a magazine devoted to strong women and real beauty. Thanks to Lisa and Tricia for asking me to take part, and to Joseph Wong and Jim Ollett for shooting these vibrant photos in Tokyo.
Dress: Algonquins, from Closet Child Shinjuku. I love the unique layering and alternative accents in this design.
Red skull and apple rings: from Closet Child too.
Silver and red spider necklace and bracelet: gifted by Strange Freak, a Japanese alternative jewelry brand closely associated with J-rock aritsts. The design is a tribute to Hide, the deceased guitarist of seminal Visual Kei band, X Japan.
"Red queen" sunglasses: gifted by Lumete, a rocking indie eyewear designer based in NYC.
Black flower hair clip: gifted from Sourpuss, an alt clothing company.
Pirate headband and black strand necklace: gifted by Soho Hearts
Strappy shoes: Yosuke, from the "shoe heaven" store of Marui One department store in Shinjuku
Here are the full answers to my interview questions for BUST Magazine.
Q: How would you describe your overall style? Has it changed?
A: Morticia Addams meets Hello Kitty. My world revolves around alternative fashion, travel, Japanese pop culture, and all things spooky-cute. Ever since I was one year old, I travelled yearly to Hong Kong and Asia with my family. In my early teens, I visited Tokyo and my mind was blown open by the stunning Visual Kei, Gothic Lolita and Harajuku Punk styles I saw. I was drawn to alt subcultures: they represented a safe space where misfits (like me) could band together, and celebrate how we were different from the rest. I've been dabbling in Gothic and other subculture aesthetics since then. I rarely dress head-to-toe in one style, such as Goth, Steampunk, or Lolita. I like to draw upon different looks and make them into my own.
Q: What are your influences?
I'm mesmerized by the Rococo glam of Visual Kei bands like GPKISM, Malice Mizer. I love Japanese kawaii (cute) makeup and mascots, such as Chococat and Rilakkuma. Above all, I'm inspired and awed by my ultra-creative circle of friends, especially those who take part in the Tokyo underground creative scene. Nothing compares to the creative, experimental, DIY fashion in Japan's Goth/cyber/gay/alternative club scene. It's out of this world. (You can get a glimpse of it via my Japan clubbing guide photos and reports.)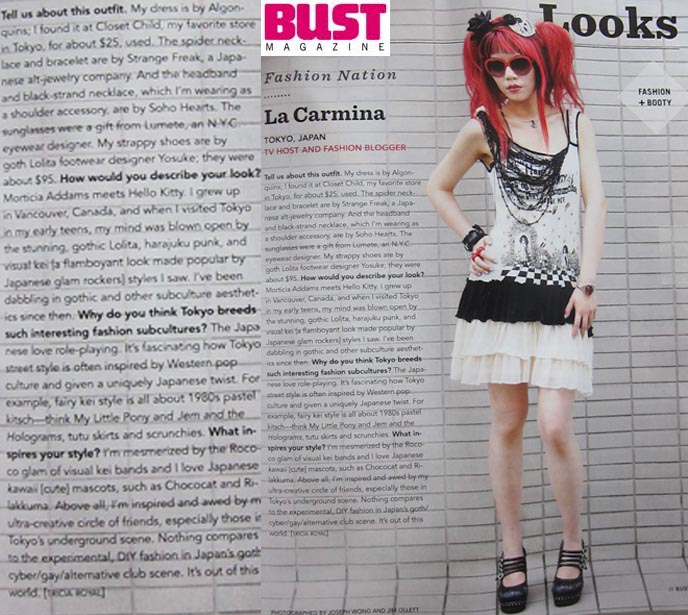 Q: What are differences between fashion cultures in the West and and Japan? Why do you think Japan in particular breeds such interesting style tribes?
It's fascinating how Tokyo street style is often inspired by Western pop culture and given a uniquely Japanese twist. For example, Fairy Kei style is all about 1980s pastel kitsch. Think My Little Pony and Jem and the Holograms; tutu skirts and scrunchies. Perhaps the historical culture of vivid festivals, geisha makeup and Noh dramas bred the highly Visual styling and layering in Japanese street fashion today. In the past few years, more people outside Japan have been discovering Tokyo street style — Gothic Lolita, Visual Kei, Gyaru. I'm excited to see Japanese alternative fashion continue to make an impact worldwide.
Q: Any favorite designers? Do they inspire your style?
Harajuku is my favorite neighborhood in Tokyo for clothing and accessories. Here, you'll find the most exciting Goth Lolita Punk / Visual Kei / Cyber Rave fashion in the world. While Harajuku has
gotten more commercial lately, there are still independent little stores, such as the Yellow House boutique that has been run by an old lady for over 20 years. The basement of Laforet Department Store has some of my favorite brands, including Alice & the Pirates, Atelier Pierrot, Victorian Maiden, Putumayo and h.NAOTO. I love the dark, aristocratic, past-era styling of these brands. Alice in Wonderland, Dracula, Gothic novels. They represent a romantic-horror dream world that appeals to my aesthetics.
Here's an alternate outfit that I submitted.
Gothic dress: h.NAOTO, from Closet Child
British hat: from a store in New York's fabric district. The whole neighbourhood is full of fun trimmings and fabrics; I love to pick up items to spruce up my clothes in DIY projects.
Cut-out boots: Yosuke, a Japanese designer who makes Goth Lolita footwear, from Marui 0101.
Which outfit do you like better? Have you ever read Bust Magazine? Pick up the current issue to see me in it.
PS: Please help support my work by adding my Facebook Page (just click the button below). Thank you!

Song of the Day: The Penguins – Earth Angel
❤ Squealed at this post? Please give it a Like (below) ❤