LA CARMINA ON URBAN RUSH TV, CANADA MORNING TALK SHOW. LEOPARD PRINT DRESS, RED VALENTINO, DIOR, DIEGO DOLCINI.
Pirates, I'm going to be appearing on a TV talk show: Urban Rush! On Feb 2nd, I'm the main guest for the Vancouver-based morning show. I'll be talking about my upcoming New York fashion week trip and more, in a 10-minute interview.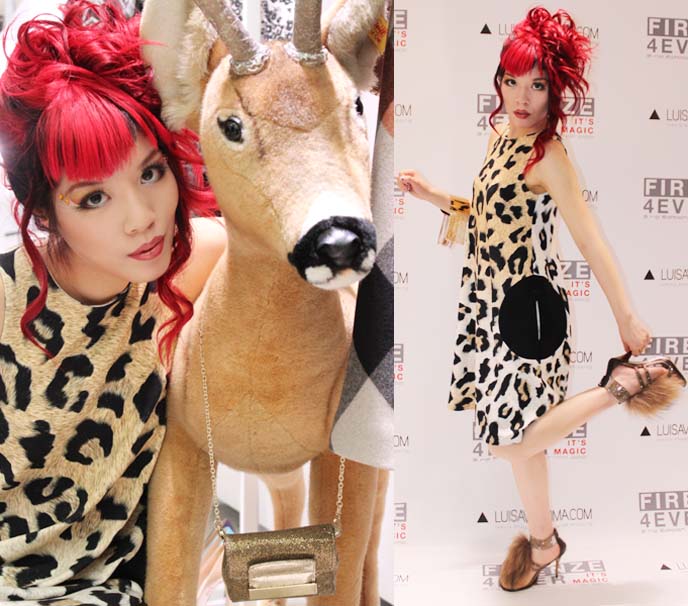 If you're in Canada, tune in to Shaw TV on Feb 2nd; it airs at 5pm, 7pm, 11pm. For those outside, I'll put up the clip on YouTube — check back and subscribe to my channel, so you won't miss it.
It'll be fun to reminisce on my travel and fashion adventures. Here are bonus photos from Luisaviaroma 2011. I'm wearing a Dior dress, and inspecting the racks at the RED Valentino pop up store. The leopard print dress is similar to this one.
I like to step out of my usual Japanese street style brands, and play with something unexpected.
Such as… these scrumptious Diego Dolcini feather shoes! (The pumps are for sale here.)
Check back my blog for the TV clips, and you can view the previous ones here.
PS: Thank you to iFashion Magazine, By-Bo Hong Kong and the lovely Conversations with Bianca for interviewing me. All my press coverage is here.
What do you think I'll wear on the TV show? If you could interview me, what would you ask?
❤ If you enjoy my pics, please support with a Like (below) ❤