ZOMBIE TATTOO MODEL RICK GENEST, SOPHIA LAMAR. SOCIALYTE.CO BLOGGERS LOUNGE, GENART, HEART TRUTH NYFW.
Welcome to a potpourri post: a mix of alt fashion inspiration!
We begin with a treat… Austin Young's new photos of Rick Genest (Rico the Zombie, who you may recognize from Lady Gaga's "Born This Way"), and Sophia Lamar (nightlife fashion icon). The styling by Odd-Style is smashing, no?
Rick wears: Wool floor length skirt and jacket by Ashton Michael, pants by Jordan Klein
Sophia wears: Leather and silk cocktail dress by Kittinhawk
Rick wears: leather jacket by Ashton Michael
Sophia wears: leather jacket by Skingraft, hat by Victor Osborne. (Seba and I wore Skingraft for the NOH8 campaign!)
Hair by Shiela Lopez, makeup by Nathan Hejl, styling by Bobby Webster and Judson Harmon for ODD
Special Thanks: Phyllis Navidad and Pop-Tart Gallery, David Phelps, Ashton Hirota
Another alt fashion duo, La Carmina and Yukiro, was spotted all over New York Fashion Week.
We stopped by Caravan Studios for the Socialyte Collective event. It was a fashion blogger's paradisco: designers items to take home, champagne and veggie wraps, hair styling stations. Can't wait to come back for more.
Outfit change. Yukiro wears Angelica Brigade flowers on his hips.
My red sailor retro dress is gifted by Bettie Page Designs. The incredible zebra and gems nail art is by Glam Nail Studio.
Photographers everywhere.
GenArt showcased young and emerging fashion talent. We enjoyed Wen Shi's "little white wardrobe."
Interview time. My knit hair bow is a present from Camden Lock Clothing.
Next outfit! Yukiro wore a bracelet and necklace gifted by Angelica Brigade.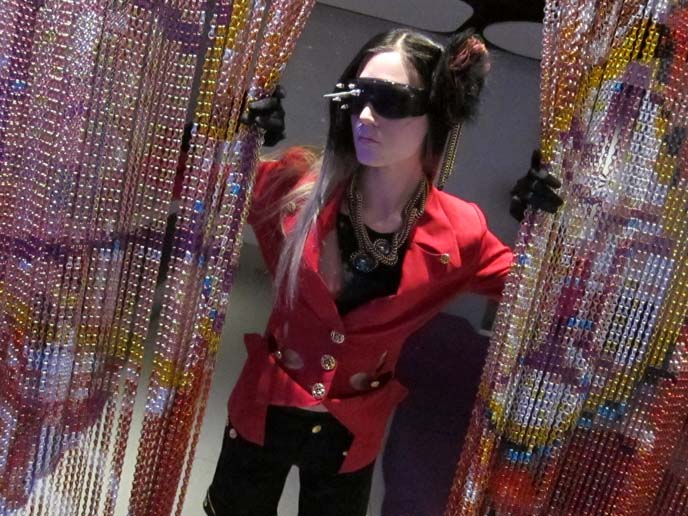 Spiky Lady Gaga-like sunglasses gifted by AndDevour.
At the Heart Truth Red Dress show. Celebrities (Rose McGowan, Christie Brinkley) walked the runway, raising awareness for heart disease in women.
Don't you think Yukiro outshined Miss USA? What do you think of his strong, unique style?
PS: Thanks Muita Moda for the "entrevista exclusiva." In the Brazilian fashion interview, I talk about my age and relationship status… or do I?
If you heart this post, please give it some love (below)…