HATSUNE MIKU COSPLAY WIG & COSTUME! MIDNIGHT MESS, YUKIRO PERFORMING DRAG AT TOKYO RAINBOW PRIDE PARADE.
Alternative fashion bloggers play by their own rules. No tangerine tango or mint here. Turquoise is our color of the spooky season!
Yukiro Dravarious attended the "final" Midnight Mess, the Tokyo Goth night that's been running since 2002. (Maya's moving to Berlin, but will be back for the anniversary event in September.) Here's his report, along with an announcement about his drag performance this Sunday at the Pride Parade. Read on…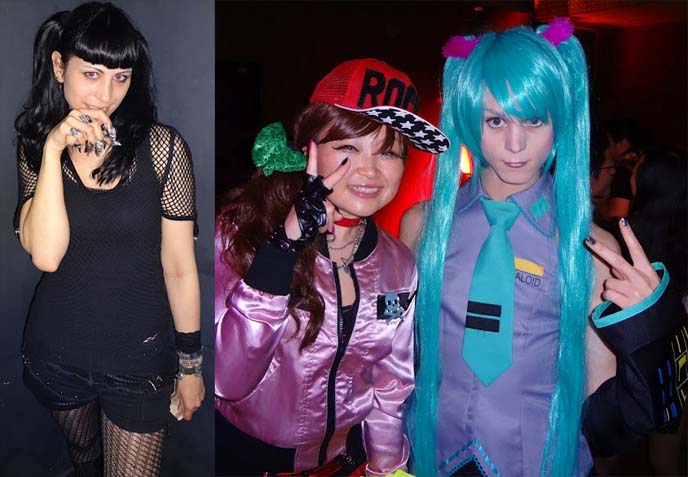 Last Saturday, I wanted to surprise everyone by cosplaying as one of Japan's new icons: the vocaloid Hatsune Miku 初音ミク. On the train, I was snapped by several otakus and other curious random people.
Midnight Mess icons Maya and Diva Selia started off the night with a dramatic bondage opera act. Maya got her hair done by the excellent stylist and makeup artist Fu-ga, who offered these services at a booth. There were also stalls for absinthe and Sumio's vampire-teeth.
I greeted people at the door for the first 1.5 hours, and was delighted to see that many people came even though there were two other major parties going on that same evening.
Three bands played: Sino Re-Build Projects (Industrial/Noize/Electro), Delhezi (young fresh boys playing Loud / Screamo / Metal Core), and Super Dragon Punch!! (aka Rankor) from Belgium (Industrial/Technoid/Hardcore/Electro). Surprisingly my friend Simone was suddenly announced as the keyboardist for this live. They did a great job.
DJ Te2, Statik and Maya (the house DJs) played classic Mess songs and the dancefloor was crowded with children of the night shaking and breaking to the dark-electro, cyber-goth, 80s beats.
Bust my buttons, it was an epic night indeed! Can't wait for Maya to come back to Japan and I wish her the best of luck in Germany. You can party with her before she leaves at Vampire Garden at Decadance Bar, on 5/19 (info here.)
As for this Sunday… Yukiro will be performing at Japan's first real Gay Pride Parade in Yoyogi Park! Come see me as my Gothic Drag Queen persona, Die Schwarze Frau. I'll be performing around 12:10pm; for the exact time, stay tuned to my Facebook page.
The Tokyo Rainbow Parade will start at 1:15pm. Here is the parade route; you can find more info about the LGBT pride parade on its Facebook and website.
Let's walk the most colorful of parades together! Your voice is needed to make this an official, regular manifestation in Japan — as it already is in so many other countries. Spread the word and help us grow magnificently.
Have you ever been to a Gay Pride Parade? Or seen a drag queen performance? Do you think Sharon Needles will win RuPaul's Drag Race? (You gotta see Sharon's Goth bondage photos…)
❤ Support us with a Like (below) ❤