FASHION CONTEST: WIN CUTE SHOES FROM BUTTERFLY TWISTS! LEOPARD PRINT BOOTS, BALLERINA FOLD-UP FLATS GIVEAWAY.
Cute shoes are always in season… and here's a chance to win a pair from Butterfly Twists!
Read on for my earless cat, and to learn how to enter.
Basil Farrow looks puzzled. "What's in those little pouches? Mice?"
I unzipped and reversed them. Ta-da: leopard print boots! I've never seen anything fold into something so small (other than Basil's ears).
The design is adorable, with a cushioned flat sole. As if it were designed after a cat's paw.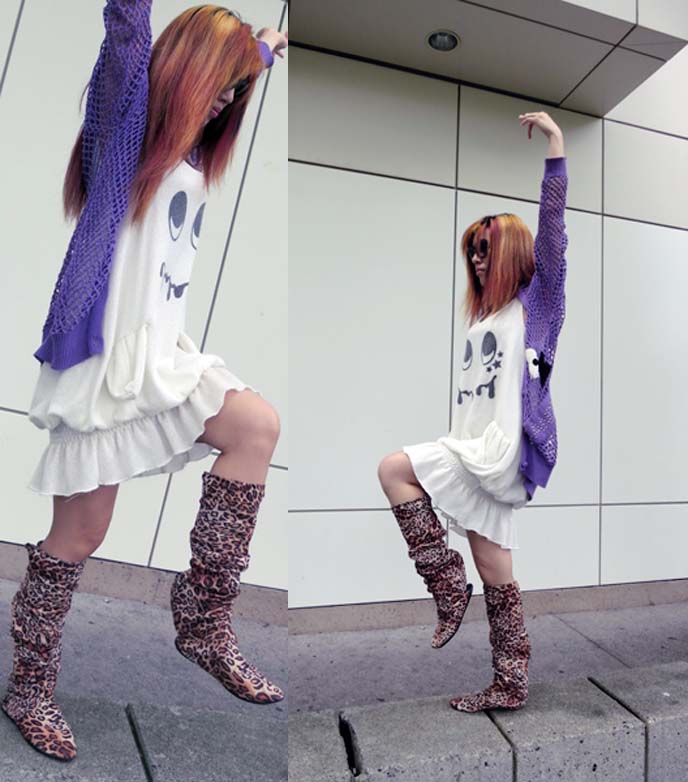 The shoes felt great on: I was tempted to do gymnastics twists.
Sunglasses: gifted by Lumete
Ghost-face dress: Banana Fish
Purple fishnet top: Candy Stripper, from Closet Child Tokyo
When I travel, I'm always reluctant to pack boots because they're heavy and take up so much space. Hooray for this stylish solution.
Butterfly Twists has an array of foldable ballerina flats, including bright colors and ribbon decorations. Would you like a free pair?
Shoe Giveaway! Win a pair in any style or color. Simply…
1) Add Butterfly Twists on Twitter (@butterflytwists). You can add La Carmina too (@lacarmina)!
2) Tweet the following, or some variation thereof. Be sure to include the Twitter handle and info link.
Yayy, a contest to win cute ballerina shoes! To enter, add @butterflytwists & retweet this info: http://bit.ly/btshoes @lacarmina
– If you don't have Twitter, add Butterfly Twists on Facebook and leave a comment such as: 'La Carmina sent me and I want to win a pair of BT'
– Bonus points if you do both!
Contest is open worldwide and ends Monday, July 16th at midnight Pacific Time. Butterfly Twists will send the shoes to the winner, selected at random.
For footwear and trend tips, reach out to BT's fashion blog.
Ready to enter? Add @butterflytwists and Tweet the info link (http://bit.ly/btshoes)!
Do you wear flats? What do you think of Butterfly Twists' collection?
❤ Get out the word with a Like/Share (below)…