Berlin Fetish Weekend, horror bar Last Cathedral. Goth play club, Angel in Bondage. Germany Gotik parties & nightlife.
Muahah! You wouldn't want to cross path with La Carmina and Yukiro during Berlin Fetish Weekend… or would you?
Cyber gothic skirt and jacket: gifted by Lip Service
Spiky boots: Tripp NYC, from Trash and Vaudeville
The art in our Go With Oh rental apartment made a dramatic backdrop. It was the perfect home for us (here are more pics from inside the Berlin flat.)
Hide your children. Yukiro has dominated the playground. Soon, I'll post a Berlin video so you can see the zip-line fiasco for yourself!
Wherever Yukiro goes, boys grovel at his feet.
We met our local friends at Last Cathedral, a bar filled with horror.
The monster decor extended to the skull beer dispensers.
We ordered our usual. Abisnthe.
I know you're staring at the strategically placed stars.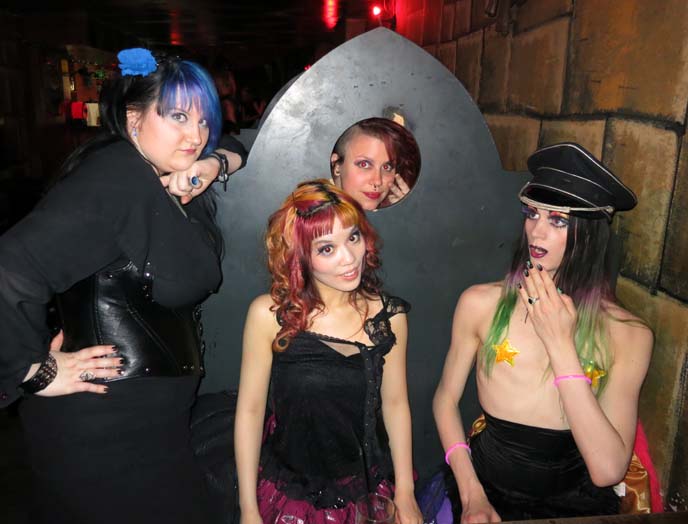 The only thing grave about Last Cathedral is the tombstone decor!
Onwards to Angel-in-Bondage, one of the best-organized fetish parties I've ever attended.
The play areas were unique — a hot tub, shower, massage room — and well-tended. Everyone felt safe and welcome here.
In the upstairs couples-only area, Yukiro tries out a special chair.
Horror bars and fetish clubs… would you visit places like these? What do you think of our scandalous outfits?
PS: I'm currently in Hong Kong! Follow my updates on Twitter and Tumblr.