New York Goth, Punk, Industrial, Alternative style & shopping. St Mark's Place NYC. Happy Thanksgiving!
If you're on my Twitter or Google Plus, you'll already know… we Pirates landed a new TV job, which will shoot early next year! Details and destinations to come soon. (Above: doing a segment with Fashion TV Japan during NY Fashion Week.)
I was chatting with Yukiro yesterday, and there's a lot we are grateful for. Here's some reflections (and bonus NYC photos) on Thanksgiving Day.
First, I'm thankful to all of you who believe in my work. This journey's been long and strange, and your support is very meaningful to me.
(Above: sitting front row at the Vantan Tokyo runway show, inside Lincoln Center.)
Zombie and eyeball hairclips: gifted by Kreepsville 666
Sunglasses: gifted by Lumete
Zombies tshirt and cardigan: gifted by Sourpuss Brand Clothing
Tulle skirt: gifted by Shabby Apple
I'm beyond grateful for good friends and the good times we have together. Yukiro and I can inject hell and horror into any mundane situation…
Even when riding the NY subway…
… or ordering pizza.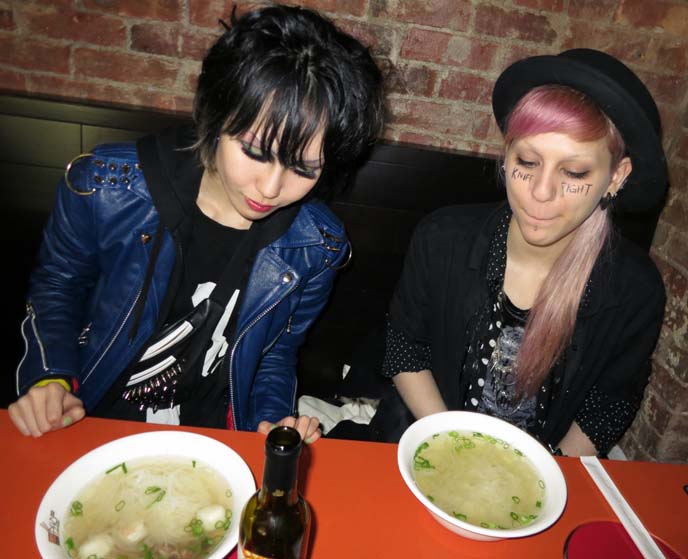 I appreciate being able to travel so much for my work, allowing me to discover new corners of the world. (Vietnamese pho at 2am, St Mark's Place.)
I know I'm very lucky to have this mobility, which lets me see friends in wide-spread places. (Mugging outside Kenka izakaya.)
Super grateful for RuPaul's Drag Race. But seriously, Ru's a pioneer and his show shines a light on alternative culture. Inspired to do the same.
Here's to good causes and good food. Jenny of ProjectExplorer (a terrific, non-profit educational travel series) took us to Spice Market in the meatpacking district. I'm salivating as I recall the south Asian flavors… coconut rice, shaved tuna with chili tapioca, yuzu drink, and pumpkin ginger cheesecake.
Let the ghostly adventures continue! Click for more NY Fashion Week coverage, including runway shows and parties.
What are your plans for Thanksgiving? Will you be eating cute or scary desserts?
What are you thankful for today? I'd love to hear your thoughts in the comments, or on my Google Plus.
PS: since some of you asked, these photos are taken with a Canon Powershot S100, available on Amazon. Simply the best compact camera on the market.