Robinson Crusoe villas at Gili Lankanfushi: Maldives luxury resort! Romantic honeymoon getaway.
I look angry, but it's only because of the sun in my eyes. In fact, I couldn't be happier to spend five days in The Maldives with Gili Lankanfushi.
The eco-luxury resort invited my filmmakers and me to capture the magic — and there was plenty of that here. Take my hand, and I'll give you a tour of our villa.
The resort is inspired by Daniel Defoe's Robinson Crusoe. The villas have an over-water design, connected by wooden ramp to a jetty off the island. We had two patios: a sun deck on the roof…
… and a "water garden" below, with steps leading into the ocean. The tide was low enough for us to walk around, and glimpse Nemo-like fish darting through the coral.
The mosquito net is only for decorative effect: there are no little blood-suckers here. The Maldives is wonderfully hot year-round, without humidity. We came in May, and there were clear skies except for 10-minute rainfalls, once or twice a day.
From my desk, I can see my neighbors across the water.
My team and I lead crazy lives, and it was a relief to slow down and breathe. I haven't felt so relaxed in ages.
I've been in decadent bathrooms, but never one like this. An open-air walkway links the bathroom to an outdoor shower with two spouts.
We were enthralled by the marine life around us. There are thousands of species that live in the Indian Ocean, including several types of turtles (this stuffed one was in my bathroom).
Dress: h.NAOTO, from Closet Child Tokyo
Eyelashes: Shibuya 109 in Japan (see photos of the department store)
The open-air dressing room looks like a drawing out of a Tintin adventure comic. To the left of the walkway, stairs lead down to the ocean: an enclosed, private "pool".
Every attention is paid to detail, such as the driftwood hangars, and ceramic bottles of aloe vera.
A pirate-like rope handrail leads to the rooftop deck. Gili Lankanfushi uses environmentally friendly materials and building techniques, to leave the smallest carbon footprint possible.
The living room floor has a window into the ocean!
Eagle-eyed readers may notice that the salmon caviar tartar is missing from the welcome plate. I couldn't resist eating it before taking this photo…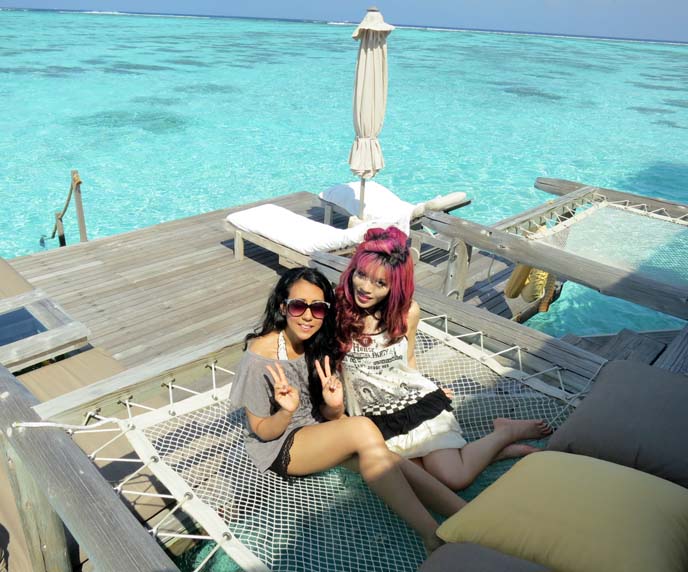 V-fingers for my filmmaker Melissa Rundle, who shot the images of me in this post. Can't wait to show you our video about Maldives travel.
Wouldn't you like to live the Pirate life? You can learn more about this magical getaway (and plan your own) on Gili Lankanfushi's site.
Peek at more of the island — including a photo of me failing at tennis — in this post. Next up: wine and chocolate tasting, boating and snorkeling.
What's your impression of The Maldives? Do you like my Goth in Hot Weather look? I got a bit tanned here…