A big, cute rubber duck in Hong Kong's Kowloon Harbour? Off to Eastern Europe with Eurail, in August!
Ai-yah! Hong Kong's being invaded by a giant (and ridiculously cute) yellow rubber duck! What shall we do?
Strike a pose with it, of course. That's the Asian way.
Keep reading for more silly photos of the floating ducky. But first, let me announce my next journey…
I've teamed up with Eurail.com, and they're sending my filmmakers and me on a journey to Eastern Europe! We've dubbed it… "Eurail-Vision."
This railway company specializes in all-access Europe passes — meaning you can hop across the continent, and visit up to 28 countries, with a single train ticket. Eurail has just launched a Japanese site, and I'm excited to give the service a whirl.
Since our schedules are tight and we've seen most of Western Europe, my team and I decided to do an Eastern circuit beginning in Vienna. Our First Class Global Passes arrived with this map to help plot our route. Going clockwise, we'll hit: Vienna (Austria), Bratislava (Slovakia), Budapest (Hungary), Belgrade (Serbia), Zagreb (Croatia), and pass through Slovenia on the way back to Wien.
Of course, we'll document our journey for you via travel videos, blog and social media. Be sure to add @lacarmina and @eurail so that you won't miss out. (All links to my social networks are in the footer and top right sidebar.)
Do you think the mega-duck will follow me to Europe? This charming work by Dutch conceptual artist, Florentijn Hofman, has traveled to 12 global cities since 2007.
In early June, I visited the duck before he floated away from Hong Kong. The kawaii-loving locals went crazy over this attraction.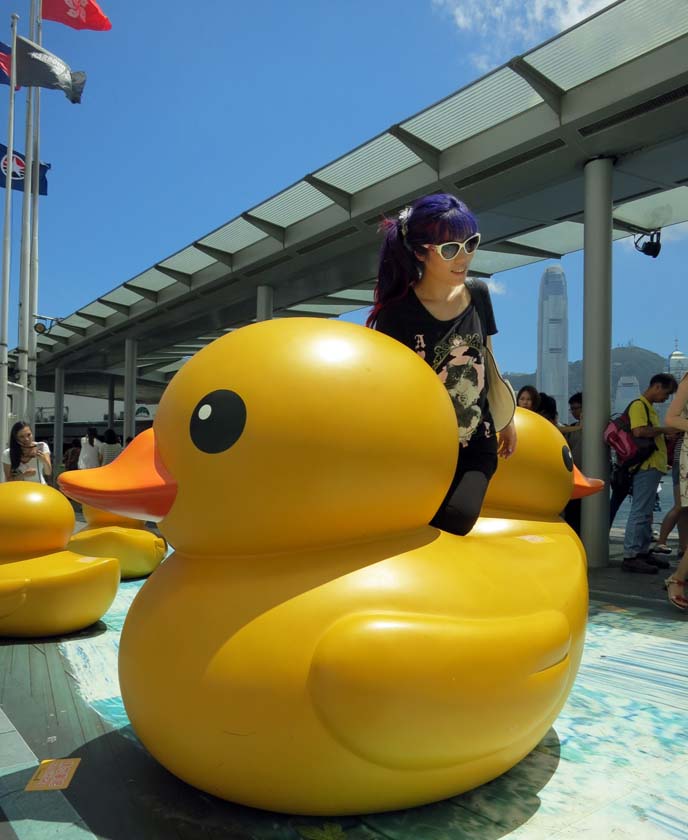 Kowloon Harbour was packed with camera-wielding spectators, especially families. (This same location held the 100 Doraemon statues last year.)
Funny story: at one point, the duck deflated! Thankfully, someone plumped him back up again.
A typical Chinese scene: the caretaker struggles to shield the child from the sun with a parasol.
This girl doesn't look very happy to be sandwiched by a row of baby ducks.
And this woman… has no idea how to pose.
Let the fashion blogger show you how it's done. (Sunglasses are Dolce & Gabbana; top is Banana Fish from Closet Child.)
Did the cute duck photos make you squeal? Got recommendations for my upcoming trip (Vienna, Zagreb, Budapest, Belgrade, Bratislava)? I'm especially looking for hip, emerging places to feature. Let me know in the comments or contact me!