Abu Dhabi Travels! Veiled fashion & Arabian makeup at Fairmont Bab Al Bahr hotel.
Whenever I travel, I love to get into the spirit of the destination and have it influence my looks. In Abu Dhabi, this was my outfit of the day.
My film crew and I were amazed by the "Austin Powers in Arabia" decor of our host hotel, the Fairmont Bab Al Bahr. (The Fairmont also hosted us in Dubai.)
Photos by my talented filmmaker Melissa Rundle.
Outside, the pool and beaches stretch out towards the famous white mosque.
The lobby offers Middle Eastern tea to weary travelers…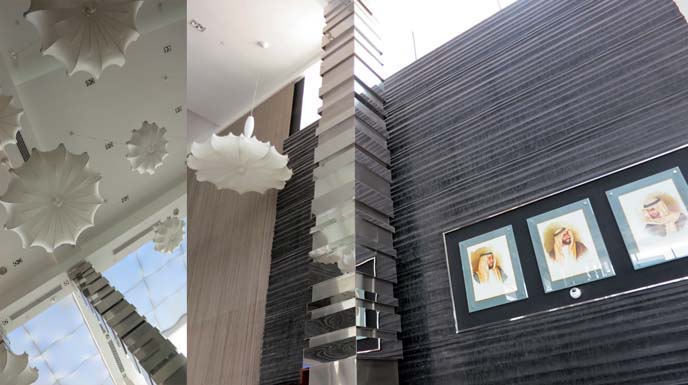 … and has portraits of the sheikhs that rule the United Arab Emirates.
In the basement, you can smoke shisha (or hookah). We had a fabulous meal at the award-winning Frankie's Italian Restaurant & Bar — I'm still thinking of the eggplant parmigiana and chocolate lava cake.
My room's decor continues the mod theme with a circular light-up mirror. What a nice welcome: a plate of chocolate and fruit.
We had rooms on the Fairmont Gold floor, which included a number of perks such as a lounge and open bar. (In the spirit of gonzo journalism, I drank fresh grapefruit juice with gin.)
Silhouette and my view from the bedroom window. Later, I'll take you inside the Sheikh Zayed Grand Mosque.
Abu Dhabi's a cultured, classical destination in contrast to the high-tech bustle of Dubai. The cities are only a 1.5 hour drive apart, so we recommend that you visit both.
The mosque is the most famous attraction, and one that you must experience for yourself.
Coming up: video footage of my Arab adventures in both Dubai and Abu Dhabi.
What do you think of my Middle Eastern-inspired makeup and coordinate? Have you ever wanted to visit this part of the world?
PS: I'm currently in Budapest and heading to Belgrade and Zagreb! Follow along my travel adventures on LaCarmina Instagram.