Montreal Goth shopping: retro vintage alternative clothing. Bazaar of the Bizarre, Creatures, Diabolik.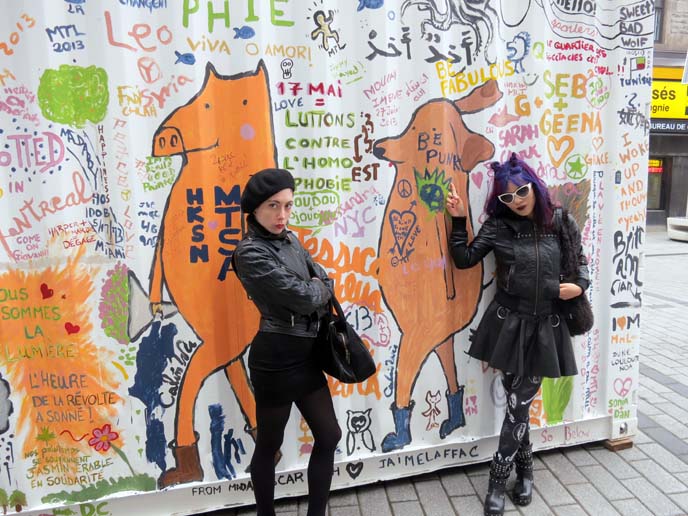 Let's continue our Montreal Alternative Adventure with a red light district walk, rockabilly vintage shops, and council of sausage dogs! On the second day, I wore…
Black hooded leather jacket: Danier Canada
Metal rings skater skirt and leggings: GladNews, from Shibuya 109 Tokyo
Black stud ankle boots: Yosuke, from Shibuya109
Eyeballs purse: Izzue Hong Kong
White cateye sunglasses: Dolce and Gabbana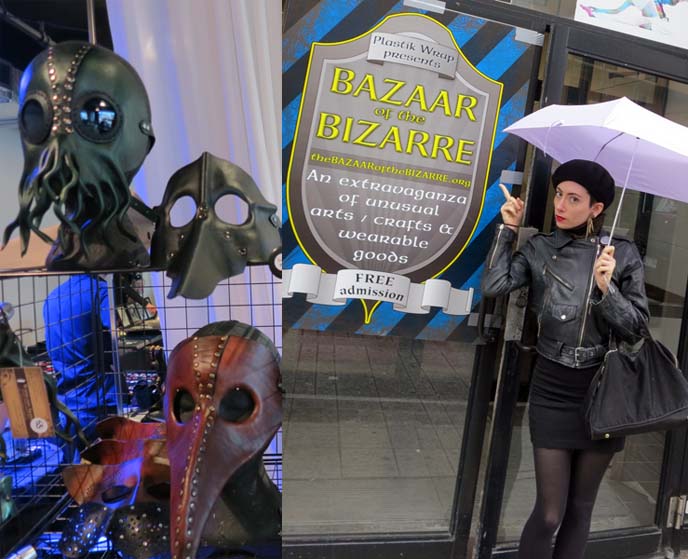 Lauren and I stopped by Bazaar of the Bizarre, an "extravaganza of unusual arts/crafts and wearable goods" that takes place at the same as Kinetik Festival. Designers set up tables and sold handmade items, such as these leather masks with beaks and tentacles.
I heart the hard-shell spiky purses, masquerade masks, and haunting prints on book pages.
Steampunk, Goth, cyber and metal subcultures all come together at the Bazaar.
After, we went on the Candyass & King Red Light Tour. As we walked through the historical district, our guides spoke about notable people and places, such as burlesque star Lili St-Cyr and punk Cafe Chaos.
Many underground venues have shut down, but strip club Café Cléopâtre has stood its ground.
We learned about ongoing attempts to "cleanse" the Red Light district, from New France up to today. The duo tells us the struggle continues between artists and developers, preservation and progress.
One of the many great things about Montreal: art is everywhere. I couldn't resist taking a photo of this panda painting.
And how brilliant is this public art exhibit? "Dachshund UN" — a United Nations represented by sausage dogs!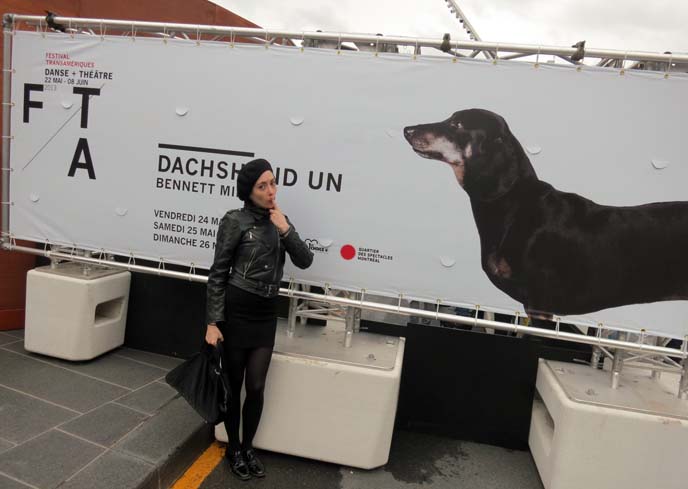 Artists Bennett Miller set up this canine conference at Quartier des Spectacles. Each wiener dog had a human handler underneath.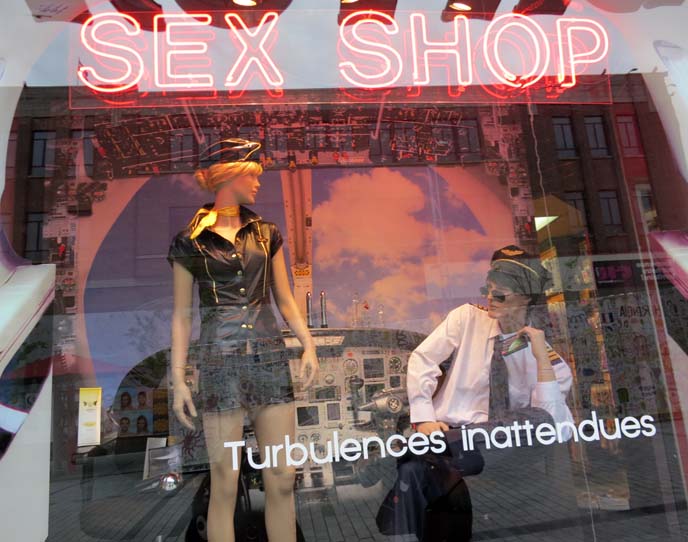 This racy store window's caption made me laugh. "Unexpected turbulence."
How about shopping? For retro and rockabilly fans, these shops are a must: Kitsch 'n' Swell and Rokokonut (3968-9 St Laurent Blvd).
It's vintage clothing paradise, from 1950s dresses to leopard print loungewear.
The stores also carry books and home goods, such as this 1970s magazine.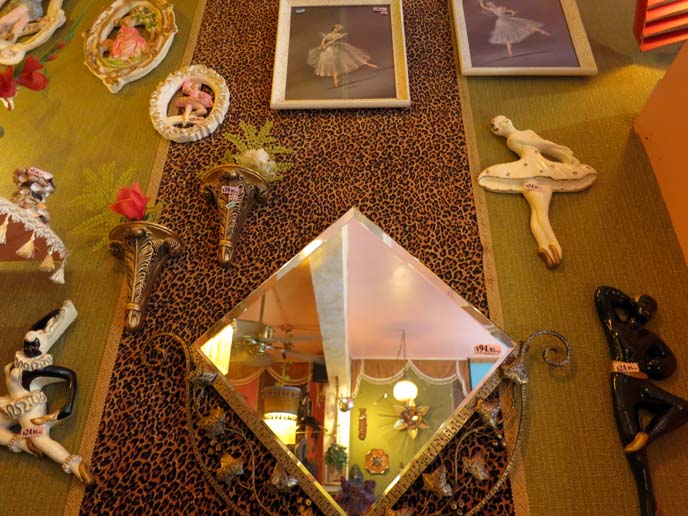 Can you spot my alien antenna in the mirror? There are quite a few cute boutiques around St Laurent Boulevard. We had fun strolling around and stopping for coffee.
Quite a few readers recommended the Goth/Alternative fashion boutiques Creatures and Diabolik. Both are on Avenue Mont-Royal; we sadly didn't have time to check them out, but hopefully you'll get a chance to visit and let me know what you think.
Did I miss any key Montreal alt shopping destinations? What do you think of the sausage dog United Nations?
More dark Montreal tips on Goth Me Out's site and my Alternative Canada blog category. The video is next, featuring… bagelheads!