Tokyo Steampunk store: A Story. Harajuku clockwork watches, top hats, retro vintage clothing.
This is a story about a Harajuku, Tokyo Steampunk shop, called A Story.
If you've seen anime films like Steamboy, you might think that Steampunk is big in Japan. In fact, this boutique hadn't even heard of the word until about a year ago… even though they had been making clockwork and brass accessories for some time!
Kenny and Luke (creators of the party Steam Garden) told me about A Story. On a recent shopping trip in Harajuku, my spooky friends and I were determined to pay a visit.
Said Karlsson, who shot me for my Adone Magazine cover, took a few street snaps along the way. My Alice in Wonderland-like dress is Liz Lisa; the white rabbit bag is from Amavel in Lumine Shinjuku.
It took us forever to find it, so let me give you A Story's address first: Carat Harajuku 103, 3-27-14 Jingu-mae, Shibuya-ku, Tokyo (東京都渋谷区神宮前 3-27-14 キャラット原宿103).
A Story also has a Shinjuku location, and sells items at the regular event Steam Garden.
The interior felt like a mad Victorian gentleman's lair. So many handmade accessories, with intricate clockwork parts.
Antique style lockets and key pendants for the ladies.
A top hat with brass decorations — oh yes!
Behind this antique tuba, an artisan tinkered over mechanical devices.
Beautiful the level of detail, purse arranged meticulously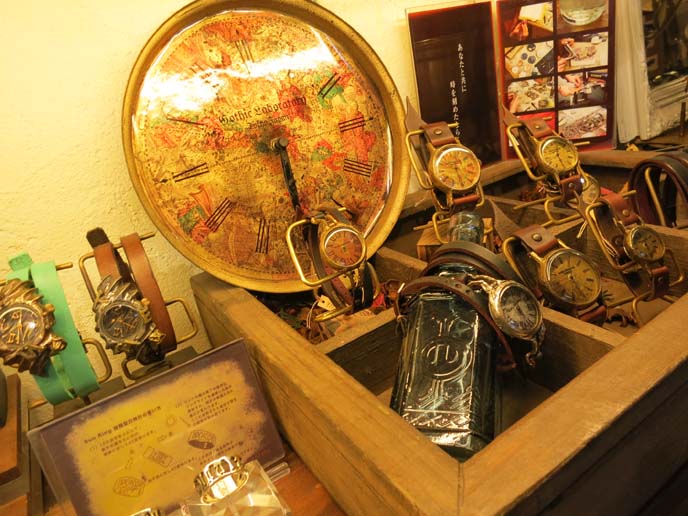 The wrist-watches are marvelously made, with a charming old map background. I could see them on a Jules Verne character.
I was charmed by A Story; it's well worth mapping it out and stopping by, if you're Harajuku.
The shopping trip continued with improptu dramatic posing. Batman, woo hoo!
Cat-eared hats are all over Tokyo at the moment.
There's also a lot of spiky headbands, inverted crosses and Nu Goth fashion.
This Scottish Fold t-shirt design was apparently stolen from Glitter Hell…
Love this pink hair Japanese girl's outfit and styling.
She's standing in front of a boutique that sells designer clothes for dogs. (Remember when I visited the swank Deco's dog cafe?)
Harajuku boys dress marvelously; love the laid-back layers and messenger bag.
It was getting darker when we walked by the h.Naoto store, Gramm. (Here are photos of the store interior, from the Hangry & Angry fashion show.)
Secondhand stores are hit-and-miss, nevertheless fun to browse.
Vintage pieces are great for putting together a retro-Victorian outfit. That's what I did for my Ladies of Steampunk magazine cover and spread.
Don't forget to consult my Harajuku shopping guide, packed with addresses, photos and info on the best alternative stores.
Are you enjoying my Tokyo steampunk coverage? Would you wear the clockwork items in A Story?
For more photos of this underground fashion, see my review of the regular Japanese steampunk party, Steam Garden.