Young, hip Belgrade! Floating raft nightclubs, Goth bars, Supermarket concept fashion shop.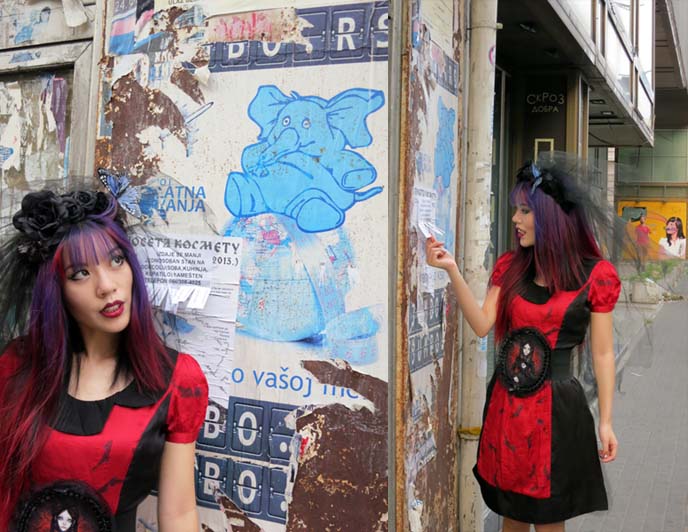 In my last post, I wrote about how Belgrade is a safe destination with beautiful architecture. Today, let's dive into Serbia's trendy, modern side — with visits to a Gothic club, hip concept stores, and floating river bars.
I'm wearing a creepy doll cameo belt, sent by Little Wicked's Emporium. These striking accessories are also available in skeleton rib-cage and flying bats prints. Love this online store's selection of alternative fashion.
My veiled, floral headband is a present from Cyril Lumboy of DollDelight (remember when we hung out at Animegacon Las Vegas?). My red silk dress is similar to this one.
Right across from our home at Selection Apartments was the newly-opened The Trend Shack (Dobračina 4). At the front is a milkshake shop. If you purchase a drink, you get a discount on the clothes in the back.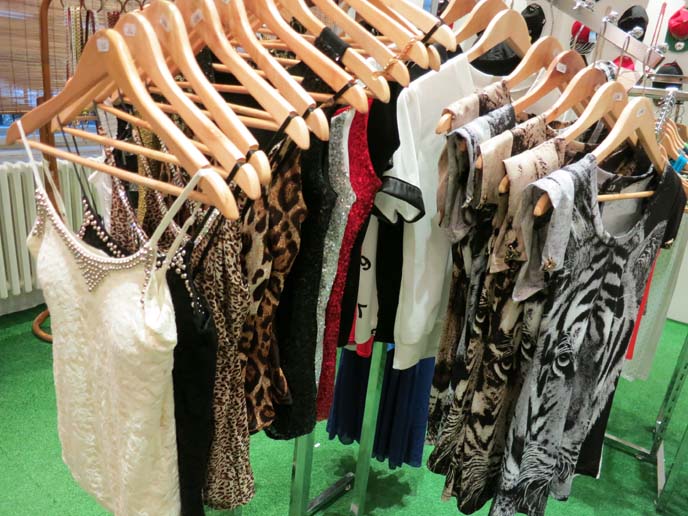 They had a sweet selection of hip-hop and streetwear fashion. Lots of animal prints.
Skulls, pandas and crosses. One wall was decorated with hats.
There were many cute shops around Republic Square. Like Hachiko in Shibuya, locals often meet at the Prince Mihailo horse statue.
This area, "Knez Mihailova Street" or Prince Mihailo Street, is the main shopping and strolling district.
Photography in this post by Melissa Rundle.
If this moustache graffiti is any indication, Belgrade (or Beograd) has a hipster side.
The epicenter of trendy fashion is Supermarket Concept Store (Višnjićeva 10, ugao sa Strahinjića Bana, Dorćol).
Inside the modern, stark interior: rows of colorful shoes, and racks of garments by upscale, regional designers.
The staff was hilarious and goofed around with me.
I could have shopped for hours, under the unique lightbulb lighting.
Supermarket is huge. One part holds a restaurant with an outdoor patio. In the back, you can purchase books (like Calvin and Hobbes), homewares and gizmos.
Now, for the nightlife. I heard that Belgrade has an exciting party scene, and it lived up to my expectations. There are many trendy bar and club districts, such as Dorćol.
I found the website Still in Belgrade very helpful, especially for listings of upcoming electro, techno, alternative DJ events.
For Gothic and Industrial events in Eastern Europe, check the Vrtoglavica Subculture World Facebook for party announcements. That evening, there was a Love Katz night at an obscure location. Entry fee was about $2.
Inside, there was only a small bar but they served very tasty (and inexpensive) absinthe. A DJ played Gothic, EBM, Electro, 80s music.
I love seeing different Goth parties around the world. Since Belgrade's scene is small, it combined different alt tribes (punk, etc).
We ended up at the infamous Belgrade floating raft clubs. What a sight: a row of boats tethered to the banks of the Sava River, each with different music blasting.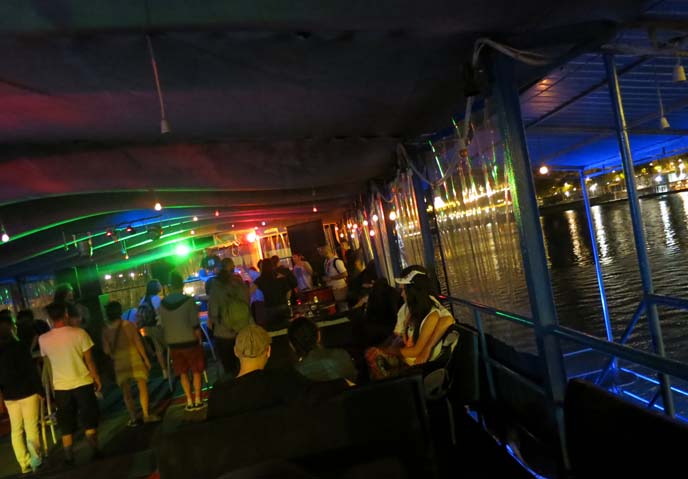 These floating bars are only open in the summer; entry to each was free or $1-2. We hopped from boat to boat, taking in the different dance DJs and drunks. I've had crazy nightlife experiences all around the world, and this one was one of the most unique.
I'm glad I went to Serbia during my Eurail-Vision trip. Cities like Berlin, Tokyo and New York are known for their nightlife and fashion — but let's not forget that other parts of the world that can be as exhilarating. Thanks to Still in Belgrade for the nightlife and trend tips.
Did you know about Belgrade's waterfront bars and concept stores? What other clubs would you recommend?
PS – Thanks for your kind response to my Serbia posts! Please add my social networks below to keep in touch — I hope to be back soon.
Twitter – Instagram – Facebook – Google Plus