Bangkok street style! Siam Discovery youth shopping mall. Sretsis, Wonder Anatomie, Thai fashion.
One of my goals, in coming to Bangkok, was to seek out the local, experimental fashion that's been receiving worldwide buzz. To get the scoop, Seby and I hit Siam Discovery and its sister malls, where brands like FlyNow, Wonder Anatomie, and Sretsis are based.
Most of you are familiar with Tokyo, Hong Kong, and Seoul style. But what's the streetwear scene like in Bangkok? Colorful, vintage-inspired and experimental.
My number one shopping destination in Bangkok: Siam Square. (989 Rama 1 Road, Pathumwan, Bangkok.) You can easily spend a day (and a lot of baht) in this entertainment district, which consists of several branches…
♥ Siam Paragon houses international luxury brands, like Chanel and Cartier. Seby and I didn't even step foot in there, since that's not where our interests lie.
♥ Siam Center has multiple floors of both local and international clothing brands.
♥ Siam Discovery is part of this complex, and my favorite of them all. It's brimming with concept labels and avant-garde couture.
♥ MBK Center caters more to BKK residents, with both knock-offs and authentic goods.
With so much to see in one space, no wonder Siam Square is a favorite hangout for young Bangkok locals.
Izzue, a Hong Kong favorite of ours, has a boutique in Siam Center.
The designs are plush and poppy as ever. This pink jacket can double as a travel neck pillow!
Izzue makes winter-wear fun, although you wouldn't need hats and jackets for the warm weather in Southeast Asia…
Angelababy looks out from her B+ab poster. You can feel Hong Kong and Japanese influences here, but as you'll see below, Bangkok fashion takes a mind of its own.
The Discovery section encourages boutiques to get creative with their store displays. I ran into a robot-monster…
… and got into a sticky situation at Models Own, a cosmetics and nail polish bar.
Inside this nest-like wood hut, Pedz sells whimsical clothing and paintings. The execution fits their motto: "Contemporary Chic with Art, Smart and Fun."
I particularly liked their handmade dresses, with vintage owl prints and traditional Asian layers.
DA+PP is a funky collection, full of street attitude.
There's a wide variety of styles found at Siam Discovery, but most have a light, unfussy, fresh feel.
Painkiller is a good example: sleek street wear, mainly in black and white.
The penguin and cat prints are fun, but the styling is more vintage-hipster and less "kawaii" (compare, for example, to the designs in Harajuku's Laforet).
Among my favorites stores is Workshop, which brings together a number of labels. Lots of colorful dresses, accessories and bowler hats for great prices. I bought a blue leopard print dress here, which I'll show you soon.
Fashion bloggers adore the girly twee designs of Sretsis, a line by two Thai sisters. They were having a pop-up event during our visit, and the line up was immense.
Gothic types might like the skull and studs jewelry….
… and this brand, Wonder Anatomie. These laser-cut avantgarde designs are inspired by the human anatomy. Even the store design reflected this theme.
The forms and textures mimic spines, bones, rib cages — magnificently interwoven into colorful prints.
Mr Chalermkiat's works transcend any subculture definition, and the look is unmistakably his own. I'd love to wear the skull top in a photoshoot.
If your mind hasn't been blown already, it will be when you enter FlyNow. For years, this Thailand designer is one of the best-regarded in the country. Perhaps Halloween inspired the creepy-rainbow decoration?
Don't let the disembodied baby-heads distract you from the patterned, street style clothing.
On the more subdued end of the spectrum, Siam Discovery also sells classic, retro-inspired fashion such as these swimsuits.
This store had a selection of refurbished antiques. Someone got a bit naughty with Marge Simpson…
Top hats were aplenty in Wolfkind, which felt like a gentleman's parlor.
More hats in this high-end streetwear store for men.
Tired from our long walk, Seby and I stopped for cappuccinos.
Thai schoolgirls, in long blue skirts, prefer to eat at Mr Jones' Orphanage. It's a combination of a dessert cafe and a teddy bear factory!
I only showed you the pop culture stores, but remember, Siam Square has something for everyone: electronics, home goods, even purikura.
There's much more shopping on the way… Next, follow Seby and me, as we visit Chatuchak Weekend Market and a Lolita boutique at Platinum Mall.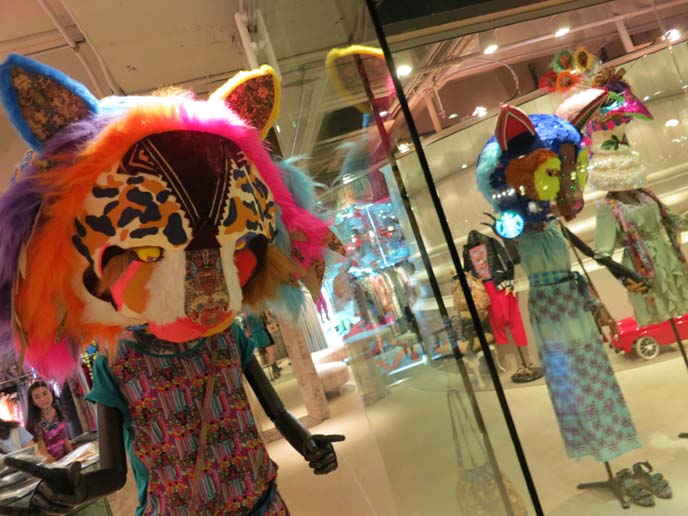 How do you like the experimental clothing in Bangkok? Were you surprised by this local fashion scene?