Shinjuku Hello Kitty store: Sanrio clothes & Tokyo cute food! Hong Kong Express Airways magazine cover.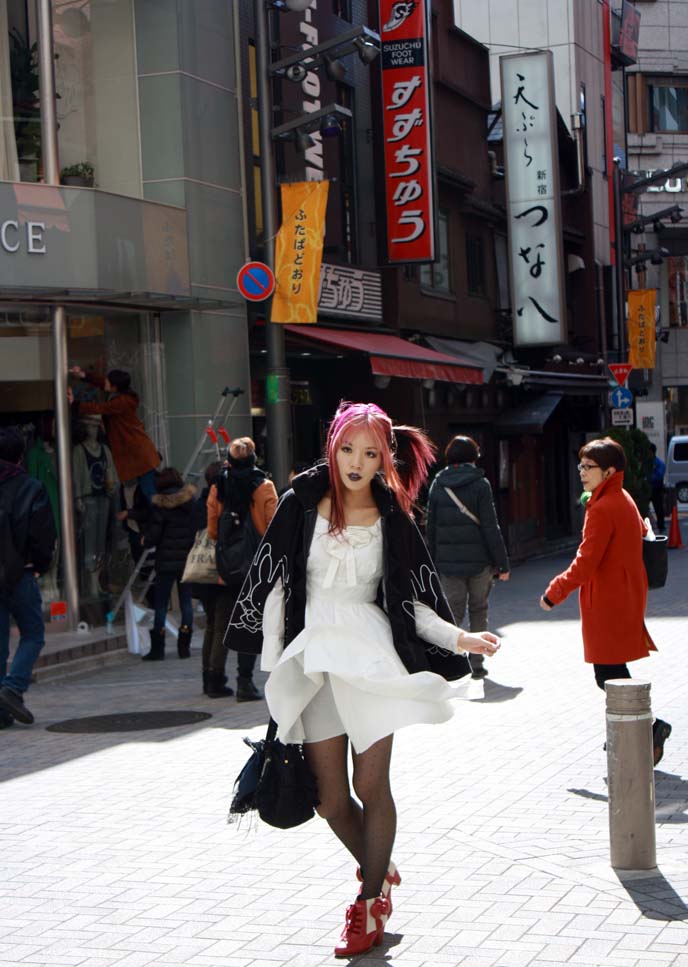 I know you love cute Japanese characters, so I captured tons of photos during my TV shoot in Tokyo earlier this year (hence the pink hair). I'm actually in Japan right now, for yet another TV filming, so there are many more photos on the way…
For now, enjoy these images of Totoro donuts, Kyary Pamyu Pamyu contact lenses and more kawaii — as well as another magazine cover, for a Hong Kong in-flight magazine!
Last spring, I had sakura-colored hair. Before the TV crew arrived, Naomiyaki took some street snaps of me in Shinjuku. The colorful energy of this entertainment district (which holds Christon Cafe, Marui One, host clubs and more) can't be beat.
Miffy the bunny cape: from the TwoPercent x Miffy store in Hong Kong
White dress: gifted by Gloomth, my dark fashion friends in Toronto
Lolita lace purse: Spider, Hong Kong
My Hello Kitty shoes are ridiculous: red and white, with a big plump bow! They are part of the KiLaRa Hello Kitty fashion collection in Hong Kong.
I'm hugging the iconic giant Hello Kitty statue, who sits in front of Shinjuku's Sanrio Gift Gate shop. (Address: 1st Floor, Korakuen Ad Hoc Building, 3-15-11 Shinjuku). It's one of the many Hello Kitty shops you'll find in Tokyo.
However, probably the largest and scariest source of Sanrio goods is Puroland, the Hello Kitty theme park…
Glam Nail Studio Vancouver decorated me with pastel nail art, ringed with glitter and topped with a Keroppy. As always, I use Bio Sculpture Gel (the polish never chips, but also doesn't damage the nail as acrylics do).
As you might expect, there are Hello Kitty products all over Tokyo. The products in the official Sanrio shops are often pricier, but you can find little souvenirs (like these My Melody bath balls) in Don Quixote, Tokyu Hands, and even 100 yen stores.
When you walk around the city, you'll surely encounter cute decorated food! These Totoro pastries, from a Nakano North Exit bakery, were among the most adorable. I also found Anpanman and happy face buns nearby. (Offerings change constantly, so your best bet is to pop your head into bakeries and see what's currently available.)
Mr. Donut's Pon de Lion mascot brightens up this snack. They recently released a Halloween Hello Kitty donut, and currently offer Snoopy and Woodstock ones.
Even convenience stores like 7-Eleven have kawaii food. In Cantonese, this cat bun would be called a "maoo baoo"!
In a ramen shop, I spotted this white cat on a bottle of sake. It's "Nigorin Sake with Lactic Bacterium" — a light, milky sour made from fermented rice alcohol. Even though the bottle is adorable, I didn't dare try it.
Don Quixote is a "general store" with locations all around Tokyo. (The iconic location is on Yasakuni-doori near the Shinjuku Station east exit.) Here, you can pick up cosmetics, beauty products, homewares and even electronics for excellent prices.
Kyary Pamyu Pamyu is the present It Girl, and poster child for a line of circle colored contact lenses.
Even Japanese hair dyes have pretty packaging. The "Fresh Light" brand is modeled by Junie Moon dolls (remember my photos of the Junie Moon doll store in Daikanyama?)
There's no better place to pick up a French maid or Japanese schoolgirl costume.
Turn into a living doll with the help of colored contacts (like the ones I wore here).
Rilakkuma fans, you may go a bit crazy…
This plush bear is a popular sight all over town. There must be hundreds in this crane game machine.
Who are your favorite Japanese kawaii characters? Have you tried making food in the shape of Hello Kitty and friends?
For recipes and tips on how to "cook cute," I invite you to check out my book, Cute Yummy Time (Penguin Books USA). Perhaps it might be a good Christmas gift.
PS: In addition to Rebelicious, I'm on another cover this month: the very first issue of UO, the in-flight magazine of Hong Kong Express Airways. This is a newly-launched airline, with routes from Hong Kong to nearby destinations such as Tokyo, Osaka, Phuket, and Penang.
Thanks to this youth-focused, short-haul airline for making me their cover ambassador, and interviewing me about my favorite places in Tokyo. You can read UO Magazine online here, in both English and Chinese. (Photos by Said Karlsson, hair by Kukukachoo, more images from this shoot here.)
I'll likely be doing more with HK Express soon, so stay tuned for that… and loads of Japan winter coverage!