Blue-Green mermaid hair in Portlandia! Vegan restaurants, Hawthorne hipster shopping, vintage stores.
It's official, I want to keep my turquoise and blue hair! I'm having fun trying different outfit colors and makeup combinations, to match the new hues.
In this post, I explore the vintage shops, health food cafes, and hipster districts that Portland is known for. Or dare I say… Portlandia?
What La Carmina wore:
Green-blue hair color and style: Stephanie Hoy, stylist at Avant Garde Hair in Yaletown, Vancouver
Flower clips: made for me by Angelica Brigade
Makeup: from Annabelle Cosmetics
Turquoise Victorian dress: Carina e Arlequin, Tokyo Lolita brand from Closet Child
Laser cut boots: Yosuke Japan, similar to these boots
Faux fur eggplant purple scarf: Holt Renfrew Canada
I posed for these outfit photos in front of the Bagdad, a pub and movie theater. This Portland district, Hawthorne, is filled with quirky-cute boutiques and cafes.
Images taken by Naomi, who is First Mate of our TV fixing and arranging company, and also designed the Art Nouveau WordPress theme of this blog.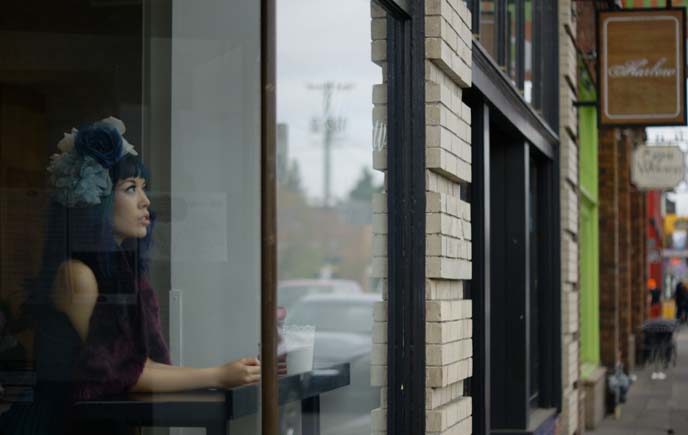 The Portland tourism bureau invited us to Harlow for lunch. (3632 SE Hawthorne Blvd, Portland, OR). The restaurant specializes in casual but delicious vegan, gluten-free and organic meals.
Since it was the day before Halloween, this cut-out H pumpkin stood next to the healthy desserts.
The drink menu changes all the time. At the time, there were haunted concoctions. Instead of blood, the Nosferatu Cocktail is stained red with beet juice.
The staff wore costumes, and prepared all the juices and meals fresh to order. This is a great place for anyone who is gluten-free, vegan, or has food allergies.
Harlow is all about conscious local choices, but without the pretension. Food is simply fresh and flavorful, served in an airy space.
The coffee is by Trailhead Roasters, a bike-powered organic collective that supports female farmers. My pretty juice is a mix of grapefruit, apple, celery and mint.
At Harlow, vegan and gluten-free choices aren't an afterthought — they are the stars of the show. The photo above shows how tasty and filling our lunch was. (No meat served here, but you can order eggs and dairy products.)
Be adventurous! Try the creative house-made specials at Harlow, such as bourbon BBQ tempeh, jalapeno cashew cheese, and hazelnut milk.
Naomi also took us to Paradox Organic Cafe for vegan brunch. The meatless biscuits and gravy are through the roof.
Again, you can order animal products here. But as the wall clippings show, Paradox takes pride in serving ancient grains and organic produce.
Brunch is a big deal in Portland. On the weekend, popular cafes have 1-2 hour long waits for a table. Paradox isn't overrun by hipsters yet… I hope it stays that way, lest this blog post bring on a "brunch-pocalypse"!
Vintage shopping is also a major activity. Across the street from the Jupiter Hotel — remember my astronaut costume shoot? — there is a row of concept and secondhand boutiques, including Haunt Studio. (811 E Burnside St #113, Portland, OR)
Nothing beats cut-out Lolita boots, and autumn leaves in the Pacific Northwest. Photography by Naomi Rubin, Melissa Rundle, and me.
As soon as I entered Bombshell Vintage, I saw a puff of tutu skirts, and Courtney Love (or rather, someone dressed as her) at the counter.
Hattie's Vintage Clothing had a magnificently curated selection from past eras. I simply had to get this 1970s disco winter coat, made from white leather and faux fur. It's by Alan Cherry, a Toronto upscale boutique that closed in the 90s. (More photos to come.)
I recommend strolling on Hawthorne, Belmont and Mississippi — a huge variety of kooky shops here, including a Third Eye hippie house, and a craft studio for handmade masks.
The Portlandia joke, "Put a bird on it," rings true. A lot of products were stamped with birds, even this skull jar.
Since it was around Halloween and Day of the Dead, there were spooky skeleton items everywhere.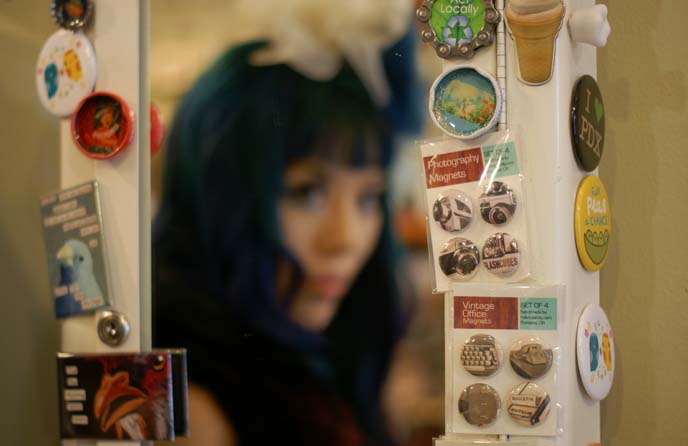 Portland is a great place to pick up funny gifts, eco-friendly bags, twee jewelry…
… and a Mexican sugar skull or two.
I hope you're enjoying the photography in these recent posts! Most are taken with my Sony DSLR a700 camera, with a 50mm f/1.8 lens (aka Nifty Fifty). Shallow depth of field FTW.
What do you think of PDX's hipster culture? Are you fond of vegan food, vintage shops, and the TV show Portlandia?