Stroll in Shinjuku: Tokyo locals & city life. Kyary Pamyu Pamyu, Evangelion, Ghost in the Shell.
And now, for something a little different: a walking tour of Shinjuku, Tokyo.
I've been trying to up my photography game in 2014, and there's no better way to practice than by walking around a city and taking impromptu photos. I hope you enjoy these little slices of Japanese life, seen through my camera lens.
There is so much you can learn about Japanese culture and its unique quirks through a walking tour, especially in a fascinating district such as Shinjuku. If you are looking for walking tours or other tours from Tokyo options, you can find out more about these tours as well as useful information for planning a Japan trip on Tourist Japan.
Here's a typical sight by Shinjuku subway station: commuters waiting at the entrance gates for their friends. Most pass the time by staring at their cell phones, like this girl in a cute pom-pom hat.
As you may know, nobody steals in Japan. Cyclists leave their bikes on the side of the road, unlocked. This officer is merely lining up the bicycles so that they don't interfere with pedestrians on the sidewalk.
There simply isn't a culture of stealing (people usually get their wallets back when they lose them). And punishments are so harsh for petty theft that it isn't worth the attempt.
Sometimes, it seems the main job of police officers is to wave traffic along, and help befuddled foreigners find their way!
Near the West exit, I spotted an Evangelion pop up store. Do you know the names of these anime characters?
Towering above the East exit: a giant Ghost in the Shell poster. Anime and manga are ubiquitous here.
Harajuku pop queen Kyary Pamyu Pamyu remains popular. She models glasses and tentacle-like hair for A-Look Eyewear.
More metal bicycles on Shinjuku Dori. This is the road that leads to Marui Annex, the current home of Goth Loli Punk alt fashions.
You'll always see trucks decorated with striking ads, driving around the busiest streets.
The graphics are eye-catching and frequently feature "kawaii" characters.
How can you resist staring into the eyes of this doll-like girl?
Ad trucks also blast music and showcase the new releases of major artists.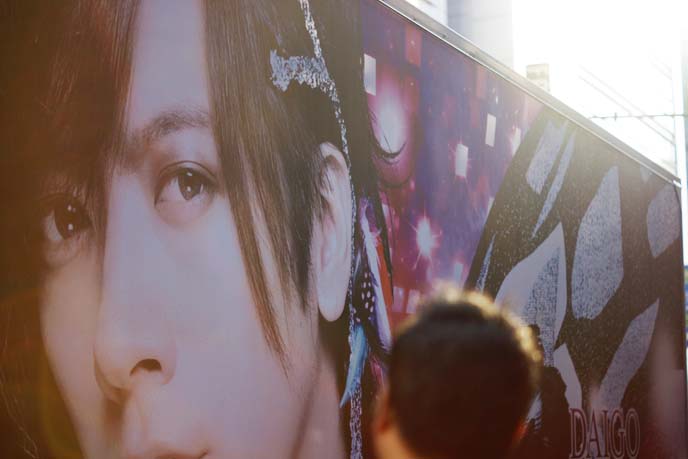 Singer-songwriter Daigo had his face plastered on this one.
Small dogs are easier to house in cramped apartments, so many Japanese prefer them to large ones. In a trendy cafe, a couple was eating lunch with their little brown toy dog, dressed in a shirt.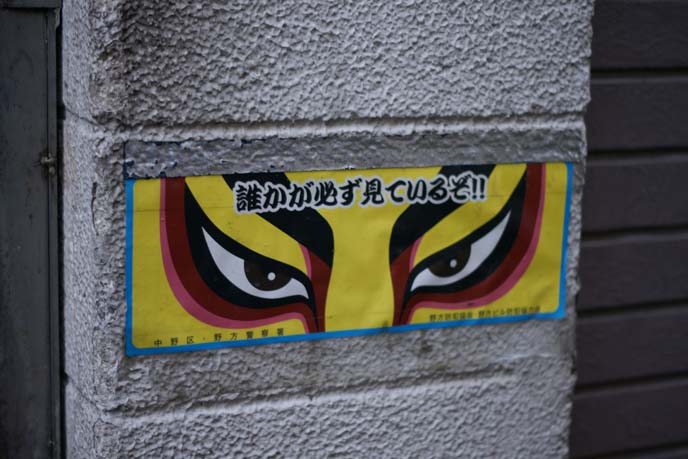 Love this stern sign, featuring a man's eyes done in Kabuki makeup.
Three stylish Japanese guys, captured in a moment of laughter.
Don't forget to look down. Many of Tokyo's manhole covers are decorated with art. This one is a sakura flower or white cherry blossom.
When it gets dark, Kabukicho (the host club and entertainment district) glows with neon letters and lights.
Rainbow reflections from a motorcycle, parked in front of Don Quixote (the inexpensive general goods store).
This rearview reflection captures the crowds, colors and craziness that are uniquely Shinjuku.
Near the subway station, various bands perform and cell CDs, often within meters of each other. This rainbow haired Visual Kei musician sang in the most remarkable opera-meets-atonal voice.
Shinjuku is perfectly safe at night, so I encourage you to stroll around, and take photos of the magic.
What do you think of this travel feature? Would you like to see more posts like this?
PS: I'm currently in Toronto, and loving the scene here. There are previews of my alternative travels on my social networks (@lacarmina, linked in the right sidebar if you want to follow).