We met Bianca del Rio at Trannyshack, San Francisco! Rupaul's Drag Race season 6 winner.
San Francisco… where do we begin? How about with the fab Bianca Del Rio, current champion of RuPaul's Drag Race!
Organizer Heklina (left) invited my friends and me to Trannyshack – the longest-running drag queen show in San Fran. (The name will soon be rebranded to T-Shack, since the "t-word" has taken on different meaning since the event started in 1996.)
We were in for a treat… it was Madonna Tribute night, and the headliner was The Bianca Del Rio. Backstage, Die Schwarze Frau embraces the RuPaul season six winner. Read on, to be blown away by the feisty performance photos!
Die Schwarze Frau is Yukiro's Gothic drag-queen persona. Before the show, she spooked up the San Fran streets. Those long nail-gloves nearly took out my eye…
Sucking on the blood of young cute boys. That's the secret to staying forever young.
That night, Trannyshack was dedicated to Madonna (they have various themes each time). The show began at 11:30pm with a Megaman drag act, performed to "True Blue".
We were impressed by the elaborate staging and choreography of each act — some had a dozen people on stage, prancing around with handmade props. The makeup and outfits were "top quality," such as this glittering sugar skull trio.
The sold-out audience went ballistic when Bianca Del Rio took the microphone. Heklina brought Die Schwarze Frau on stage, and introduced her to the crowd!
Bianca is one funny bitch. I was falling over laughing at her crowd observations, and witty repartee.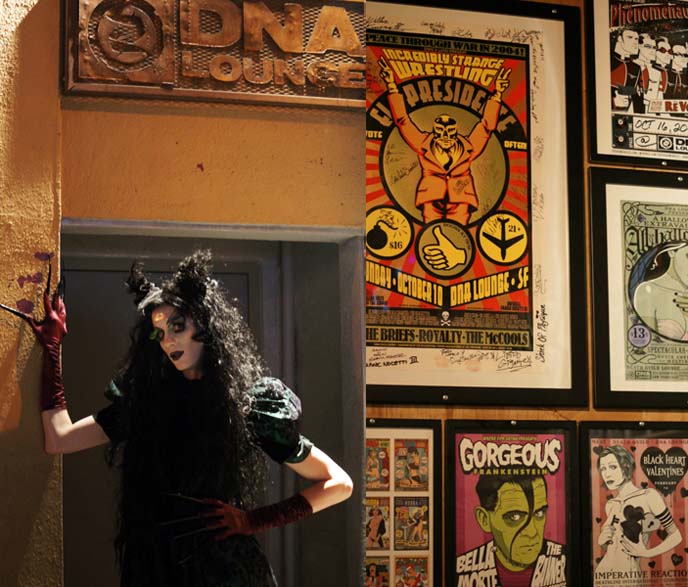 Trannyshack usually takes place at DNA Lounge (375 Eleventh St, San Francisco). There's a DNA pizza parlor next door, covered in alt posters. Drag queens and pizza = best combo ever.
Outside, we tottered around with these fabulous yet friendly people. Styles ranged from low-brow to avantgarde to punk, and everything in between.
How about this divine hand-flip in motion?
We went back in for more intense theatrics. T-Shack is an institution, and brings in the top drag queen performers from all over the country.
Doesn't this photo remind you of the "Time Warp" dancers on the upper levels, in the Rocky Horror Picture Show?
We met Holy McGrail, a celebrated San Francisco performer who calls herself a "Faux Queen Diva".
Bianca returned, as the stunning Evita. She waved manically, while lip-syncing to "Don't cry for me Argentina" partly in Spanish. Oh, what a moment!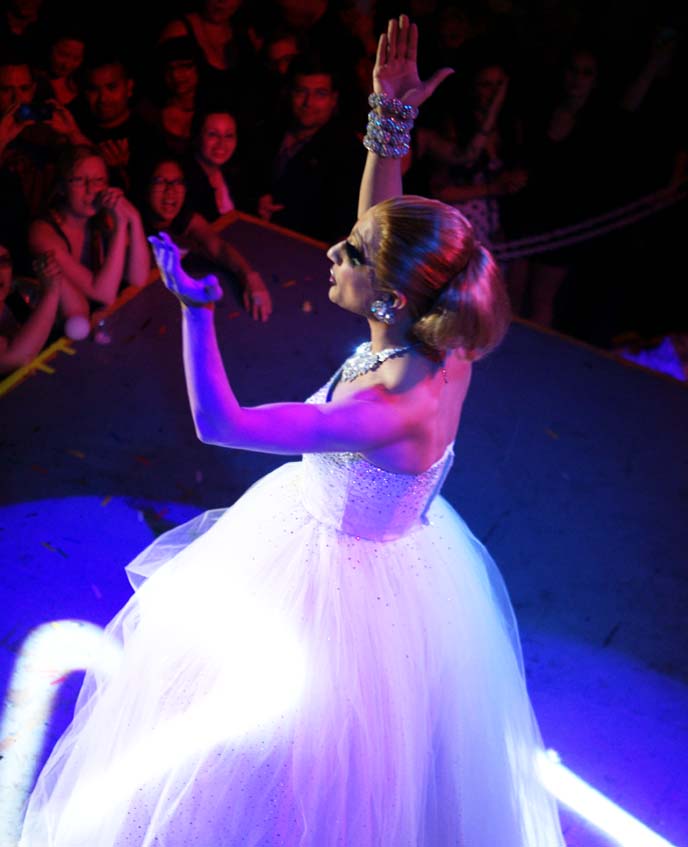 During the instrumental break, she pretended to be bored and sat down on the floor. You can see how much the crowd adores her.
The show went on, with more incarnations of Madonna. "Hey, Mr DJ put a record on I wanna dance with my baby. Music!"
"Strike a pose, Vogue. Let your body move…"
Even the backup dancers went all out with makeup and wigs. (All photos in this post by yours truly, La Carmina.)
Heklina announces the last performer, and a White Rabbit darts out…
… to do a naughty Alice in Wonderland romp. Can you name all the characters represented?
When it rains rainbow confetti all over, you know you're in the right place. Travelers to San Francisco, you simply must experience Trannyshack (or now, T-Shack). Get tickets well in advance, since they sell out, and check their site for upcoming special events. Try to see the annual "Star Search", a fierce smackdown to find the next "Big-Wig" of SF drag!
And congrats to Bianca Del Rio, for taking the RuPaul's Drag Race crown. Did you watch this season, and cheer for her?
This dark queen surely did. Die Schwarze Frau is performing her drag show in Tokyo, on June 15 and 22 — mark the dates in blood. Details to come on her blog.
Stay tuned for more of our ridiculous San Francisco escapades. Preview photos are on my La Carmina Instagram and Tumblr. And my next destinations are to be announced soon… any guesses?