San Fran: cable cars & Chinatown! Meet me in NY, June 13: Chara-con cosplay, avantgarde party.
Let's do the "San Francisco Disco"! I have many colorful posts to share with you, from my recent trip.
But first, let me announce my next destination… New York, NY. I'm here for a secret TV shoot, and want to celebrate Friday the 13th (of June) with you.
On 6/13, hang out with me at Maid Cafe NY, for their very first cosplay event — Chara-Con! I'll be the special judge of the "character contest," with awards for Craftsmanship, Styling, and Crowd's Choice. Winners will get tickets for New York Comic Con 2014, and giftcards from Cosplay Shopper. Applications can be found here, and will be accepted until June 12th.
Even if you don't want to dress up, I hope you'll come experience this unique maid cafe, and cheer on the cosplayers. No cover. See you there!
WHEN: Friday, June 13 from 6-8pm
WHERE: Maid Cafe NY, 150 Centre St, NYC
RSVP: Via their Facebook invite
Later that evening, I'll be hosting an underground party with nightlife royalty, King Vulcanus Levi. Join us at Friday Factory, a Vaudeville experience for the 21st Century. See avantgarde artists (including my friend Lauren from Tokyo!), musicians, dancers, tarot readers and more. Come have a drink with us, and enjoy Mediterranean snacks from much-loved Chef Fred Mero.
WHEN: Friday, June 13 from 10pm-2am
WHERE: La Rosetta, 243 W 14th St, NYC
ENTRY: A discounted $10 if you say "La Carmina" at the door, with a free drink and snacks
Back to the Frisco-Disco. I've been to San Francisco about five times (it's one of my favorite US cities), but this was Yukiro's first visit. On Day One, we decided to take in SF's most famous sights.
This blog is 99% about the alternative, bizarre, underground side of travel (like the drag queen mega-show) — but why not also see what cities are famous for? It would be rather obnoxious to go to Paris and avoid the Eiffel Tower, or visit Cairo and shun the Pyramids.
In any case, no matter what we do, we tackle it with our signature style.
I'm wearing a rose-print "Reality Trip" crop top and skirt, c/o Alice's Pig — I adore their vintage, romantic designs. My white platform shoes are c/o YRU. Can't get enough of their funky designs.
San Francisco Tourism gave us Muni (metro) passes that let us hop around easily. We rode to Embarcadero Station, and walked to Pier 39 (to save time, change to the light rail). This is a favorite waterfront attraction, filled with shops, seafood restaurants and a cute carousel.
Yes, we rode the merry-go-round. I conquered a zebra, and Yukiro straddled a seal.
I first traveled to San Francisco when I was six years old. It's a wonderful destination for everyone, from children to alternative club kids.
Many tourists take a ferry to the famous island prison, Alcatraz. We decided to only walk around the pier, and dine on the fresh seafood…
… but not on shark fin soup, of course! Such a cruel and wasteful practice.
Since we had passes, we ducked into the Aquarium of the Bay to admire leopard sharks and other "under the sea" creatures. The sea otters were sleeping, but outside, we saw dozens of sea lions flopped on the marina dock.
Yukiro was a bit creeped out by the jelly-fish. (We've been watching an anime about a rich cross-dressing boy and a dorm of otaku girls, called Princess Jellyfish – have you seen it?)
What happens when an evil queen kisses a frog?
Onward to Ghirardelli Square at Fisherman's Wharf. We ducked into the Boudin bakery, known for its turtle and bear-shaped breads. However, we did most of our shopping at Trader Joe's and Whole Foods (in Japan, it's difficult and expensive to get dark grain, gluten free and other healthy specialty foods).
We met a street performer, carrying a real bunny in a basket on his head. The Musée Mécanique at Pier 45 is always a hoot. It contains creepy, antique penny-arcade machines, like peep shows and fortune tellers.
You can't miss two of the most colorful districts, Chinatown and North Beach (aka Little Italy, and home to the Beats' City Lights Bookstore).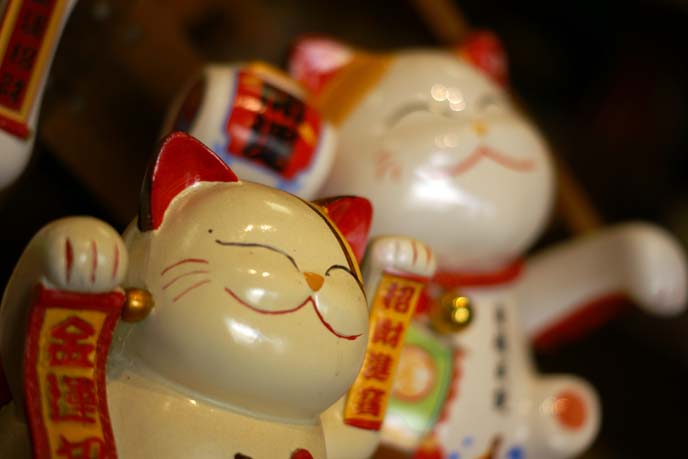 We found fans, lucky cats and other Chinese kitsch.
Coming up, I'll show you Japantown, Haight Ashbury and San Francisco's best alternative-spooky stores.
Also on the "SF Must Do" list: riding a cable car. It stops by a fantastic anime and manga store, Powell Gifts.
I first did this when I was a kid (that's me in the pink).
Stroll around and admire the Painted Ladies, or colorful Victorian-Edwardian houses that are signature San Fran.
How gorgeous is this steampunk-ish church cross?
Tip: wear good shoes, since you'll be walking up and down steep hills. We passed by Lombard Street, the zig-zag road in Russian Hill.
Finally, an obligatory shot of the Golden Gate Bridge. This view is from Baker Beach in Presidio.
And let's not forget Steiner Street, the residence of Full House! I half expected Uncle Jesse to sing us a song.
Did you enjoy our touristy-tour of San Francisco? Don't worry, the next posts are about the alt stuff: skeleton shops, BDSM cafes and play parties.
Sending you a kiss (notice my shorter hair cut)? See you in New York City — please tell your friends about my Friday, June 13th events at Maid Cafe NY and La Rosetta (info at the top of this post). See you all soon!