Cool Seoul art districts: Itaewon & Dongdaemun! Leeum museum, Zaha Hadid design plaza.
I heart Seoul! I dressed up like a rainbow bird, and flew through two of the artsiest districts: Itaewon and Dongdaemun.
Let's go inside a spaceship-like design plaza, Lotte fashion mall, Samsung's new Korean art museum…
… and I'll show you my "outfit of the day" along the way. I've truly been embracing colors lately. Show Me Your MuMu sent me this fabulous Hope Sunset top, with flowing sleeves. They make a pretty white ruffle top too.
But first, a quick announcement: X Japan are playing in NYC on October 11! This is the Jrock band's first appearance in NY since 2010, and trust me, you don't want to miss out. X Japan will be playing both new songs and hits from the past decades, like "Endless Rain."
Tell all your friends, and pick up concert tickets here (Sat Oct 11, 8pm at Madison Square Garden in New York City). For a hint of the experience, check out my review of X Japan's 2010 show in Vancouver.
Back to Seoul, Korea. I loved walking around the Itaewon district of Yongsan-gu. It's filled with modern architecture and public art, like this Blue Square in front of the movie theater.
My look fit right in with Illopetals' bold character design.
The bunny and girl are depicted in a cute style, yet it's distinct from Japanese "kawaii" aesthetics. There's more of a street attitude in these works.
To get around, I rode the Seoul Metropolitan Subway. There's a huge number of stations, forming a snake-like system. I found the metro rather slow, and the stops were not conveniently-placed… I often had to change trains several times, even to go between main areas like Hongdae and Itaewon. Be sure to allow a lot of travel time when you're in Seoul.
On the positive side, the subway cars are clean and high-tech. Near the tracks, I noticed cabinets filled with gas masks and oxygen tanks, in case of terrorist attacks!
All the passengers were polite and engrossed with their smartphones. I wonder what these Korean schoolboys were looking at.
Itaewon Station is a stop on the brown-beige Line 6. When I stepped out, I knew I was in a hip area: I spotted modern cafes, giant bird and bear sculptures, and murals like this one.
Although we didn't visit it, there's a part of Itaewon known as "Hooker Hill." This area also has an underground gay nightlife, since LGBT culture still tends to be hush-hush in Korea.
I got in touch with DJ Plastic Kid, and he recommended some of his favorite hangouts in Itaewon. My friends and I walked a short distance, and arrived at…
… the LEEUM, or Samsung Museum of Art. (Address: 747-18 Hannam 2-dong.) This modern building is dedicated to Korean art, past and present — and believe me, it's a must see.
The Leeum's courtyard has large-scale installations; it used to hold the Maman giant spider sculpture, and now has a tower of stainless steel bubbles.
Seoul loves futuristic design, and the museum interior reminded me of a space pod. There's a cafe in the lobby (they serve a mean mocha and earl grey cake), and a Takashi Murakami sculpture of a girl, boy and puppy.
The first section houses traditional Korean art, from the Joseon and Goryeo dynasties. The museum design blew me away: the ceramics sit in stark boxes, and are illuminated to cast shadows that bring out their forms. Words can't describe the powerful effect: these 13th century celadons looked like abstract grey-green pods from the future.
Through these displays, the Leeum made me think of ancient artifacts in a whole new way. They felt just as modern as the high-tech pieces in the second section, which showcases contemporary Korean artists.
My mint and violet shorts, with frayed ends, are from Hyoma Izzue in Hong Kong. The blue-green hair color is by Stephanie Hoy at Avantgarde Hair, Vancouver.
After, we walked around Itaewon and glanced inside the cute cafes. This one features a boy and his bunny. We stopped for a drink at Glamorous Penguin Cafe, which has penguin decor and statues inside.
Warning: drinks and baked goods are extremely sweet in Seoul. Ask for your smoothie or mocha to be made with less sweetener, or you'll end up with a major sugar high.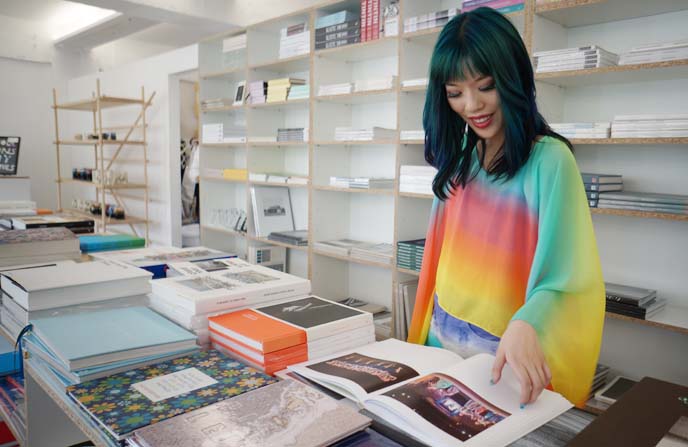 DJ Plastic Kid also recommended Post Poetics, an art and photography bookstore. There were images of Patti Smith at the Chelsea Hotel, moving optical art, South African township portraits… I could have browsed here all day. Looks like I'm smiling at a book about film director Wes Anderson!
Time for dinner at Parc, a modern meets homestyle Korean restaurant that he also suggested. This type of interior decor is Itaewon to the max. (Address: 서울 용산구 한남동 743-1, Yongsangu, Hannamdong)
Like with traditional Korean meals, the courses began with small plates of kimchi (fermented cabbage), pickled vegetables, and soup. We ordered jellyfish in cold wasabi sauce and it was pleasing to both the eyes and tongue.
Parc makes a creative version of Bibimbap (the signature Korean mixed rice dish): spicy Denjang style, with river snails. I washed it down with Hallasan soju (clear white rice wine).
Time to visit another space-disco district: Dongdaemun. The famous DDP (Dongdaemun Design Plaza), designed by Zaha Hadid Architects, glows like a spaceship.
Standing in front of the curving metal pod, I thought, this is Neo-Seoul. This is why everyone is talking about Korea as the world's most exciting high-tech destination.
Beam yourself in, and you'll find yourself in the Design Lab, a collective of art and interior design shops. We also spotted a playroom full of colorful balls, but it was locked so I couldn't take pictures…
The Design Plaza also has seminar rooms and lecture halls. Visitors are encouraged to tinker on this decorated piano. (I actually can play, and sight-read some Korean songs.)
Not sure what this giant ball is for, but I did my best to find out.
Across the street is Lotte Fitin Fashion Mall, a shopping complex for the trendiest Korean clothing. The top floor holds Klive, where you can watch K-pop stars performing as holograms!
Of course, I sat on the Devil throne outside Lotte Mall. Photography by Ken Yuen and Jacqueline Kwok of noircorner, who is sitting in the Angel chair.
One more stop: the Dongdaemun Night Market. The stalls that sell hanbok (Korean traditional robes) and silks were closed. But the street food stalls were just opening up.
So many characters here, preparing and eating food! This woman was remarkably nonplussed about taking photos. Ken and Jacky sat down for Korean pancake, and a set of sashimi.
Time to take the subway home. This man from Korea's past needed a light, so I obliged. (This is an optical illusion image that people can pose with. Remember when I went to the Tokyo Trick Museum?)
What an inspiring day! If you have limited time in Seoul, I recommend spending a day discovering these two design districts, as they are not far from each other.
Seoul has become one of my favorite cities. Next, I'll give you a tour of Hongdae and Myeongdong.
Did you know Korea was so future-pop and colorful? PS: if you're in NYC, don't forget to check out X Japan's concert on Oct 11.