Hong Kong Art Restaurants! Bibo, Sohofama, Chachawan, Miffy cake. The Art of Gothic book.
If a single photo could sum up the awesomeness of Hong Kong, it would be this one: Cats in space! "Ground control to Major Tom-Cat…"
Hong Kong is known as a shopping and eating destination, but I always associate the city with modern art. There's a wonderful annual art fair, and cute public installations such as the one above (see also the 100 Doraemons and Hello Kitty cafe).
Did you know that Hong Kong's cool art scene extends even to restaurants? Let me take you on a tour of "edible art" in the city, from Basquiat murals to strawberry molecular desserts… and Miffy Cake!
For my foray into "cats space travelling," I wore a Shakuhachi Future Minimal dress from West LA Boutique. It's become one of my go-to pieces: the spongy fabric and pleated skirt are comfortable, yet give you a polished look.
Purchase this dress here and my Ksubi Bellatrix sunglasses here (I'm wearing these glasses on my head, to mimic cat ears).
Filmmaker Melissa Rundle and I turned the robot-cat into a Scottish Fold, by covering its ears. This funny mural was by the entrance of Hung Hom station (the exhibit constantly changes, but is usually something cute). This character is Jentle-Cat, a Hong Kong mascot.
Time to experience more art, this time combined with food. My friends and I went to Bibo, a new French restaurant that takes "the art of fine dining" quite literally.
John Skeleton shares his impressions of this eccentric Sheung Wan restaurant."Even if there wasn't any food to rave about, it would still be well worth your time to check out this strangely eclectic mix of pop and street art, all seamlessly blended into an integrated experience that calls to mind Paris of the 1930s."
Every crevice of Bibo is decorated with modern masterpieces by artists I'm sure you've heard of: Keith Haring, Banksy, Takashi Murakami, Invader.
Even though the works are so eclectic, the interior design feels cohesive.
Each dining space was surrounded by different works. We had Space Invaders and an 8-bit princess next to us.
Within minutes of sitting down, we knew Bibo was a gem. Our waiter was fun to chat with, and the warm bread was so satisfying (served with red pepper spread) that we devoured two orders. The creative cocktails, with flavors like Asian 5-spice, were some of the best I've had in the city.
John writes, "The gastronomic delights are just as fabulous as the décor. Using the finest ingredients and heavy on luxurious items like truffles and foie gras, the contemporary French menu is sure to please."
"Even better, for Goths and those with a passion for the Belle Époque, what is most likely the best selection of absinthe in Hong Kong is presented in the traditional style – mixed with ice-cold water slowly dripped from an elegant fountain over a sugar cube on a slotted spoon.
Highly recommended is Butterfly, a take on a U.S. pre-Prohibition recipe that uses mint and other herbs to put a unique spin on the classic Green Faerie."
When we set up this photo, our waiter joked, "I don't think Jean-Michel Basquiat wants to eat lobster tonight!" But we were delighted by this dish, as well as a Dover sole and Australian Wagyu filet mignon.
Dessert was both tasty and a work of abstract art: spiced rum sponge cake with vanilla chantilly and strawberry sorbet. We devoured the baked-to-order chocolate and black currant soufflé so quickly that I wasn't able to take a photo of it! Trust us, it's a must-eat.
Everything about Bibo works: the smartly-dressed staff, expertly prepared food, and cheeky decor.
On another evening, we ate at a new Chinese restaurant inside the art hub, PMQ.
John says, "If you've sampled the exquisite international delights of Hong Kong's gourmet scene and are looking for something a little more local, SOHOFAMA offers a little slice of Chinese home cooking with a healthy philosophy of sustainable eating to back it up."
I confess that I usually am not fond of Chinese food. It tends to be heavy and often seasoned with monosodium glutamate, which makes me nauseous. What a relief to eat at Sohofama, where the chefs use "locally sourced, organic ingredients to create Cantonese comfort food without any MSG or excessive grease."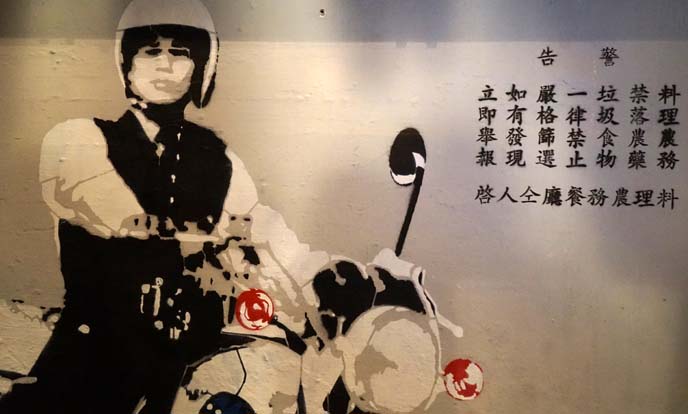 True to this approach, the art mixes Chinese and modern, all with a clean and warm feeling. The interior design is by G.O.D., a local design collective.
Co-owner Edwin Chuang (who also invited us to his Pacific Cebu Resort) told us that the chandelier was an impromptu piece, made from colorful toy water guns. 
Sohofama has its own organic herb garden, and uses these ingredients in its dishes. We tried mocktails made from fresh berries and mint.
John's favorite "was the xiao long bao, well-balanced dumplings with a thin skin surrounding savory soup and meat without any unnecessary oil." Also marvelous are the 24-hour drunken prawns, and a seared organic pork with garlic that tastes just like beef.
Next, we returned to one of the most creative and delicious restaurants in all of Hong Kong: Naked Gurume Gyarari (グルメ画廊).
John raves, "Once again Justin Chan's Japanese fusion tapas establishment came out the winner among all of the amazing places we visited this time around. " Above is the "Sexy Naked" sushi — we had it the first time we visited, and couldn't get it out of our minds.
"Naked never fails to impress with its menu, from black truffle lotus root chips to a poached crow's egg with big-eye tuna on a crispy wonton wrap." On the right, Justin wowed us with tapas that combine sea urchin and an olive oil roe (made using molecular gastronomy).
Like last time, each dish was a winner, and drew from the chef's personal experiences. We adored this grilled hamachi collar with vegetables and mashed potatoes.
Chef Justin ended with a flourish: a dessert plate full of strawberries in just about every form imaginable, including freeze-dried and sun-dried. "Friendly staff and an elegant, chic modern Asian atmosphere, its always good to get Naked in Hong Kong!"
Ready to admire more food and art? "Hong Kong is known for having just about every variety of cuisine available from around the world, so the problem becomes how to figure out just which place to visit when you have a hankering for a specific culinary genre. If you're in the mood for authentic Thai, Chachawan is the place to go," says John.
"Highlights of our meal included Khao Pad wok of fried rice with crab meat, egg, and spring onions, and the succulent Pla Phao Glua, a salt-encrusted whole sea bass stuffed with lemongrass, pandanus, and lime leaf, lovingly cooked over a fire and served with a chili dipping sauce, perfect for sharing with a group of friends!"
The atmosphere at Chachawan is just as inspired, with an intricate mural by Caratoes. Love the detailing on the golden claws.
Finally, we tried the cutest food of all… a Miffy cake! These confectioneries,  shaped like the Dutch characters Miffy and Melanie, are sold at Arome Bakery (which has many locations all over Hong Kong).
You can pre-order the adorable cake online, and pick it up from any branch. At one restaurant, the diners next to us brought out a Miffy cake! It was so sad when they cut off her ears.
To celebrate Eric's birthday, we ordered him a chocolate mousse Melanie cake. The shape and face are 100% on point. You must be wondering, how did it taste?
See for yourself, in the funny video above. Things got pretty crazy when we cut the cake… "Miffehhhh!"
I leave you with more cats in space. (My dress is from here and sunglasses here.) Thanks to all these establishments for the superb meals.
PS: Someone asked which camera I use for photography. From mid-2014 onward, images are taken with the Sony A7, a mirrorless DSLR camera. My travel videos are mostly filmed on a Canon 5D Mark II, which is what many fashion bloggers use to shoot outfit photos. Underwater footage is from a GoPro camera. 
PPS: Speaking of cats, Basil Farrow has sniffed out a favorite new book: The Art of Gothic, by Natasha Scharf! This full-color tome covers the many manifestations of Goth, from death rock to cyber to Lolita. My friends SiSen and Gothique Prince Ken (GPK) are featured…
… and I'm interviewed in the Japanese Goth section, along with a full-page photo. (Makeup by Jennifer Little of A Little Artistry, hair by Isolde Semple, styling/assisting by Tracy Cake). For a gorgeous, comprehensive and intelligent overview of Goth subculture, check out Natasha Scharf's The Art of Gothic (available here).
Coming up: I'll announce my next two destinations, and unveil a new design! I hope the video made you smile. Would you want a Miffy cake for your next birthday?