How to visit Hong Kong's Buddha Statue: Tian Tan, Ngong Ping cable car, Lantau Island.
I've been to Hong Kong over 20 times. Many of my relatives live here, and in recent years, jobs have taken me to HK at lest once a year. Despite my frequent visits, I've never visited one of the biggest landmarks: the giant Tian Tan Buddha statue, on Lantau Island.
On our last trip, my film friends and I had the perfect excuse to pay Buddha a visit. We were shooting a video for sáv Hong Kong, a new hotel in Hung Hom centered around the theme of love. What better place than Tian Tan to represent loving kindness?
First, here are instructions on how to get to Tian Tan, located on Lantau Island.
1. Ride the subway to Tung Chung station. Since this is the end of the line, give yourself time (from Hung Hom, it takes about 45 minutes). If you're like Line Friends Moon and miss the train, don't worry, they run every few minutes!
2. Walk out of Tung Chung station through exit B, and follow the signs to Ngong Ping cable car.
3. Purchase a ticket for the cable car: there are options for standard, private cabins, and glass bottom ones. We went for the standard ($19 round trip) and the three of us had the lift to ourselves anyway.
The ride takes about 30 minutes. We sat back and enjoyed the 360 degree view of the Lantau Island mountains, South China Sea, and praying big Buddha in the mist.
I wore a plum tiered Valance dress from Gloomth & the Cult of the Melancholy. You may recall that I met up with designer Taeden in Toronto.
My sunglasses are these exact ones by House of Harlow 1960: Nicole. I'm carrying a bouquet of violet flowers to offer to the Buddha.
We arrived at Ngong Ping Village, which held traditional Chinese jewelry shops, tea houses and other cultural attractions.
The enlightened one is still a good 15-20 minute walk away. The Buddha is 34 meters tall, and constructed in 1993.
Since the cable car station was built not long ago, some of the attractions are quite touristy. There's a live action Stage 360 that celebrates another Hong Kong hero, Bruce Lee. Here, you can watch stuntsmen perform martial arts sequences in front of your eyes.
However, the adjoining Po Lin monastery dates back to 1906. Anyone is welcome to visit the monks, and join them in the kitchen for a vegetarian meal.
Who else lives on Lantau Island? Wild cattle and buffalo!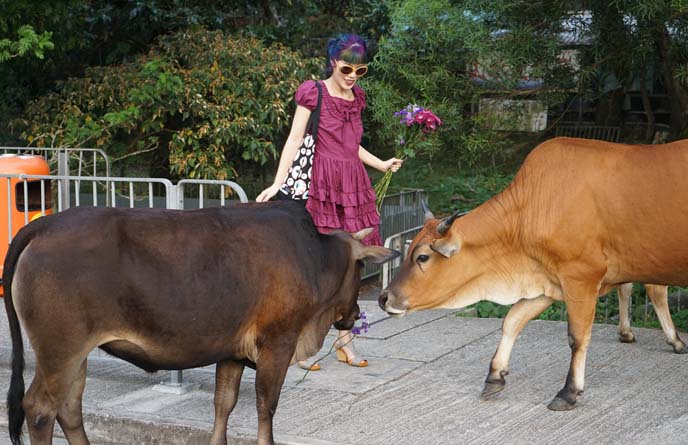 I offered a cow a flower, and she chomped it down. Suddenly, I was surrounded by hungry cows trying to bite at my bouquet of flowers! They fenced me in and I had nowhere to escape. Somehow, I got out of this fiasco unscathed.
Filmmaker Melissa learns from my mistake, and keeps a safe distance from this cow and her feeding calf. (Photos in this post by La Carmina, Melissa Rundle and Eric Bergemann.)
Buddhist deities pointed us towards Siddhartha. This funny one has a rooster on his head, and appears to be doing a Saturday Night Fever disco move. 
Buddhism x Goths? Why not. How nice to run into two of my friends here, Lam and Hin Ng. (Remember them from my Upper House penthouse party?)
Here we are, at the base. Now we have 268 steps to climb, in the drenching humidity.
The Buddha sits on a lotus, and raises his right arm in blessing. Such a serene expression on his face.
On each side him, three Devas give offerings. I bowed to them and extended a flower (you'll see how this all fits in with the video, once we release it.)
We saw some Buddhists circling the platform and kneeling in front of the statues.
We went inside the statue, and saw a collection of traditional Buddhist art. After giving away most of my flowers to strangers — as a symbol of bringing love into the world — I left the rest for the Buddha.
Landmarks can be cheesy, which is why I try to avoid them. However, the scenic Lantau Island and Tian Tan Buddha were a pleasure to visit.
On the ride back, we saw the sky turn pink as the sun set over the mountains, just like an ancient Chinese painting.
Hong Kong is known (and loved) for its fast-paced lifestyle and trendy shopping, which I've written a lot about. But if you want to see the serene side of the city, I encourage you to spend a half-day with Buddha and his Bodhisattvas. (Note that the last cable car descends at 6pm on most days, so try to go early.)
I leave you with my own big Buddha: Scottish Fold kitten, Basil Farrow! Cats are naturally Zen-creatures, aren't they?