Our Cat-Friendly Bedroom Design! Essentia organic memory foam mattress, Allem Studio bedding, Airportag pillows.
Introducing… the Maohaus! Basil and I moved to a new apartment, which presented the perfect opportunity for a bedroom makeover.
I wanted our shared space to be as feline-friendly as possible, without looking like a crazy cat lady's home. In other words, the Maohaus had to balance form and function.
How did we do this? With cat-friendly colors, natural materials, and multifunctional objects that harmonize into a cheerful design. I balanced my preferences with my cat's, taking into account factors like his ability to see certain colors.
I'm pleased to finally unveil my new sleeping-space! Featuring a natural memory foam mattress from Essentia, colorful bed sheets from Allem Studio…
… and these awesome Airportag travel pillows. Inspired? Intrigued? Then read on, and I'll show you how it all came together.
I wanted to create a "Maohaus" after seeing how Japanese cat cafes design a living environment that is aesthetically pleasing to humans, yet safe and enjoyable for felines.
In other words, you can make a wonderful space for your cats without Garfield bedsheets, hot pink pet beds and ugly carpeted climbing trees.
The team at Essentia mattresses loved our idea from the start, and just two weeks after we spoke, our bed arrived. Essentia provided us with "white gloves" service, meaning the deliverymen carried everything to our apartment, unrolled the mattress and set it all up. (Although Basil tried to help.)
Basil Farrow knows this is a very special bed… I did my research, and found that Essentia makes the highest-performance and healthiest mattress out there. The family-run company is the only one in the world to make mattresses with natural, organic memory foam. (We put it on a boxspring to give it some height.)
Basil walked all around the bed. Looks like his paws are happy with the two inches of natural memory foam!
Our mattress is the Classic 8 Queen size, but Essentia has a variety of mattresses with different sizes, firmness, performance levels and prices.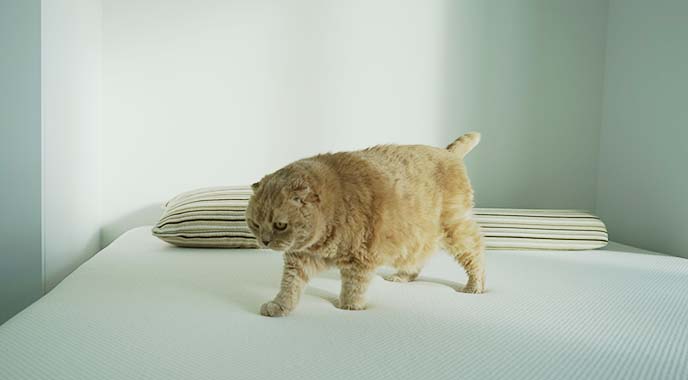 Look at how the surface gently cradles his big feet! In the world of mattresses, memory foam is considered the best you can get. The technology relieves pressure points and contours the body as you sleep.
I knew Essentia was the perfect choice for the Maohaus. I want Basil to live in a space with non-toxic, natural materials. This mattress is made with materials like rubber tree sap, plant extracts, and certified organic cotton.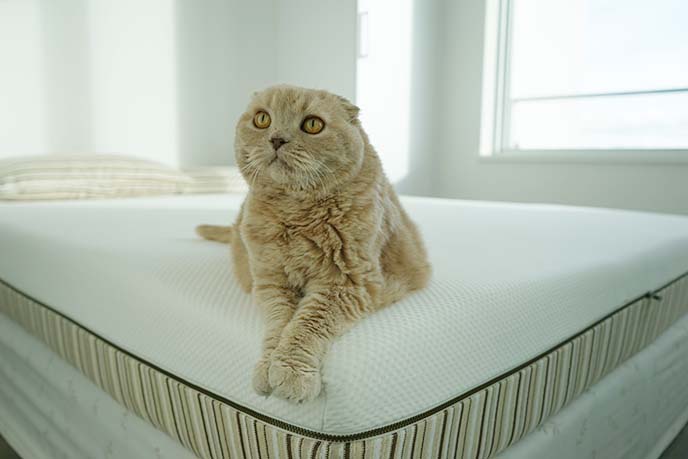 The surface is wrapped in a removable 100% organic cotton fabric, with Essentia's signature stripe. The color even matches my cat's fur!
I confess I love to sleep, and at times, I've stayed in dream-land for 12 hours. And cats are notorious for spending more than half the day asleep.
That's why it was important for me to get a high-end performance bed, like Essentia's Classic 8. Memory foam beds are an investment, but they'll last well over a decade. Getting a good rest is important for so many reasons, and sleeping on this bed will benefit my health (and Basil's!).
Now that we've got our bed, it's time to decorate. I want my room to feel modern, artistic and minimal. What I wear is different from how I want my bedroom to look — so no cat-face prints, dark colors, chains or ruffles.
Allem Studio to the rescue! Basil's clone looks over the chic bedding they sent us, tied with organic cotton and placed in a custom, matching case.
Basil tip-toes over Allem Studio's Tara duvet cover and Tara lime pillow cases.
Eco-friendly, long-lasting materials are of importance to me. These 100% cotton sheets create a calm, fresh environment, which I think delights both humans and cats.
As I mentioned before, I don't want to live in Dracula's Lair. I love Gothic style and culture, but I feel best living and working in a light, Zen-like environment.
I can't ask Basil what his favorite color is, but I can take a good guess. Cats can only see limited colors of the rainbow: violets, blues, greens. That's why I stuck to this lime scheme.
If you prefer a different color, Allem Studio has other modern patterned bedding (and are releasing new collections soon). On their website, you can also pick up shams, throws, outdoor pillows and more home decor.
The duvet cover comes in King and Queen, and is reversible (there are big, grey flowers on the other side). You can't find a softer fabric: 100% high quality cotton, and hand screen-printed.
I looked around at a lot of bedding, and had a hard time finding something that felt "me." Allem Studio's designs connected with me — they're modern, global, vivid, joyful. As you can see, our bedroom is pretty small and minimal, so this splash of leafy-lime makes a big impact.
Finally, I wanted to add some decorative accents that reflect my passions and personality — particularly my love of travel. Enter AirporTag, purveyors of flight-inspired interior decor. 
How cool are my puffy pillows? They say "Departures," and pay tribute to the old revolving flight boards, which flip around to indicate if a plane is "Boarding" or "On Time."
Airportag sells the niftiest gifts for travelers: pillows, posters, mugs, t-shirts and more… decorated with airport city codes! You can show your love for JFK (New York City), CDG (Paris), NRT (Tokyo), and every other major flight hub. I spent over an hour browsing through Airport Tag's website – it was hard to choose!
Essentia sent us two more memory foam accessories: an Ergonomic Pillow (which gives S-shaped neck support) and a Comfort Pillow. If I go without a proper pillow, I wind up with a headache.
A lion is on the prowl! I covered the mattress with Essentia's unbelievably soft sateen cotton organic bed sheets. Basil curled up and fell asleep immediately.
The little lion surveys his territory. Essentia spoiled him with one last gift…
… a memory foam pet bed! Both cats and dogs can relax on the Kingston, which comes in different sizes.
This pet bed is designed for breathability and to relieve pressure. In addition, it looks great in our apartment. What a difference from the usual gaudy, badly-made beds that you find in pet stores.
At first glance, visitors might not even realize this is a cat product, since it integrates seamlessly into the interior design. That's the goal of the Maohaus. 
We feel good about supporting Essentia since their business is family-run, and their mattresses are made in Canada (just outside Montreal).
Essentia has store locations all over the US and Canada, so you can visit and try their mattresses for yourself.
It's easy to order the pet cushion and more from their site. (Isn't Basil lucky, having two memory foam beds?)
I hope you enjoyed my new bedroom tour! Thanks to all our partners, for helping us make the Maohaus concept a reality.
PS – the word "Maohaus" is a combination of "mao" (which means "cat" in Chinese) and "haus" (the German word for "house"). It's also a tribute to the Bauhaus movement.
I have a feeling Basil and I are going to spend a lot of time in here…
We still have a lot of decorating to do, and I can't wait to show you the rest of the apartment. Basil Farrow is a fan of the view out the window.
Now that's a catwalk. Coming up next, I'll show you more ways that you can design a beautiful space for yourself and your kitty. 
If you're feeling inspired to do a bedroom makeover, you can get started with Allem Studio bedding, Airportag accessories and Essentia Mattresses.
What do you think of our Maohaus so far? How did you decorate your own room?