New Orleans Goth clubs & bars! Hotel Modern, Bellocq cocktails, Southern fusion restaurants.
New Orleans is one of the world's most haunted places… so a Goth girl like me fit right in!
Let me be your guide to the spooky side of NOLA. In this post, I'll take you to a Jack Skellington burlesque show, Krampus devil party, and boudoir bar. I'll also tell you about the time I ate alligator, and discovered a new appreciation of grits.
Put on your devil horns, and walk this way.
My friend Molly and I were invited to an underground costume party at Siberia (2227 Saint Claude Avenue). This neighborhood, St Roch, is outside the quarter and home to quite a few artist abodes.
To match the evil theme of the night, I wore a Kill Star dress with trailing fringe sleeves. My pointy black hat is handmade by Blablahospital. Run by my friend Ako, the brand makes deconstructed, eccentric "medical punk" fashion.
At the door, we were greeted by a colorful, alternative bunch. The Candy Girl was a sweetheart!
Why is everyone so "horn-y"? Because this is a Krampus party, held in honor of the holiday folklore devil. St Nicholas rewarded good children with presents, while the Krampus gave the naughty ones a good old spanking. 
When I took the photo above, I thought to myself, "New Orleans surpassed my expectations." I wasn't able to come here for Halloween, but I didn't feel like I missed out. The city is always up for a crazy costume party. 
(But I would certainly come back for All Hallow's Eve. I'd love to attend the famous annual events, including the Anne Rice Vampire Ball and Witches' Ball.)
Music is everywhere in the city. That night, we saw several indie and rock performers…
… and a painful sideshow act. Your eyes aren't deceiving you. Above, the man has Christmas lights staple-gunned to his skin, and the woman is stringing wire from her nose to her mouth.
Molly puns, "People went whole hog or whole hoof on their outfits. Amazing. This town can do costumes like nobody's business, and for that, it has my eternal devotion."
She's right — the partygoers wore impressive handmade costumes, which represented the horned and hooved Krampus. Several went on stage for the costume contest, and this scary lady won.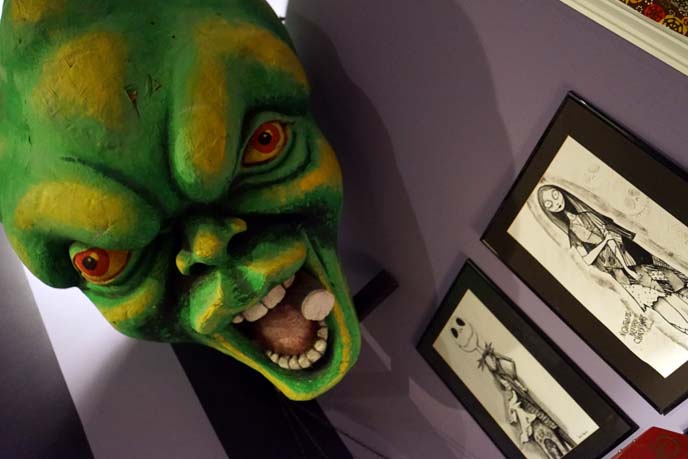 I went to another dark and costume-y event at the Old Marquer Theatre, also located in St Roch. This venue puts on intimate, edgy performances…
… like a Nightmare Before Christmas burlesque show! Jack Skellington never looked so good. I love seeing local, niche theater like this. (Remember when I saw the Tim Burton musical in Portland?)
New Orleans could certainly be nicknamed Halloween-Town. In the French Quarter, outside the dive bar Molly's, I stepped on this smiling pumpkin-face.
I'll say it again: avoid Bourbon Street, which reminds me of a sticky beer-coated frat party.
Goths and alternative types like to hang out in the less raucous streets of the French Quarter. When I asked for recommendations, quite a few of you suggested Pirate's Alley Cafe, purveyors of dark spicy rum and absinthe (two of my favorite drinks), and decorated like a scurvy ship.
Aunt Tiki's (1207 Decatur Street) is another favorite hangout for Gothic and metal music fans.
Death haunts the entrance of Aunt Tiki's. Go ahead and ask the bartenders for local recommendations — they'll steer you the right way.
Frenchman Street is all about live jazz clubs. Our favorite was the The Spotted Cat (623 Frenchman – try to come on weekdays, since it gets crowded on weekends).
Molly muses, "I think bad dancing is contagious, but here, I couldn't sit still. I felt like we stumbled into another world or era or something that was close to magic. How can that level of talent just be playing jazz in a tiny place with no cover?! The music made me want to dance all of the way home that night."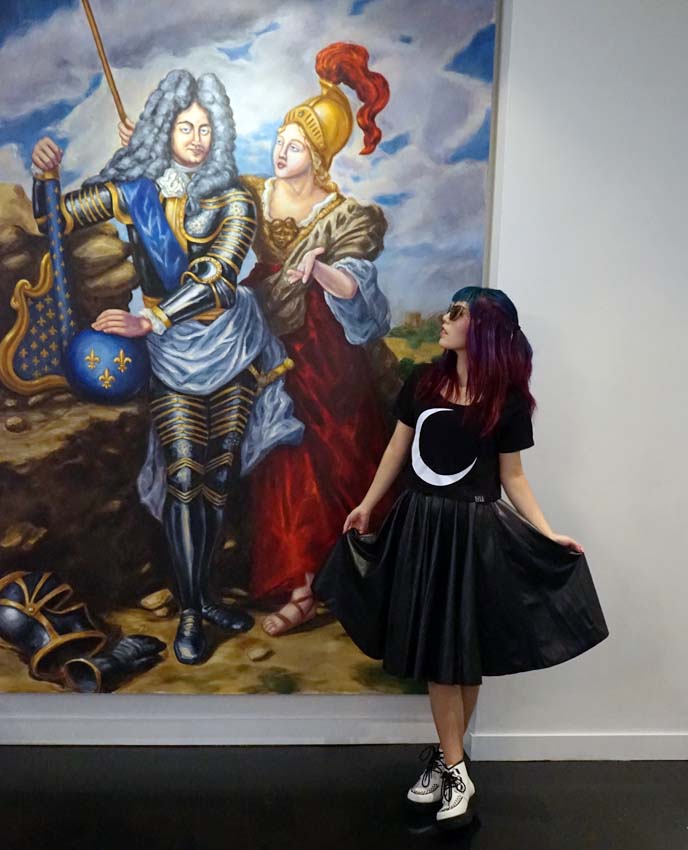 Between dancing with devils and jazzmen, we rested at the hip Hotel Modern (936 St Charles Ave). It's our kind of place: we received a cocktail upon check-in, saw several film stars in the lobby, and said hello to Miss Scarlet the Eclectus Parrot.
The lobby is full of quirks, like the painting above. (My moon top is also by Kill Star, and my leather skirt is Erbert Chong.)
Since The Hotel Modern is located at Lee Circle (about a 5 minute taxi ride from the French Quarter), we were close to the action, yet got a quiet rest at night. Molly says, "The staff was really good about answering all of my questions, and the bird seemed to have a good life too. Even though the rooms were simple, I really liked how the hotel felt like you were staying with people you could be friends with."
We made new pals at Tivoli & Lee, which doesn't feel like a typical "restaurant in a hotel." Chef Marcus Woodham was a culinary artist, whipping up creations on the spot to suit our tastes. Molly ate here several times, and calls this her favorite restaurant in New Orleans, hands down.
I didn't realize I was a fan of Louisiana food, until I came to Tivoli and Lee. We dove into a "new Southern"  catfish roulade, beet salad, and the creamiest crème brûlée. Molly says, "Our waiters were super cool. It made me feel like I was having dinner in a friend's home that happened to make some of the best food I've eaten in quite a while."
Bellocq cocktail bar also resides in the Hotel Modern. Molly reminisces, "I want to paint a room in a future home that shade of red… probably a bedroom. That bar was straight up sexy."
I'm not kidding you — if I could teleport to any bar right now, it would be this one. The roomy, boudoir atmosphere is my type of hangout. And the drinks! The bartenders made me an absinthe cocktail, and a rum daiquiri that fit my tastebuds to a T (I love dark spicy rum, citrus, bitters). It's probably the best drink I had all year.
Molly and I also enjoyed the bar's historical connection. The concept is inspired by E. Q. Bellocq, a 19th century photographer who took images of red light district workers.
Let's wrap this up with a few more Southern food recommendations. I ate jambalaya, gumbo, grits and more comfort favorites during jazz brunch, at the Court of Two Sisters. It felt like a scene out of a novel, dining under the canopy of trees, in an elegant Louisiana courtyard.
Molly says, "Again, like all things in NOLA, this should have felt douchey and Disneyworld-ish, but it was delicious food in a beautiful place. Our waiters were attentive and the live jazz was fantastic. All brunch should be like this, particularly including grits."
Kingfish Restaurant took a modern spin on casual Southern cuisine, and succeeded. I sipped a strong Sazerac (a New Orleans cocktail) and we dined to the sounds of live piano.
Look, we ate grits… and alligator wings! It tastes like chicken, perhaps with a milder and sweeter flavor. I'm not kidding you, I'd eat this regularly if I had the chance.
Sobou at the W Hotel has a hip vibe – we saw a lot of younger people hanging out here. The entrance plays with light, mirrors and rows of bottles.
The Creole cuisine gets experimental at times, such as duck beignets topped with powdered sugar, and tuna ice cream cone appetizers. Molly says, "I want one of those now. This place surpassed my expectations, in that it was as good as the food was elegantly displayed. I was also wow-ed by how they helped us celebrate my friend's birthday so smoothly, with a chocolate flourless cake decorated with her name."
Finally, one can't leave NOLA without sampling the famous beignets (donut-like fritters) and cafe au laits, at Cafe Du Monde. After walking for hours, we were relieved to sit down for a snack, and people-watch (Jackson Square is across the road).
Modern Southern cuisine, and an eccentric Goth scene… Now you know why New Orleans stole our hearts! More stories coming up, featuring vampires and graveyards. (All my NOLA coverage is located here.)
PS: Thanks to Qantas Airlines magazine for the Travel Insider interview! The article calls me "one of the best-known names in the blogging world, having authored three books and hosting travel segments for international television networks…."