PMQ Hong Kong: art studios, food & fashion. The Refinery, Aberdeen St Social.
Poor panda. Looks like he's crying because I'm hugging him too hard!
Hong Kong's contemporary design scene used to be scattered around the city. But now, there's a massive glass building — PMQ in Central — that puts over 100 artists, fashion designers and chefs under one roof.
PMQ's industrial architecture and pop art mural (by artist D*face) are easy to find. The address: No.35 Aberdeen Street, Central, Hong Kong Island
PMQ's aim is to nurture young designers. Rent is high in Hong Kong, but this building gives them an affordable space to showcase their works. In return, the artists have an "open-door" policy to the public, meaning anyone is welcome to come in and even take photos.
PMQ opened in spring 2014, and already, most of the studios are occupied. My team and I love this creative hub so much that we visited three times.
Set aside at least a few hours to explore all the little shops and studios. If you're short on time, I recommend heading straight to one of my favorites: The Refinery HK, a colorful and poppy fashion boutique. 
Here, you'll find unique quality accessories like pancake and taiyaki (fish waffle) bags. The Refinery HK carries various select brands, from both Hong Kong and worldwide designers.
The boutique is curated by London designer Elizabeth Lau, who also has her own witty and playful fashion line.
She had just gotten back from a buying trip to Paris Fashion Week. Every season, she hunts for creative pieces like the earrings above.
Elizabeth styled me in this outfit. Can't get enough of the "Where's Waldo" hat with a veil.
In a city dominated by big brands, it's a relief to see this spotlight on indie design. We saw yellow ribbons tied to the front of this jewelry shop, in support of the Occupy Hong Kong movement.
John Skeleton wears one of these ribbons to support the student protesters. (Photos by me, Eric Bergemann and Melissa Rundle).
You might have noticed that I wear this Shakuhachi dress a lot. The comfort and unique design make it an easy favorite. It's from West LA Boutique; you can purchase this dress here
PMQ stands for Police Married Quarters, since this was the previous incarnation of this site. Remnants of the historic building remain, such as an underground tunnel that show the old foundations.
In urban Central, this courtyard is a welcome green space. The design is modern, while the Chinese bamboo adds a relaxing atmosphere.
I squished another panda at the Chocolate Rain studio and store in PMQ.
As you've seen in my other travel guides to Hong Kong, "kawaii" cute design is big here. Chocolate Rain's original mascots are on every imaginable piece of merchandise: toys, stationery, clothing, home goods.
The gallery space is all about interaction. Customers can take lessons on sewing, painting, doll-making, and more. The restaurant Eat & Play encourages fun with food, through cooking classes.
How cool to see founder and designer, Prudence, painting designs right at the table.
Chocolate Rain and I are currently taking part in a hotel decoration project in Hong Kong. Keep your eyes peeled for announcements, and maybe you can join us for the opening next year.
PMQ's artists work in different mediums, from bamboo to glass. Melissa got this unique lotus necklace in a Japanese ceramic studio.
If only I could show you photos from inside each store! I hope these visuals give you a sense of the fun, high-quality designs that you can find at PMQ.
The art hub is also home to several creative new restaurants. My friends and I were invited to brunch at Aberdeen Street Social. In the words of John Skeleton, "It's the perfect place to have a relaxed meal, and take a break from the fast pace of Hong Kong city life."
This is the latest venture of Michelin-starred British chef Jason Atherton, a protege of Gordon Ramsay. The restaurant concept encourages socialization, hence the name.
Two huge floors with outdoor terraces, set in a green garden — unheard of, in Hong Kong!
We started with a trifecta of fresh fruit and vegetable juices.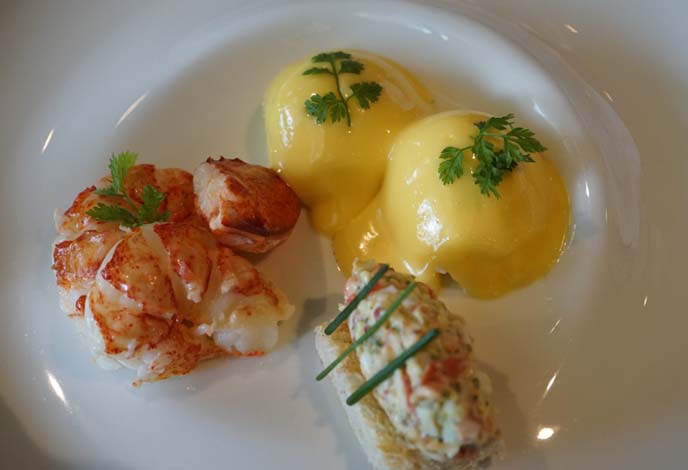 Atherton's modern British cuisine takes the stuffiness out of fine dining. His brunch menu is a home-run of favorites, including the lobster benedict above.
John praises the "simple fare like the avocado on toast with poached eggs, to the amazing flatbreads featuring ingredients such as London cured smoked salmon, Iberico ham, and king oyster mushrooms."
Save room for the house-made pastries, like the Sweet Social Cheesecake and Matcha Mascarpone (my personal favorite). And you can't leave without trying at least one creative cocktail. I enjoyed the Indian-flavored cocktail with a papadum (above), and "What The Doctor Ordered," served with a pill jar and prescription. 
I also ate at PMQ's Chinese restaurant, Sohofama — here's my review.
It's obvious why PMQ is one of my favorite places to visit in Hong Kong. I'll be back in HK soon for a new project and video… stay tuned for more!