Grand Budapest Hotel by Wes Anderson: Lobby Girl movie costume! Odigo Japan startup launch party.
I've taken on a new job in the travel industry… located in the imagination of filmmaker Wes Anderson. Ladies and gentlemen, I've become a Lobby Girl!
My costume is inspired by the "Lobby Boy" character in The Grand Budapest Hotel,  which recently won four Oscar awards. Can you believe I've watched this movie about 10 times? It's witty, charming, funny and stylish — Wes Anderson at his best.
I couldn't resist doing a "Lobby Girl" cosplay, in tribute to the Grand Budapest Hotel. Shutterbug James photographed me in character… and it made the cover of Moov Magazine's "Best Of" issue!
Later in this post, I'll share more photos from our shoot. But first, the Lobby Girl had a gala to host… in Tokyo, Japan. 
Last month, I flew to Tokyo for the launch of travel start-up, Odigo. We threw a phenomenal party — thanks to my friends who celebrated with me!
What went down? Demon masks, an open bar, Italo Disco music, and a photobooth by ROMP.
Are we doing the "X Japan" Jrock sign, or "dame-ee" (which means forbidden, in Japanese)? Probably a bit of both.
I'm happy to officially unveil Odigo to you. The English-language site is for you guys: people who want to travel to Japan, and see all things offbeat and authentic. 
Readers tell me it's hard to figure out Japanese addresses, and how to get around. With Odigo, you can easily plan a trip that's tailored to your interests –– where it's sushi or Sailor Moon.
Perhaps you're intrigued by body modifications, such as bagelheads in Japan? Odigo can show you where to find them. (Hint: look for the man behind the bagel, Keroppy Maeda, above.)
Odigo also helps you discover underground designers like Ako of Blablahospital (far right). Remember I wore her punk fashions in New Orleans?
It was wonderful to reunite with old friends, and meet new ones. We grooved to DJ Swiftt Edits' Italo Disco playlist…
… and nibbled on colorful hor d'oeuvres. Despite the rainy day, our party was packed!
Several attendees got prizes through the lucky draw. (My lace cape is from Black Milk Clothing.)
The event was at Streamers Meguro, a coffee house that brewed probably the best latte I've ever had in Japan.
Upstairs is Kilo Shop Tokyo, which has a large selection of vintage designs.
Payment is by the kilo, rather than per item.
The whole team has been working day and night on the launch, and it's paid off.
How does my Lobby Girl outfit fit with the site's mission? In my speech, I explained it represents Odigo's personalized approach to helping travelers plan "an extraordinary journey" to Japan.
(Above, I'm with founder Takamasa Kawasaki, who wrote a book called "The Power of Embracing Diversity.")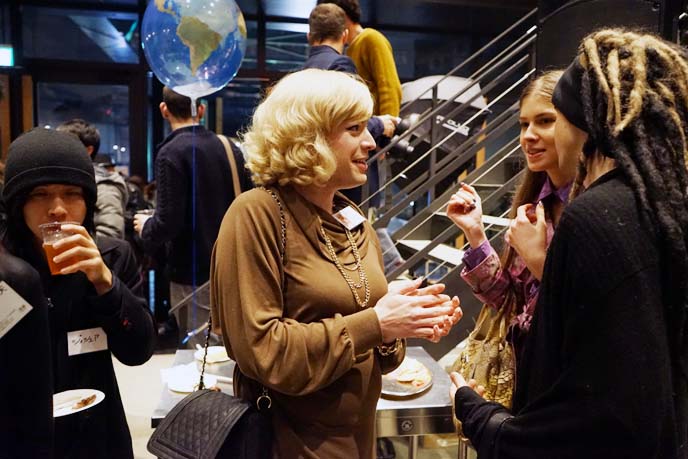 Like the concierges of the Grand Budapest Hotel, we're passionate about sharing the best spots and creating a seamless itinerary, which you can download to a mobile phone and simply follow along.
Anyone can contribute travel tips to the site, and build upon previous journeys. I encourage you to check out Odigo and add their Facebook to find out more.
Now, let me share the photoshoot we did for Moov Magazine's cover and spread! Funny enough, I actually stayed in a grand hotel in Budapest, in 2013. This setting, however, is the Fairmont Hotel in downtown Vancouver.
This movie truly is a must see (here's a link to the digital download). The cinematography, set design and costumes are outstanding: look at the colors! Those military buttons!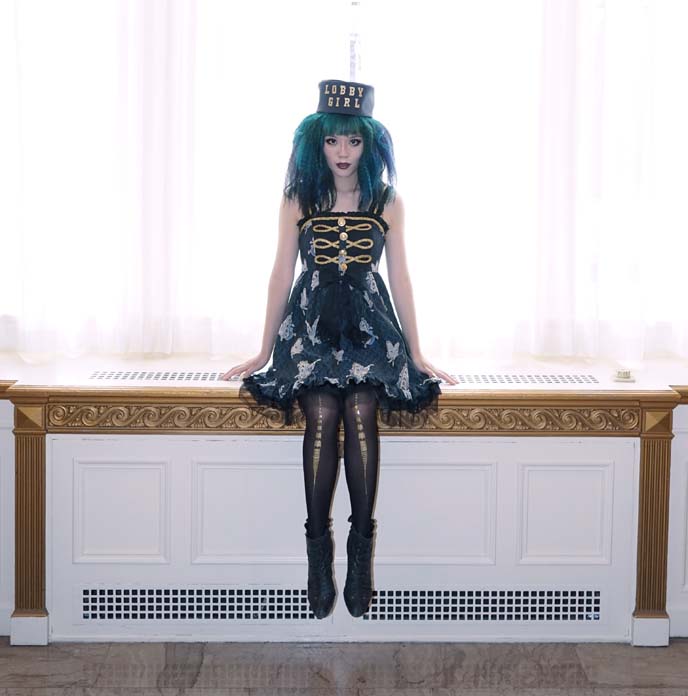 We wanted to re-create this feeling, in our images. Huge kudos to my photographer Shutterbug James, assisted by Amy Kay. My crimped hair is the magnificent work of Stephanie Hoy, of Stratosphere Salon in Vancouver, Canada.
The Lobby Boy's hat is integral to his look. I DIY-ed a "Lobby Girl" version of the cap — using felt, fabric and letters, which I painted with gold sparkly nail polish.
My dress is by Spider, the Hong Kong Gothic Lolita / alternative / cosplay fashion brand by Natalie Lam.
These gold-flecked tights are by Gal Stern.
The Fairmont Hotel Vancouver was the ideal setting, with its gilded interiors that date back to the early 20th century.
The interior is full of symmetry and decadent shapes, which would please Mr Anderson. I'll gladly help guests plan a fun trip…
… but I'll let the lobby boys do the heavy lifting. (Above is the hotel exterior, in The Republic of Zubrowka.)
If you haven't already, you must see the Grand Budapest Hotel (available online!). It's become my favorite Wes Anderson movie.
The soundtrack by Alexandre Desplat is also wonderfully evocative. The CD is available here; it won the 2015 Oscar for best original score.
Cheers to Shutterbug James for the fun photoshoot.
Do you think we capture the feeling and aesthetics of the movie?
I even made a Mendl's Bakery box, and we shot this at a nearby patisserie!
Thanks to Moov Magazine for putting this Lobby Girl on the cover.
And gratitude to my friends who came to the Odigo launch event.
Fashion One wrote an article about my "Tokyo takeover" — soon, you can watch my "day in the life" TV segment with this style network.
And there's a lot more Japan coverage coming up, including an DecabarZ 80s club night, and a peek inside the Pokemon theme cafe.
If you're interested in traveling to Japan, check out Odigo. You can plan trips, submit your own spots, and be part of the fun.
What do you think of my Grand Budapest Hotel costume? Are you a Wes Anderson fan like I am?