H0les prism sunglasses in Hong Kong! Italian restaurant Nom, Linguini Fini, Check-In Taipei.
I'll never get tired of writing about Hong Kong — I discover something new, every time I visit. The above image sums up the eccentric energy of the city, especially in the Central district. I was trying to take an outfit photo, but this dapper old Chinese man stole the show!
Read on for my favorite memories from HK: including food, fashion, lucky cats, and Miffy galore. 
First, my outfit of the day. I'm looking out from the balcony of my suite at Hotel Sav in Kowloon. (Remember how I celebrated Chinese New Year with this new hotel?)
I adore my Black Milk leggings, which have an Art Nouveau print by my favorite artist: Alphonse Mucha. (You can also galaxy printed leggings from BlackMilk here.)
I'm also wearing wood sunglasses by Moat House Eyewear, and a blue coat by Alice's Pig.
And what are these prismatic marvels on my forehead! Round, trippy, kaleidoscope glasses from H0les Eyewear!  Lady Gaga and others are fans of these light-refracting sunglasses. I wore them as forehead goggles, since I can't actually see clearly through them (everything shatters into a prism).
My cyber-kitty look fit with the colors and chaos of Hong Kong. In the Central district, be prepared to walk uphill and on uneven steps.
My Pirate crew and I had lunch at NOM, which stands for "Not Only Meatballs" (Address: 1-5 Elgin Street, Soho, Central, HK)
John Skeleton gives it five stars: "NOM lived up to its name by serving up one surprising twist on rustic Italian comfort food after another. "
"Chef Fabrizio Napolitano told us that he wanted NOM to be the kind of place you go with family and close friends to enjoy an intimate atmosphere. With each dish, the chef personally came to our table to tell us about the story and inspiration behind each dish, including some of his own grandmother's recipes."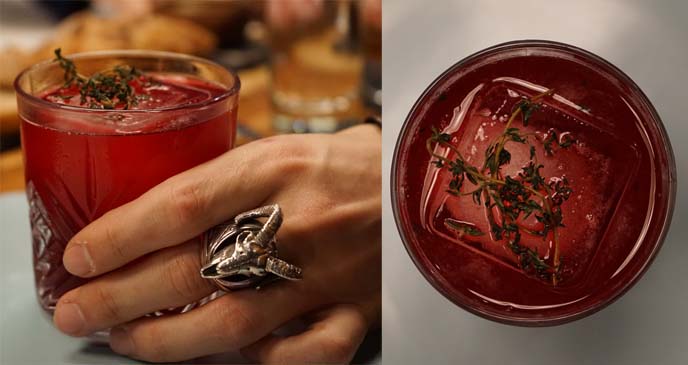 "We tasted an array of cocktails, my personal favorite being a red beet whiskey concoction with hint of thyme."
I could have eaten five plates of NOM's burrata (cheese) and tomato salad. What appears to be simple ingredients are chosen with the utmost care.
The classic meatballs lived up to their name: nom, nom, nom! Chef Napolitano only purchases beef from family businesses in New Zealand and Australia, which take an ethical approach to raising livestock.
The sliders were also a hit, and a perfect example of how the chef brings modern interpretations to heritage flavors.
We lapped up every bite of the caramelized banana/ginger/sesame seed dessert topped wdith goat milk gelato. I also adored the lemon tart, and ordered a second scoop of the cardamom gelato. (You can order this for yourself, at NOM in Central.)
We walked down the street to visit an interior design store, Homeless. Look who is peering from the window… Miffehhh!
This lifestyle store sells a wide array of modern furniture, lights, home decor and gifts… Such as these fat-faced Miffy bunny toys.
Their ears look a bit like my horns hairstyle, which is the work of Stephanie Hoy at Stratosphere Hair in Vancouver. (Can't get enough of these prismatic H0les Sunglasses.)
John Skeleton ponders the Mr. Maria Miffy XL lamp. (Remember I have one in my room?)
The Netherlands lighting designer also has a smiling child and bear lamp, both carried in the HK Homeless store.
We continued our walk to PMQ, a constantly changing hub of artist studios and shops. (I wrote about PMQ in this post, with tons of photos from inside.)
Posing in front of the deconstructed, meat-like Year of the Goat statue.
It was inspiring to see how artists created modern works that celebrated Chinese New Year. This one strings together gold origami to form a giant sheep.
On the cute and weird side… There was a sheep-carousel that let children pedal tricycles in a circle.
We stopped by to see our designer friend Elizabeth Lau at The Refinery HK. (Remember we filmed at her shop last time?)
The Refinery always has something quirky on the racks, such as this Nelson Blackle dress with a retro video game motif.
Time to eat again (that's what locals do, in Hong Kong!) I was intrigued by Check-In Taipei, a new restaurant that takes inspiration from Taiwanese street food. (Address: G/F, 27 Hollywood Road, Central)
My Pirate team and I sampled the Chinese New Year "lucky menu". We were impressed by the creative dishes, like purple yam mochi balls served on a Ping Pong platter. 
John writes: "I have to admit that I wasn't all that aware of what kinds of dishes defined Taiwanese cuisine, but after checking out of Check-In Taipei, I felt like I had taken a grand tour of the country's finest. Everything is taken one step beyond to elevate each aspect of the dining experience. The pearls in the bubble tea are not just handmade every day, but they are also only kept for a few hours before being replaced in order to ensure that every single one has the right texture and consistency."
I enjoyed hearing the folktakes that inspired the "lucky" dishes. Braised Pork Nachos are mixed to symbolize success, pepper pig ears remind you to "listen and learn," while barbeque prawns encourage you to "laugh out loud."
John recommends the chicken and waffles, which is "elevated to haute cuisine here. The chicken is marinated in an array of spices, and pineapple chutney joins the waffle to create a satisfying combination of texture and flavor."
Don't leave without trying the "Tea-Ramisu" cocktail. John says, "The Taiwanese are apparently known for their hospitality, and Check-In Taipei certainly takes that to heart, as I left with a full stomach and a warm feeling that told me it wouldn't be long before I checked in again."
It's a good thing that you walk a lot in Hong Kong… because we seem to eat nonstop here! As you probably gleamed by now, the hottest new restaurants are usually in the Central district.
(Photos by Naomiyaki, Eric Bergemann, Melissa Rundle and La Carmina.)
We had a cozy meal together at Linguini Fini (49 Elgin Street, Central). John writes: "Home-style Italian cooking is the name of the game here, and judging by the packed seating and lively atmosphere that we experienced, it's definitely a hit with the locals in Hong Kong."
"Linguini Fini keeps it simple and casual, the perfect place to relax with a group of friends and share a few slices of mouthwatering brick-oven pizza and a bowl of pasta. The Radiatore alla Vodka was particularly memorable, with the vodka adding an unusual but surprisingly delicious touch to the mix of homemade pasta, 'Nduja, mozzarella cheese, tomato, and basil."
I'll leave you with photos of "fortune cats" in Hong Kong. This one was guarding the back of our taxi.
Manek nekos aren't only popular in Japan. You'll see them everywhere in Hong Kong, waving their paws to bring in luck.
Hello Kitty is also huge in Hong Kong. Literally: this light display took up the front of a building.
Yet another "maoo maoo", towering over pedestrians in Tsim Sha Tsui. Love the random-ness of HK.
I leave you with my two latest nail art designs, by Glam Nail Studio. Chinese New Year and sakura blossom nails, with my Scottish Fold cat raising his paw. Currently, I have steampunk Gothic nail art… in time for my trip to England and Iceland!
And I just confirmed… I'll be reporting from the RuPaul's Battle of the Seasons extravaganza in Reykjavik! These all-star drag queens will be heating it up, in the land of ice. Can't wait to cheer on my favorites like Sharon Needles and Bianca del Rio (who I saw in San Francisco).
You too can see the ladies in the UK, Iceland and Barcelona during their world tour, happening now. Join me and pick up tickets on the RuPaul BOTS World Tour site.
I'll be interviewing the performers backstage — got questions for your favorite drag queen? Let me know in the comments, and don't forget to keep track of my Iceland adventures on my Instagram @lacarmina.