Off to Asia for a Travel Channel TV shoot! Cute Seoul Kpop shopping: Art Box, Etude House, Luxury Su Noraebang.
Over the past weeks, I've been giving you hints about my next Asian destinations. The photo above is probably the biggest clue of all!
(That's the Prince of Norway, Ari Behn, dressed as a Star Wars villain while I cower by his cod-piece. We were shooting a travel TV show, which aired in Norway. Which leads to my announcement…)
I'll be in Tokyo this month, filming with Travel Channel for a new TV series! Plus Singapore and Bali!
I'm thrilled to be part of a new Travel Channel TV show, which is being filmed worldwide. I can't tell you much about it yet, due to contractual agreements — but I can hint that it involves Japan, a family, and all sorts of weird cultural activities. Don't worry: I'll fill you in before it airs, so you can tune in.
(Above are some funny moments from my Norway television shoot, a little while back. Host / photographer Per Heimly had to be taped into his dancing stormtroopers suit! On the right: no matter the circumstance, Asians know how to pose.)
After, I'll be spending time in beautiful Bali, Indonesia. I can't wait to explore the Hindu temples, rice paddies of Ubud, beaches… If you have Bali travel tips, please let me know as this will be my first time in this spiritual place.
I'll also be feasting it up in Singapore — looking forward to tastings at the iconic Marina Bay Sands hotel, and exploring the youth districts. Once again, if you have advice for me, let me know in the comments. (Previous two photos via Wikipedia Commons.)
Until then, let's take a look back at my Seoul travels last summer. Hongdae is hands down my favorite neighborhood in the city. It's got an artsy, indie feeling that reminds me a bit of Harajuku.
In a previous post, I checked out Hongdae's graffiti, cafes and bars. In this one, let's explore makeup stores, cute-faced popsicles, and the latest Kpop fashion.
I'm wearing a mint leopard print dress by Algonquins, found at Closet Child Tokyo. My Miffy bunny bag is from the Hong Kong Miffy shop.
Hongdae's streets are filled with smartly-dressed students from nearby Hongdik University. It's a great area for observing the latest in Korean "Ulzzang" makeup and clothing trends. (Browse Kpop style fashion by clicking below..)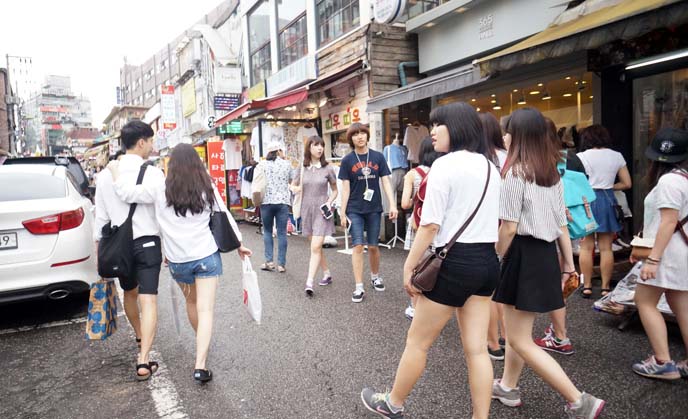 Remember Eat Your Kimchi Martina's Hongdae map? She points out a street filled with parked cars. Some of the trendiest Kpop fashion is found here. Martina says that Kpop idols wear designs straight from these racks.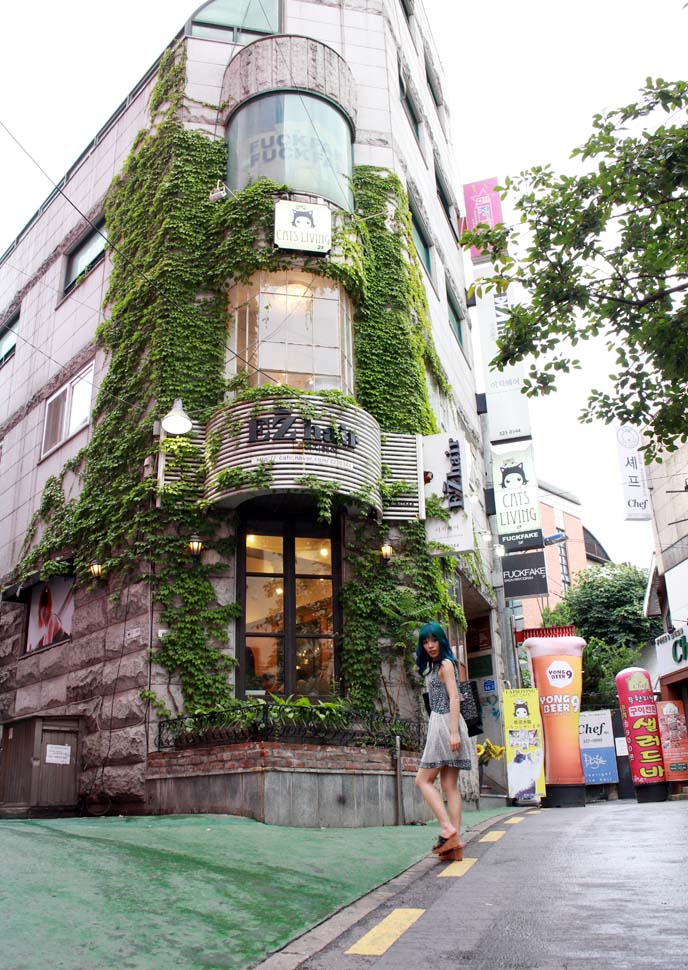 I peeked inside Cat's Living, a cat cafe located next to the Hello Kitty cafe. Locals come here to play with cats. There's a Scottish Fold who lives there, of course!
Mustoy (무스토이) is a must-visit, especially if you're on a date or looking for somewhere to go on a rainy day. It's a combination of an art studio and cafe, where you can customize one of these adorable figurines.
Mustoy address: 1F Caliope, 344-6, Seogyo-dong, Mapo-gu, Seoul-si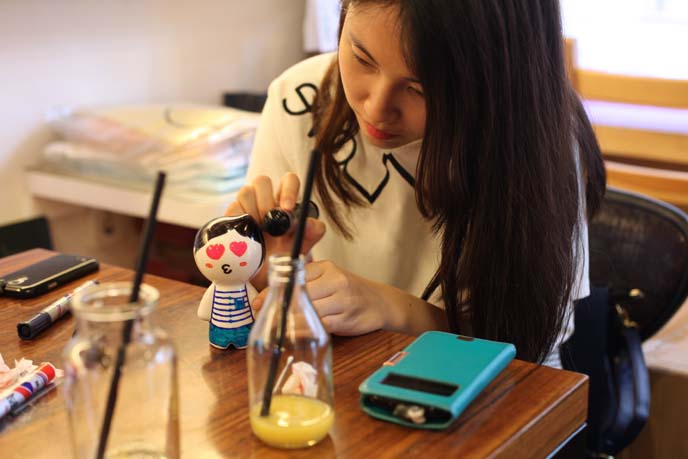 For 15,000 won ($15 US), you can choose from one of several blank white ceramic toys, vaguely shaped like a person (or perhaps a cat). Now, it's time to get creative. Using the colorful markers and other materials provided, you can transform the Mustoy into any creature of your liking.
On the example shelves, I saw robots, Doraemons, bearded hippies, abstract figures — the only limit is your imagination. Once you're finished, you can choose to take your new buddy home, or leave it in the store for others to admire or even buy.
Wait, did I get teleported back to the Czech Republic? Nope, this is "Praha Castle," a theme restaurant that re-creates Orloj, the astronomical clock in Prague's main square. What a strange thing to see, in Seoul.
My photographers and I stopped at one of the many dessert shops for a snack. This is Milky Bee's frozen yogurt with honeycomb on top.
Koreans love sweets, and put trendy spins on them. In my Myeongdong post, I showed you the long two-headed ice cream cones. Hongdae's youths are currently crazy about liquid nitrogen ice cream, which releases a cloud of vapor when you put it in your mouth.
Another shop sold popsicles decorated with smiling faces. I wanted the chocolate Pirate one with an eyepatch, but it was sold out.
Etude House is the popular cosmetics brand, known for its girly packaging and products that let you achieve that desirable Kpop look. Etude House is big in Korea and now opening up in other markets. (I'm posing like the model in the poster.)
Art Box (아트박스) is the cutest gift store around. Stock up here on adorable Korean stationery and home goods — you won't find these characters elsewhere.
Your friends will be forever grateful if you bring them souvenirs from Art Box, like eyeball backpacks and moustache notebooks.
In Seoul, karaoke is "noraebang," and it's a better bang for your buck than in Tokyo. Prices can be as low as $8 US a person for all night singing in a private room.
For a truly unique experience, go to Luxury Su Noraebang, located on one of the main shopping streets in Hongdae. It's impossible to miss this big glass exterior — you can see people jumping around, singing and dancing inside!
Ask for one of the "luxury" rooms with windows that overlook the street. We paid just $20 US total for an hour in this massive two-level loft.
Can you tell what it is, from the karaoke song captions? It's of course Bohemian Rhapsody, by Queen — one of the ultimate group sing-a-longs.
The karaoke song system is in Korean, and if you don't know the language, it may take a while to figure out. Try to find the button that changes the flag from Korean to British, and then you can search for songs in English by title, artist, or first words.
Grab a tambourine and rock out to Journey, while dancing in the window and waving at curious observers below. Extra points if you can make them dance with you.
Did we get Rick-Rolled? Can't believe we had a two-floor loft to ourselves, with a ladder connecting the two!
I'm sure a lot of people were amused by our antics, which they could see from outside. Photography by Jacqueline Kwok of noircorner, and Ken Yuen.
Singing works up an appetite. Where to eat, in Hongdae? There are restaurants everywhere, serving all types of international food. But when in Seoul, I say you might as eat Korean food.
Try a barbecue restaurant, since this is a local specialty. Walk around and go with your gut when you select a place. I always look for restaurants with an authentic feel, and tables full of locals.
If you can handle spices, you'll enjoy Korean hot noodle soups, and soon tofu bowls.
Ran into this fellow on a bicycle, dressed in Korean street style.
We met so many kind people in Hongdae, who went out of their way to help us find directions. Young Koreans generally speak English.
This is the remarkable Sangsangmadang(상상마당), a building that has a cinema, performance hall, art gallery, and design shop at the ground floor.
Lots of clever design products in here, including some that are both beautiful and functional. This, for example, lets you mix and match earring faces and borders, forming dozens of variations. If you're having a bad day, you can have the frowny surrounded by bones!
At the front, I saw display cases full of original figures. Are these peanut allergy monsters or something?
I wish I could have taken my BobbyBox friend home with me. Now you can see why Hongdae is my favorite part of Seoul: it has so many cute shops and offbeat attractions.
Check out my Eat Your Kimchi tour of Hongdae for more suggested places to visit, including cupcake shops and handmade ice cream. Shop for Kpop fashion below:

And please let me know your suggestions for Singapore, Bali and Tokyo! You'll be able to see sneak peeks of the Travel Channel TV shoot and more, on my Instagram @lacarmina.