Iceland Game of Thrones fashion: Princess dress & braided hair! Travel video & black sand beaches.
If you're a fan of Game of Thrones, then I have a feeling you will like these Iceland photos… inspired by the fantasy fashion and northern landscapes!
I'm also happy to announce that our Iceland travel video is now out — and you can watch it here.
(It would be amazing if you can share this post with friends who are fans of the HBO series. I'd love to hear what they think.)
Above: I'm honored to have one of these Icelandic images on the cover of Love Japan magazine. Inside, you'll find an exclusive interview with me, and a spread of photos taken both in Reykjavik and worldwide.
Love Japan is a publication that I believe in: it's dedicated to Japanese culture, lifestyle, food and fashion. You can find this issue in various stockists around London, or order it online through their site (the first 20 customers get special gifts). It's also free to read online here.
During our time in Iceland, Joey and I also shot an atmospheric film of our travels. It's quite different from my usual episodes, and has more of a music video feeling. What do you think? Watch our video above, or on my LaCarmina YouTube.
A big round of applause for my team:
Photographer: Joey Wong
Hair: Stephanie Hoy of Stratosphere Salon in Vancouver, BC
I'm a fan of HBO's Game of Thrones, which is partially shot in Iceland (standing in for the Wall and North of the Wall). What better place to do a photoshoot inspired by the characters?
I channeled Daenerys Targaryen with my braided and curled hair.
Iceland is a photographer's paradise, thanks to the clear light and dramatic landscapes. Photographer Joey couldn't resist crossing the road to capture this mountain range.
We got access to these hidden nature areas, thanks to Thor and Anna of Salty Tours. They were excited about our photoshoot concept, and brought us to the perfect settings, far away from other tourists.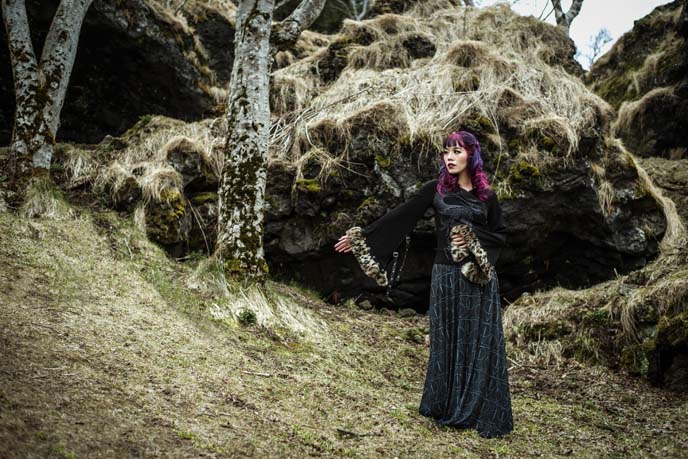 Since we were on a private Jeep tour, we could go wherever we wanted and work at our own pace. We couldn't have asked for a more magical location, at this elf park.
I'm channeling the dragon queen and King's Landing fashion, with my wide-sleeved top (by Japanese brand Ozz On, found at Closet Child.
● My long skirt is a gift from Black Milk Clothing, known for their cool printed tights and Gothic shoes. They make the best alternative footwear, which you can find below:

Salty Tours took us to sulfur hot springs, Icelandic horse farms and other hidden spots throughout our day journey. We were grateful for this customized 4×4 experience, which went above and beyond a regular Golden Circle tour.
We even stopped by a bizarre rack of dried fish, and tried fermented shark! For the full story of my Salty Tours adventure in Iceland, check out this post.
When Joey and I researched Iceland, we were in awe of the black sand beaches. We asked Salty Tours to take us to one, and they delivered by bringing us to this epic, deserted beach.
How Gothic is this location? Joey set up lights, and Thor and Anna kindly assisted us with the equipment.
We were grateful for their help — we wouldn't have been able to capture images like this, without Salty Tours!
The image above should have you humming the Game of Thrones theme song…
My stylist, Stephanie Hoy of Stratosphere Hair Salon in Vancouver, put my hair in princess braids. We looked at photos of Daenerys and Cersei, and she created her own look inspired by their hairstyles.
Stephanie also does all my vivid hair colors, which never fade out. Give her a ring if you want rainbow hair like mine!
Waiting for my dragons to come back to me…
Finally, Salty Tours took us to a little-known waterfall, Öxarárfoss. We got to go right up against the crashing falls, and get the best possible photos.
Yes, there's an Asian dragon on my Ozz On top — how appropriate!
The mist from the waterfall resulted in a mystical effect.
It's pretty obvious that I fell in love with Iceland! The energy here is remarkable, and unlike anywhere else in the world I've visited.
Humongous thanks to Salty Tours for making our dream photoshoot a reality. If you come to Reykjavik, shoot them a email — there's no better way to experience Iceland than on one of their private, bespoke Jeep tours.
See the rest of my Icelandic nature tour, including the cute horses we met on the way!
What do you think of our Game of Thrones styling and photos, shot in Iceland? Thank you to Love Japan for the magazine cover feature – be sure to check out their site.
If you enjoyed this post, we'd appreciate any shares! And please take a few minutes to watch our Iceland travel video — there are RuPaul's drag queens in there.