Visiting The Alhambra in Granada, Spain: Royal palace & gardens of the Moors. Cover of Where Magazine.
Where in the world is La Carmina? Before I take you inside Spain's Alhambra palace, let me share with you a recent milestone. I'm currently the cover girl for Where Magazine Vancouver, Oct/Nov edition!
This travel magazine is found all over British Columbia (such as in hotel lobbies), and contains guides to the best dining, shopping, entertainment and culture in Vancouver.
Where Magazine interviewed me about my work in travel TV and writing. Love what they said in the lead: "Never judge a book by its cover – or a travel blogger by her hair color." 
(I'm posing in a dress by Mister Zimi, a Bali-based label known for its vivacious prints.)
It's an honor to be profiled by a magazine based in Vancouver, my hometown. In the cover story, I talk about my favorite Goth fashion boutiques, sushi restaurants, and places to relax in the city.
(Hair by Stephanie Hoy of Stratosphere Vancouver, and leggings by Kill Star.)
This blog tends to focus on far-off destinations, at the expense of my own backyard — but there's so much to see in Vancouver. I should do more shoots and stories here.
Above is an image by Kristin Thorogood, taken in Stanley Park.
But for the time being, let's fly away to the Alhambra, the famous fortress of Granada, Spain. 
I wore my Mister Zimi dress here because I knew the pattern would complement the colorful zelig tiles. 
Visit Spain sent my film team and me to discover their beautiful country. We started in Barcelona, and used Eurail passes to take the train south to Granada.
As you can see, Granada has a very different vibe. This was the palace city of the Moors, the Medieval Muslims who came into Spain from North Africa. (Or, if you're a Seinfeld fan as we are, you might call them the Moops!)
The Alhambra was the Moors' fortress and royal palace. It is a UNESCO world heritage site, and a gem of Islamic architecture. 
If you want to visit the Alhambra, you can't merely show up and get in. Tickets sell out well in advance, especially if you want to go inside the palace (and not just the gardens). I recommend making a booking at least several weeks in advance. Alhambra tickets are available through Ticketmaster Spain; you must choose an exact date and time slot, and if you miss it, chances are you won't get to see "the Moops."
We lined up under the sun (thankfully, I had my floppy hat and sunglasses, and plenty of sunscreen). At our appointed time, the staff let us through the main entryway…
… and into this "pearl set in emeralds," as the Alhambra was described by Moorish poets. When you see the painted tiles on the walls of the palace, it's obvious why.
The Alhambra's design is a mix of Islamic and Western. In one of the many courtyards, I admired the twisting arabesques reliefs and intricate mosaics. 
We moved from room to room, taking in all the design details.
For me, one of the highlights was the "Court of the Lions." The long outdoor pavilion has a fountain with twelve lions in a circle, each with a stream of water coming out of his mouth!
Much like a lion, the Alhambra has a calm, grand majesty. I let my imagination run free as I walked through the columns and arches.
A close-up on the carved Arabic words, set amidst swirling arabesques.
(My nail art has similar patterns — each stroke is drawn by hand, by Glam Nail Studio in Richmond, BC.)
When you leave the fortress, you end up in a labyrinth of gardens. The crisp hedges and flowers reminded me of the Red Queen's garden in Alice in Wonderland.
I'm very glad my team and I went to see the Alhambra, an enthralling palace rich in history and beauty.
Granada, Andalusia has a very different feeling from Madrid and Barcelona. My team and I stayed in the ancient Albayzin district, which still looks like a scene from a bygone era.
Be prepared to do a lot of uphill walking, on cobblestone streets and steps that are closed off to cars.
Look for charming elements in the streets, such as tiny doors that seem to be made for cute mice! (Designer iPhone case from iPhoria.)
We always try to stay in unique accommodations, and were overjoyed to find Casa Alef — a 16th century Moorish house. Our host, Rob, lived several doors down and is fluent in English and Spanish. He went out of his way to help us, and gave plenty of local suggestions such as where to eat delicious tapas. 
It was incredible to stay in a historic house that dates back to the era of the Moors. The owners preserved the traditional design, while renovating the amenities and putting in WiFi.
I looked over the inner courtyard, in my blue and white print dress by Mister Zimi.
With three bedrooms, three bathrooms, a kitchen and living areas, we had plenty of space to share. One room has a staircase that leads to a roof terrace, with glorious views of the Alhambra.
The Moorish vases and paintings added to the atmosphere.
Instead of staying in a generic hotel, I encourage you to rent unique houses such as Casa Alef for a more immersive experience. If you're looking for accommodations in Granada, I encourage you to contact Rob for a stay!
Rob recommended that we have dinner at Restaurante Las Tomasas, rated one the top restaurants in Granada. The view of the Alhambra fortress alone gets 5 stars.
(Address: Carril de San Agustín, 4, 18010 Granada, Spain)
We started with wine, and unique tapas. I was all over the sardines, served with soft cheese and tomatoes on bread.
Food is so fresh in Europe… I always eat my fill while I'm on the continent, knowing that it simply isn't the same anywhere else.
Las Tomasas restaurant serves the highest quality seafood, lightly prepared with local flavors. We chewed on an octopus tentacle, and I ate every bite of my squid-ink blackened rice. 
What else is there to see in Granada? Tourists often go to the markets and city center. I preferred wandering around the historic Albaicin neighborhood and looking at all the architectural details.
I can never resist taking a photo with an epic door. I'm wearing a backless halter tank top, from Pretty Attitude Clothing.
● Do you like this look? Shop for dream catcher tees and tanks below:

As I walked around, I noticed that my name was everywhere. Why are there so many Carmens in Granada? 
I found out that "Carmen" refers to a house with a lush garden. There were plenty of these in Granada…
The warm climate encourages cascades of leaves and flowers.
Details, details: tiled roofs, shuttered windows, and even star-shaped tiles beneath the balcony ledges.
Rob suggested that we visit the Sacramonte district, about a 15 minute walk from Casa Alef and the Albayzin.
"There are Roma gypsies living in caves here. It gets weirder, the further you go up," he said. That was enough to convince us.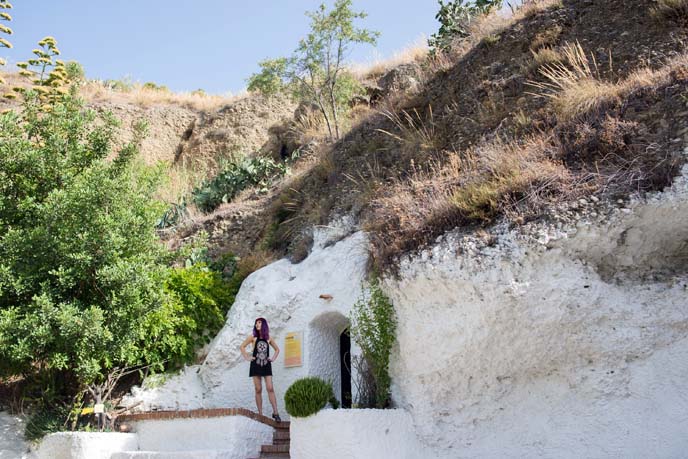 We passed a flamenco dance center, and some sketchy-looking individuals who made their home in the caves.
At the Museo Cuevas del Sacromonte, we learned the history of the people who made these natural caves into homes. 
The Sacramonte Cave Museum had various displays that we could enter, to see how the Roma lived. Can't believe that entire families could fit into these low-ceiling dwellings.
Have you heard of Granada, or the Alhambra palace? I hope this travel diary encourages you to visit this lesser-known region of Spain.
(PS: If you like my dream-catcher tank top, shop by clicking below.)