Hong Kong's natural, healthy pet food retailer: Pet Sensei! Cat & dog supplies with a cause.
Animal-lovers, you will love this story. Above, as you can see… my Scottish Fold cat has become a life-size mascot!
We're thrilled to support a new Hong Kong pets service — Pet Sensei. This online store sells healthy products for dogs and cats, and supports animal charities. 
Basil gladly "lent a paw" to the company, knowing that they only sell the best brands of food, litter and more — at affordable prices. Plus, Pet Sensei donates funds from every item sold to animals in need.
(Read on for more, as well as a Chinese Gothic Lolita modeling shoot!)
These days, having a pet is like having a family member. We want to provide our furry friends with the best possible food and care. (What a baby — Basil Farrow loves to be carried!)
However, in China and Hong Kong, it's expensive and difficult to purchase high-quality pet food. Respected international labels (such as Orijen and Wellness) aren't found in most local pet stores, and online prices are astronomical. Locals told me they feel stuck and frustrated by the situation.
Basil to the rescue! My plump cat is the face of Pet Sensei, a site that makes these top-quality products easily available in Hong Kong. The company imports pet foods and supplies directly, and sell them at lower prices than other sources. They'll also deliver right to you.
Pet Sensei has created an entire community around their mission of helping animals. On their Facebook page (Pet 師父), you can share cute stories about your pets, learn about animal care, and play games to win prizes.
In Hong Kong, it's hard to find pet foods without by-products and potentially toxic ingredients. Pet Sensei, on the other hand, sells top-rated international brands including Orijen, Wellness, Oven Baked, Natural Balance, Artemis.
The staff illustrator does a fantastic job at turning Basil (the maoo) and Tiny (the dog) into cartoon characters. Above is a comic from Halloween — you can see the latest ones on the Petsshk Facebook page.
In addition to donating funds to charities, the staff of Pet Sensei takes direct action to help animals in need. 
Recently, they rescued Pi — a dog who was constantly being mistreated, underfed, and thrown into the sea. When the owner found out Pi had cancer and needed urgent surgery, he abandoned him. Pet Sensei stepped in and paid for the surgery. They are giving updates on the Facebook page: "Pi is now recovering slowly. We will continue to fund the clinic expenses until we can find someone who can take good care of him and love him for the last stage of his life."
Not all pets are as lucky as Basil… That's why we wanted to lend our support to Pet Sensei and their animal rescue work.
We hope Hong Kong pet owners can feel great about buying quality goods from a company that cherishes animals, and helps them speak out.
And to top it off — the prices are pretty fabulous. Right now, they are holding a week-long Pet Carnival that is offering discounts, lucky draws, games and more fun.
The site is available in both Chinese and English. Customer service is very responsive and fluent in English, so if you're an ex-pat in Hong Kong, you won't have any trouble ordering from them.
I hope you'll check out Pet Sensei — and please tell your Hong Kong friends who have pets! Basil sends a snuggle in return.
What else have I been up to in Hong Kong?
I recently did a photoshoot with my friends. Above, I'm modeling with Natalie Lam, designer of the local Gothic Lolita brand Spider. These enigmatic photos are by Thomas Sandfield, who shoots fashion editorials and music videos in Hong Kong and worldwide.
We snuck up onto a rooftop to shoot these images. Thomas has a magnificent eye for capturing the mood of the city.
Above, I'm with my rainbow-haired friend — Mim Lai Sandfield of Sandfield Productions, a talented illustrator who also edited these photos. We're all wearing Spider Gothic & Lolita fashion.
K. Lau of Bright Production took part in the shoot too (we met in Cebu, Philippines). He captured the above portrait of me, and the behind-the-scenes below.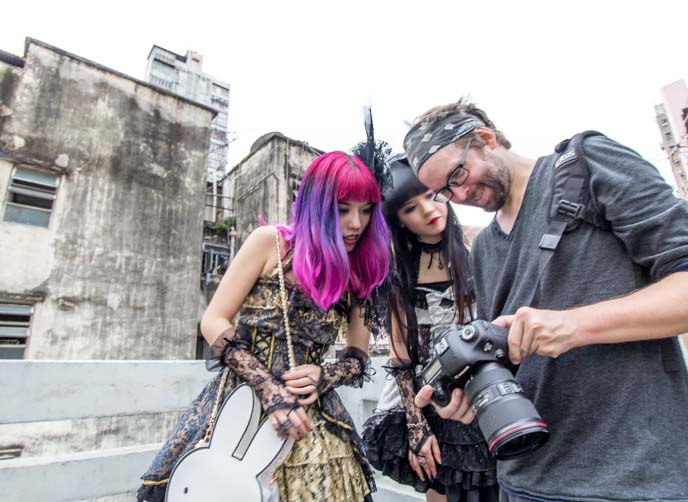 Natalie and I look pleased with the shots Thomas took!
We are obsessed with Miffy the X-mouthed bunny. I got this purse from the Miffy store in Shanghai (there are branches in Hong Kong too).
Hong Kong's gritty buildings formed the perfect backdrop for a squad of Goths. 
A peek at what goes on behind the lens. Thanks also to photographer Arthur Rash (far right) who joined our adventure.
Good thing I'm not afraid of heights… as we were up high on the roof, without a barrier!
Thanks to my Hong Kong friends for the fun shoot.
Finally, on the topic of Gothic fashion… thought I'd give you a head's up. Shopbop is having a big sale here until Nov 30 — a great time to pick up winter items, or presents for friends. I'm personally loving this silk kimono robe, top with collar and bow, and fuzzy black gloves.
What do you think of my Scottish Fold being a pet mascot? Enjoy more cat cuteness on the Pet Sensei site.