I custom-designed MySwear shoes on Farfetch! Seoul, Korea dog cafe & Myeongdong Kpop shops.
Happy holidays! Tis the season to see friends and family, but don't forget to take a moment to treat yourself too.
I got an early "me to me" gift… these show-stopping MySwear shoes, which I designed myself! 
Farfetch has a neat new service that lets you customize your own sneakers online, using 3D modeling. I'll show you how I did it, in this outfit post…
… and take you inside the dog cafe in Seoul, Korea: where you can pet puppies of all breeds. Be sure to read until the end, for some Kpop shopping tips too.
I'm thrilled with how my metallic bespoke shoes turned out. I got to choose from 16 unisex silhouettes, and then customize every single aspect: color, materials, laces, and more.
There's even the option to add a personal monogram. I think these shiny, retro, red-purple Wizard of Oz shoes can only belong to  "L.C." (La Carmina)!
I picked the metallic fuchsia color because it matches my hair color.
These designer shoes are a way to add color and fun to a black-and-white outfit. (I'm wearing a combination of old favorites: a leather jacket from Canada, top from Japan, and leggings from Hong Kong.)
I love how these MySwear shoes are "100% me", thanks to the complete customization.
My mouse-friend and I had a lot of fun designing my shoes. We went to the MySwear site, and selected a footwear style.
(I went with the minimalist, pointed-toe Hoxton — but you can select platform sneakers, creepers and more).
Right on the screen, you can play around with different materials (python, suede, ostrich), color combinations (side, front, panel), soles, and decorations (a metal toe cap, velvet stripe, monogram).
When you make a choice, the 3D image updates so you'll know what the finished result will look like.
After you send in your design, the shoes are handmade in Portugal with the finest craftsmanship. The turnaround takes about 4-6 weeks, since every order is an original.
I'm so happy with how the MySwear Hoxton sneakers turned out! They're one of a kind, and really make an outfit stand out.
The shoes are beautifully made, with artisan techniques and luxury finishes.
I enjoyed seeing how other creators let their personalities show, through their bespoke designs. You can see more examples on social media under the hashtags #farfetch and #farfetchfind.
I'm curious to know — how would you customize your own MySwear shoes?
Since we're wrapping up 2015, I figured it was time to publish my last photos from Seoul, Korea (I went there last year, but never got around to sharing these).
I spent an afternoon in the Myeongdong shopping district, which is packed with Kpop shops. I also went to the dog themed cafe, where you can drink coffee and pet dozens of puppies! 
Seoul has a few "dog cafes" where you can enjoy the company of canines, of all breeds and sizes. How many can you count in this photo?
I planned on visiting the original dog cafe, Bau House, in Hongdae. However, it moved locations (Bau House is now found near Hapjeong Station — the address is Jeil Bldg. 1F, 394-44 Seogyo-dong, Mapo-gu, Seoul).
Instead, I wound up at Gaene, a dog-petting cafe in the busy district of Myeongdong.  (Address: 22-2, Chungmuro 1-ga, Jung-gu, Seoul. Nearest station: Myeongdong or Euljiro)
I found myself in a room filled with dozens of adorable dogs! I went straight to the big white Great Pyrenees and gave him a hug.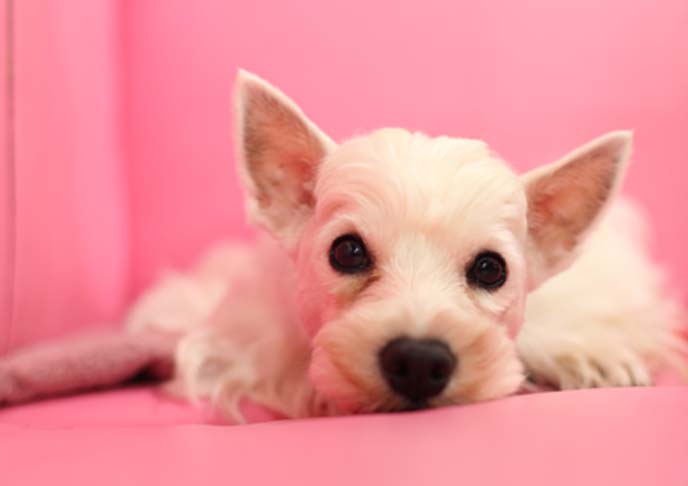 Entrance at Gaene costs about 8000 won ($8 per person) and includes a drink, plus unlimited time to pet the pups. Before the staff sets you loose, you must sanitize your hands, and turn over any chocolate that you might be carrying (as it's poison to both cats and dogs).
There's a breed for everyone: terrier, bulldog, collie, Afghan hound. Non-flash photography and video are allowed, and many Korean girls took selfies with the animals.
I saw children sitting on the floor, with blankets provided by Cafe Gaene. They combed the lapdogs and arranged ribbons in their fur.
The cafe is extremely well maintained, with no lingering "dog smell."
As you know, I'm a cat-mom but I love dogs too. It was fantastic to be able to play with so many breeds, in a single space.
All of the dogs were well-behaved, and seem healthy and happy. A few got into "barking matches" and scuffled on the floor, but for the most part, everyone seems to live together in harmony.
Seoul's Cafe Gaene is a unique "only in Asia" experience, and good times for dog lovers of all ages.
(Note: Tokyo has a Deco dog cafe, but it's a hangout for owners and their pets. You can't just go and play with dogs, like at Gaene.)
Let's end with a look at fashion in Seoul. All over the city, you can find stores selling hanbok: traditional silk and satin dresses, with tiers of rainbow colors.
These doll-like hanbok are still striking, centuries after they were first designed. But if you're looking for modern garments…
Myeongdong is the neighborhood for you. The streets are filled with bright Kpop and streetwear boutiques, in addition to big-name international brands.
I said hello to a Batman-dog, outside the KM Play / K.Design+ mart.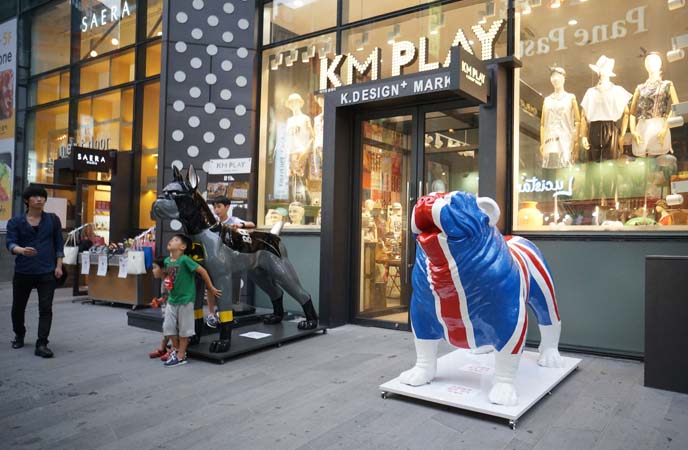 These cheeky statues hint at the eccentric clothing and accessories inside.
K-pop style has become popular worldwide now. One of the hottest places to get dressed is at KM Play. I saw Simpsons-print tops, studded ankle boots, oversized sporty shirts, glitter skirts and other K-idol favorites.
Both prices and quality are mid-range (about 30,000 won or $30 US for a top), and items are mostly unique to the store. Give yourself at least an hour to browse, since the racks seem to go on forever.
Myeongdong is also filled with Korean makeup and cosmetics shops, including the girly favorite Etude House. I saw big posters of Dara and Sohee, showing the Kpop beauty standard (white skin, flat eyebrows, slim face with a V-shaped jaw).
Speaking of plastic surgery — yes, it's prevalent in Seoul, especially in districts like Myeongdong, Gangnam and Apgujeong (which has a whole street of clinics). Advertisements are everywhere, sometimes showing "before" and "after" faces.
Hongdae remains the indie, artsy center — and my favorite district of Seoul.
However, I came across some quirky places in Myeongdong, like this Teteru Teddy Bear Museum.
Anyone can go into the cafe and gift shop for free, and pose with the giant, laughing teddy bears. There's a small charge if you want to see the full displays of Teteru bears in the museum.
Another must-do: eat Jeonju bibimbap at Gogung. (Address: 37, Myeongdong 8ga-gil, Jung-gu, Seoul). This restaurant has been around since the early 1970s, doling out this delicious spicy dish — a big bowl of spices, veggies, egg and rice that you mix together. Gogung also has glass noodles, seafood pancakes and other Korean dishes. Now I'm craving it again…
On the streets, you'll find strange street food. Unlike in places like Thailand and China, I'm not talking about organ meats and bugs on a stick. Seoul will serve you deep-friend potato chips on a stick, and ice cream in a vaguely phallic cone with a double-opening.
I leave you with a snap from a public fashion show at Cheonggyecheon. This is a 7-mile long open stream and urban space, where people stroll and hang out. Quite funny to see children playing in the waters, while models strut on the catwalk.
I hope these photos convey the pop culture energy of Seoul. Would you visit a dog cafe, or Korean makeup shops?
I think my MySwear derby shoes would fit right in with the Kpop fashion here!
PS: here are all my Seoul alternative travel tips, to help you plan a trip to Korea.