Vintage, Hip Porto: travel guide! Harry Potter bookstore, modern architecture, Bombarda street art.
"Blue skies, Smiling at me… Nothing but blue skies, Do I see." – Ella Fitzgerald
As you'll see from the photos in this post, the jazz song seems to have been written for Porto, Portugal! Let me share how I spent the perfect day in Porto — a travel itinerary that includes vintage shops, the Harry Potter library, futuristic architecture, and the best sponge cake in the world.
(PS – but I'm currently in Istanbul and Brussels… follow along on @lacarmina Instagram and Snapchat to see my daily life.)
Porto is about a five hour train ride north of Lisbon. A stress-free journey, thanks to our Eurail passes that let us board trains all over Europe.
As you recall from this Lisbon story, we loved Portugal from the moment we arrived. I heard that Porto was a laid-back, artsy type of place — and so we came to check it out with the help of Visit Porto.
Porto is known as a center of modern architecture. We started our day at the Casa da Musica, designed by the legendary Dutch architect, Rem Koolhaas.
This spaceship-like auditorium has over a thousand seats and is bathed in light, thanks to two walls made entirely of glass.
We saw more alien art as we drove along the coast. This hovering net is "She Changes," a work by Janet Echelman. Made from wire, the sculpture pays tribute to Porto's seafaring and fishing industries.
As we drove around the city, we spotted contemporary buildings at every turn. There's a renown architecture school in Oporto, and two locals won the international Pritzker prize (the highest honor for an architect).
One of these architects, Álvaro Siza Vieira, constructed this mesmerizing Leça Swimming Pool in 1966. The open-air pool is filled with salt water from the Atlantic Ocean, and the design naturally harmonizes into the craggy coastline.  I felt like a mermaid, perched on the rocks and gazing at never-ending skies and waves.
In addition to these modern works, you'll find charming century-old buildings all over Porto. One of the oldest bookstores in Portugal is Livraria Lello, which dates back to the late 19th century.
The shrubbery hides the long lineup inside… Livraria Lello is Porto's most famous landmark because of how it inspired author JK Rowling to write Harry Potter!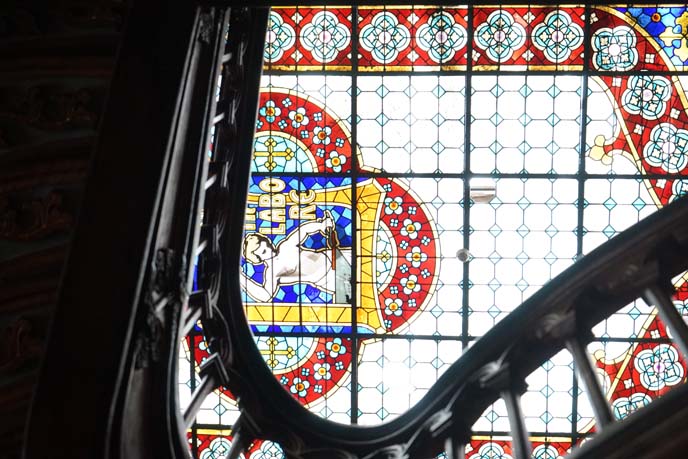 The best-selling author spent a great deal of time in Lello as she was formulating her story. The art nouveau meets Gothic interiors conjure up the magic of Hogwarts School of Witchcraft and Wizardry.
JK Rowling was most likely inspired to put a Grand Staircase in Hogwarts Castle, after seeing the winding wood stairs of this Porto bookstore.
After, we spent a few hours walking around Porto. It's the perfect balance for travelers like us: no annoying  tourism trappings, and yet the city has a lot to see and experience.
Our guide took us to the downtown square, and explained that this mega-church is actually two churches, separated by one of the world's narrowest houses! 
Carmo and Carmelitas was built this way to overcome a loophole, which prevents monks and nuns from having contact.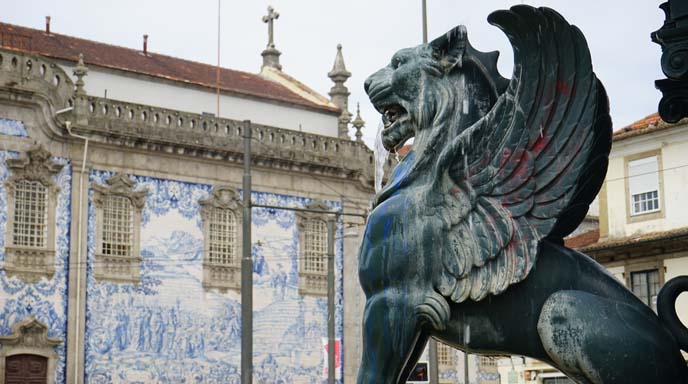 Located the left, Carmelitas has an ornate gold interior. On the right, the baroque Carmo has a striking blue and white panel on the side. 
It seems blue and white are favorite colors here — I can see that inspiration comes from the sky.
Those classic facades, with swirling wire balconies!
Our guide stopped at a viewpoint, overlooking red rooftops and the Romanesque Porto Cathedral (oldest in the city). I did a little panorama of this view on my Vine (you can add me @lacarmina).
Onward to my favorite Porto neighborhood: Bombarda, a district filled with young art and hip galleries.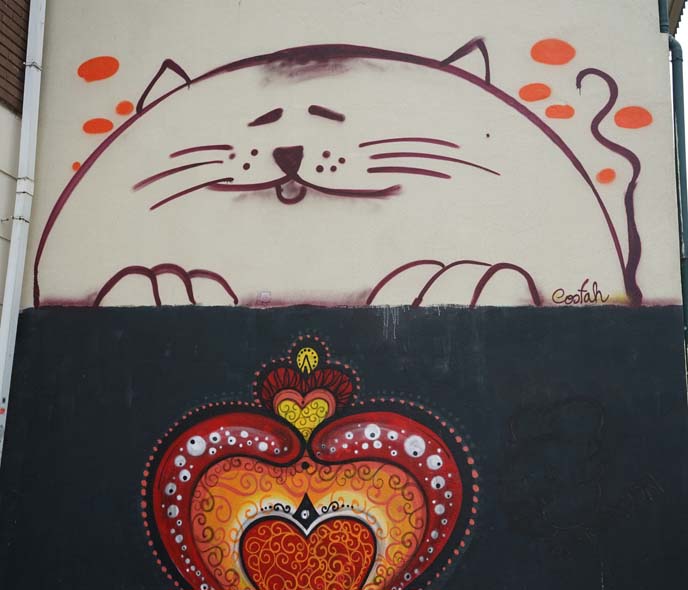 Bombarda is the bomb. Every few paces, we saw giant works of street art. The round cat over-top a heart was my favorite.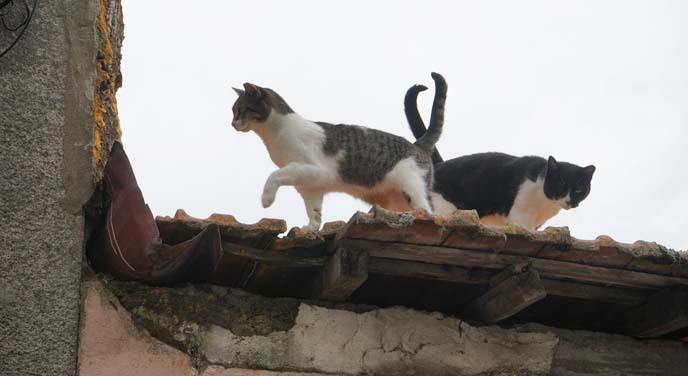 Perhaps these two kitties, intertwining their tails on a nearby wall, were the muses.
We browsed small, indie "creative shops" inside the Bombarda CCB Centro Comercial.
Locals have all sorts of designs on display here, from Robert Smith illustrations to dog and cat lamps. We also stopped by the CCB cafeteria for a simple yet incredibly tasty homestyle meal.
I recommend walking on Rua Miguel Bombarda, and popping into the various galleries. So much intriguing art to see here! Keep reading…
Some of the most striking designs were the ones found outside, on walls.
Bombarda is also home to hip boutiques. I found these Japanese tins in a tea parlor that had a Buddha garden in the back.
Porto has a vintage feeling, and this is reflected in its many  retro and secondhand shops.
There's a lot of shopping to do in Porto, and thankfully, prices are very reasonable. I was tempted to take home a jar of pumpkin jam, a local speciality. 
And I wanted to get one of these bright kids books, by a local author who runs this shop.
Bombarda has a long wall of murals by different artists. Even here, the ocean and fishing are popular themes.
Quirky, modern, creative — the street art sums up Porto in a nutshell. (All photos by Borderless Media.)
Now, what should you eat when you're in Porto? All the locals suggested that we try a francesinha, or Portuguese sandwich that is a local spin on the French croque-monsieur.
This dish is found in most Portuguese local restaurants, and everyone will have a different opinion on who makes it best. We tried it at this cafe, around the corner from our Infante Sagres Palace Hotel.
The francesinha is a beast. It's a giant ham sandwich covered in melted cheese with an egg on top, served in a pan of thick tomato gravy with a spicy kick. Unless you're a sumo wrestler, it's hard to finish by yourself!
Being a port city, we had access to the freshest seafood at low prices. We ate an incredible dinner at Book Restaurant, starting with warm baked bread and olive spread.
The restaurant used to be a library, and stays true to its bookish theme. The ceiling is strung with colorful paperbacks, and a hipster bicycle sits on a shelf.
Portugal has some of the best sardines in the world. At Book Restaurant, we started with pumpkin soup and a sampling of seafood appetizers…
.. working our way up to this delectable shrimp with roe and polenta mash, served in a copper pot.
I never knew that sponge cake could be so good until I had it for dessert here. Porto makes a version that is gooey and complex: a different species from the usual dry sponge-cakes I've tasted.
I hope my travel guide gives you a sense of this mod-meets-vintage city, filled with creativity! Thanks to Visit Porto for the hospitality, and Eurail for the train passes.
I leave you with a shot of the neofuturistic Lisbon Oriente train station, designed by Spanish architect Santiago Calatrava. Soon, we'll reveal a video that shows you more…