Alien Botany dresses by Zoetica Ebb: cyber futuristic fashion! Hong Kong's The One & K11 art mall.
What will we humans wear, in the year 2100? My bet is on this Alien Botany dress, designed by my talented friend Zoetica Ebb! 
I'm excited to reveal that her futuristic dress collection is back, in a limited quantity run. I've been wearing mine like a second skin — this truly is wearable art, designed with the body in mind.
Artist Zoetica Ebb and I have known each other for years, and I've long admired her multimedia work.
Her Alien Botany collection reflects her fascination with the cosmos and alternate history. Tentacles and alien flora slink over the fabric, creating a form-flattering effect.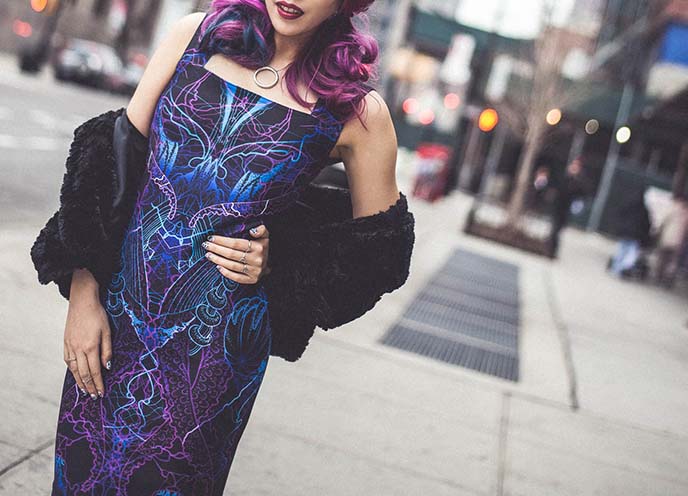 The Alien Botany dresses are made with a breathable heavy spandex. Zoetica's hyper-detailed drawings are custom printed in ornate, dazzling detail. A square collar and dip hem add to the elegance of the design.
I love the versatility of the garment: I've worn it at a crazy underground party, a family wedding, and a gathering with friends. Bonus for travelers: the fabric doesn't crease, so it's easy to pack in a suitcase. 
I'm always looking for unique fashion that reflects my love of the future, technology and subcultures. Alien Botany's "neon space punk" is unlike anything I've seen in stores.
(Joey Wong shot these photos of me in Brooklyn, NY. My hair is colored and styled by Stephanie Hoy of Vancouver, Canada).
With my purple hair, this dress seems to be made for me. Here's a close-up of the stand-out detailing and colors.
Happy news: these Alien Botany dresses have re-launched today, in two styles! You can find out more on Zoetica Ebb's web shop. 
I have the Venenum (left), and it also comes in the Theca (monochrome).
On May 3rd, you'll be able to see Zoetica's editorial for the Spring 2016 issue of Auxiliary Magazine. She styled and art-directed a showcase of her Alien Botany dresses, for this alternative fashion magazine.
Zoetica is an independent designer, and her collections are released only in small batches. If you like what you see, I encourage you to act now — once pieces are gone, they may not be available again…
The Alien Botany dresses are available internationally at www.zoeticaebb.com, along with Zoetica's original prints and art. Let me know what you think of my friend's designs, and it would be fantastic if you can share this post to support her!
Since this post has to do with the future… it makes sense to continue our adventures in Hong Kong. 
I still have photos to share with you, from my last trip to this tech-happy, pop culture city. 
Hong Kong's malls always have life-size displays for people to pose with. I came across these fighter robots and a special merchandise pop-up.
Outside iSquare mall, I found circus statues starring B. Duck, the rubber ducky.
I've photographed most of Hong Kong's streetwear malls for you, but never got the chance to showcase The One in Tsim Sha Tsui until now.
Causeway Bay remains my favorite shopping district, but TST is a close second. It has several malls dedicated to Chinese streetstyle, all within walking distance of the subway.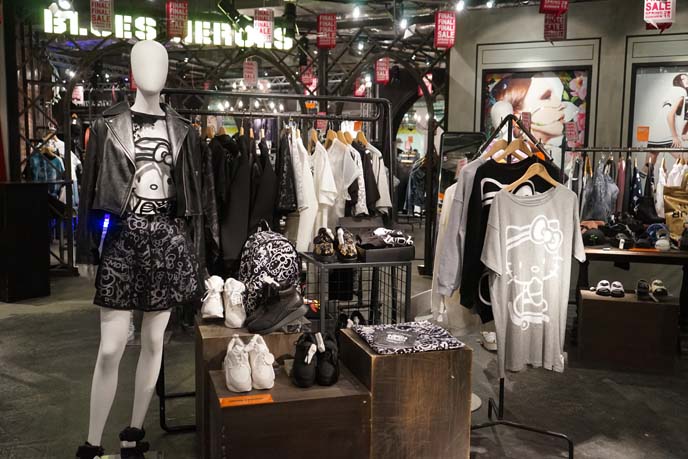 I could easily spend several hours in The One, a mall with dozens of levels. (Address: 100 Nathan Road, Tsim Sha Tsui, Kowloon)
I walked in, and immediately saw rocker fashion featuring Hello Kitty! I'd wear that leather jacket and clothes with all-over graphics.
Malls like The One are in my "sweet spot" for price and quality. The designs are unique (found only in Asia) and well made, but not overly expensive.
Here's my old favorite, Hyoma x Mini Cream. The sale prices are truly insane in Hong Kong. For example, I paid $26 US for a pair of metallic shoes from this brand — originally, they were over $200.
The label's black devil cat with round googly-eyes is irresistible.
Other boutiques in The One had collaborations with characters popular in the 1980s and 90s. The streetwear shop Ginger teamed up with Mr Happy and friends.
This mall seems to be dedicated to mascots. Garfield and Rubber Ducky are the faces of the label B. Duck.
The One is also home to the Gudetama theme restaurant, which serves dim sum that looks like the Sanrio egg character.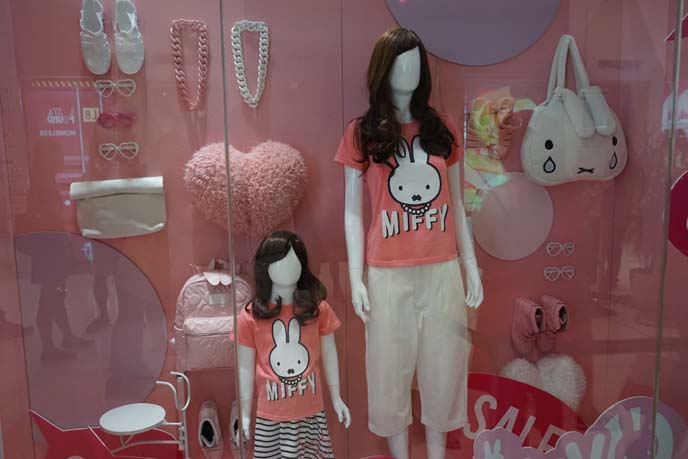 And then, there's the one who rules them all: Miffy the bunny! The purse with her crying face and plush dangling ears… yes.
I got a black and white graphic sweater at the Miffy x Two Percent store. She remains my favorite cute character.
Hong Kong's TST district is home to another favorite shopping plaza: K11 Art Mall. As the name suggests, the boutiques all have an artistic bent.
As I walked in, I bowed to the smiling dog by Japanese artist Murakami. (More photos below after the jump…)
The ground floor featured a lounge area and a Liger x Saitoe collaboration. I was instantly drawn to these retro-style illustrations and skirts.
Specialty coffee shops are gaining ground in Hong Kong. I stopped by Elephant Grounds, who even have bulletproof coffee and coconut milk lattes on the menu, for you paleo primal types.
Every time I return to Hong Kong, I get inspired by the creative beauty products found here. The Sailor Moon mascara and eyeliner with cat-eared packaging are perfect examples.
K11 in TST is one of my favorite malls because they support young, indie fashion designers. There's an entire section for them to sell their small-batch clothes.
I was tempted to get the white cat and leopard scarves, with dangling paws.
(Another place to find local artisan creations is the PMQ art center in Central, which I adore.)
Liger x Saitoe keep it classy for their collaboration. Hong Kong's graphic design is often more refined and less "cutesy" than in Japan.
The hometown hero, Bruce Lee, raises his Fists of Fury in front of the K-11 design shop.
This store has a bit of everything: kids furniture, minimalist electric fans, wooden iPhone cases, anime girl art.
Whenever I shop abroad, I avoid the international brands that you can find anywhere. I'm much more interested in what local designers are making, since they reflect the character of the city.
The Miffy madness continues in the K-11 bookstore. I had to get this 3D puzzle, which lets you piece together a statue of Miffy.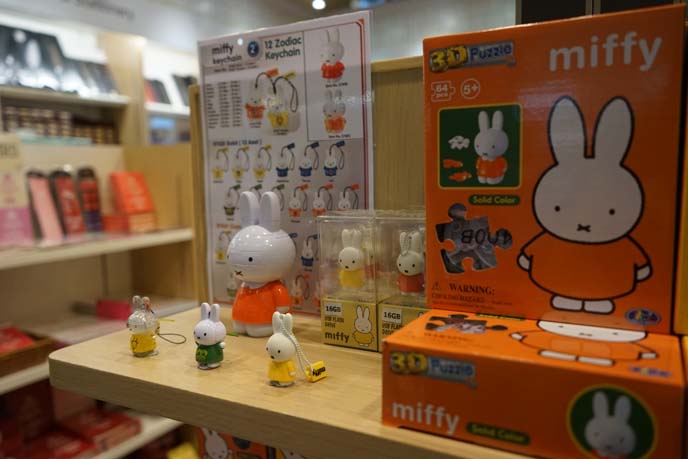 The store also sold the cutest Miffy USB sticks. For more kawaii goods, check out my Hong Kong shopping guide and map.
Aren't Hong Kong boutiques adorable?
And I hope you enjoyed these photos of my Alien Botany dress! It goes on sale today via Zoetica Ebb's shop – check it out before the stock runs out.