Kayaking in Paihia, Bay of Islands! New Zealand nature & adventure travel, Contiki tours.
I hope you're in the mood for pretty photos today… because New Zealand really knows how to work it!
When I arrived in the Bay of Islands on my Contiki tour, I felt like I had entered a living postcard. Waterfalls, dolphins, beaches… no wonder NZ is one of the world's most beautiful destinations.
I had no regrets about traveling with Contiki, a vacation company for 18-35 year olds. Everyone on the group tour got along well, and the schedule had plenty of "me time." You could go off exploring on your own, sign up for activities, relax with a book, party all night with new friends… it's up to you.
Contiki's journeys are all about living life to the fullest, and treating each day as a new adventure. I was inspired to do something different from my usual trips: get up close to nature.
My Contiki trip started in Auckland, and then we drove about three hours north to Paihia. With a misty morning view like this, it's easy to see why Paihia is considered the jewel of the Bay Of Islands. (The Bay refers to an ocean-front region with laid back towns like Kerikeri and Russell, and 144 islands).
Paihia's beaches invite both relaxation and adventure. Tourists come her to take part in all sorts of outdoor activities: scuba, fishing, skydive, parasail, kayaking. 
I confess I'm not usually an outdoors / sporty type… but it would be tragic to miss out on the natural beauty of New Zealand. My friend recommended kayaking in Paihia, so I signed up with my Contiki tour manager, Monique. (If you want to take part in an optional activity, she makes all the arrangements including transportation.)
Coastal Kayakers offers half and full day tours; I'm glad I went for the shorter one, as I was tired after several hours of paddling! Our instructor showed us how to use the oars and pedals in the rear of the two-person kayaks. Then, we were in the water and off.
Even if you're a total beginner, you'll get used to the rhythm of the strokes. The pace is leisurely; every so often, we took breaks to admire the stunning Oceanic scenery.
One of the highlights of the journey was when our Coastal Kayakers guide led us into a mangrove forest. We weaved our boats through the tress of this unique ecosystem. (Photos by Salima Remtulla)
As we passed by these remarkable mangroves, our guide spoke about their unique characteristics. These twisting trees grow in areas with low-oxygen soil, and the shallow waters let sediments accumulate to support a diversity of wildlife.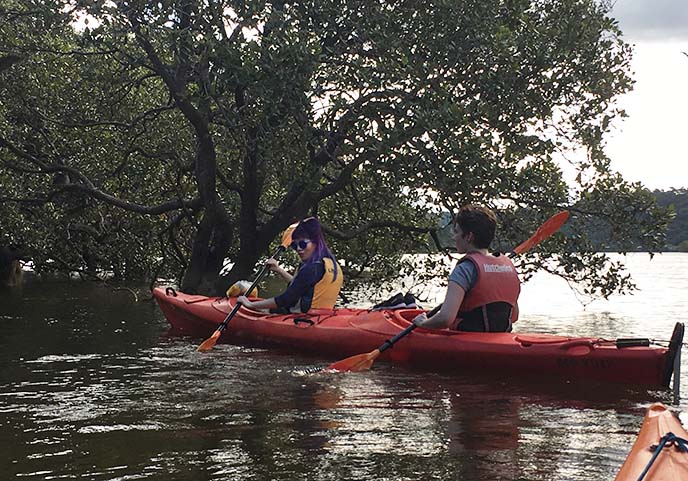 Our guide pointed out a flock of birds nesting in the branches with their children. We held our kayaks together, and she told us a legend of star-crossed Maori lovers whose tears flowed into the Waitangi River.
These tangled roots and branches look stunning in photos, but they have a purpose as well. They draw in fish and other sea creatures, and shelter them from predators. The roots also stabilize the mangroves during the daily tides, and build up sediments in the mud.
We ended the tour by paddling up to Hararu Falls. The image looks more hardcore than it is — people don't go over the waterfall, but can approach the roaring waters from below.
The horseshoe-shaped Hararu looked a bit like a miniature Niagara Falls. The falling water creates a foamy top layer that reminded me of a bubble bath.
We went on land for rest and refreshments, and everyone in the group got to know each other better. Then, it was back on the kayak for the 30 minute journey home.
Coastal Kayakers was the highlight of my time in Paihia. I'm happy I challenged myself on this eco-tour, and was rewarded with the beauty of the Bay of Islands. 
Back in Paihia, I reverted to my modus operandi… and explored the fashion in this cute town. Paihia is a tiny vacationer's spot with a handful of retro vintage stores, cafes and artisan boutiques.
I couldn't resist getting a scoop of gelato, although it was hard to pick from the 100+ flavors. I went with licorice, as it reminds of absinthe ice cream I had in Prague.
Later that evening, I had fresh New Zealand seafood at one of the ocean-side restaurants. NZ has all types of international cuisine but is famous for its fish and mussels, so I encourage you to seek it out.
I went inside this shop that sold Maori art. Love the intricate patterns and tattoos that are part of the native culture.
I learned from our Contiki manager Monique that "Aotearoa" is the widely known Maori name for the entire country.
The Contiki "Sun and Steam" tour includes all breakfasts, and a number of group dinners. I enjoyed dining on fish and chips at the Paihia Ex-Servicemen's Club. This venue is usually for members only, but Contiki has special arrangements that let us through the door.
Monique poses with the hostess, "Auntie," who came to each table to introduce herself and make sure we had everything we needed.
At each stop on the tour, you can choose to join a variety of optional excursions (for a fee, but it's less than if you booked it on your own).
While I kayaked, photographer John Contompasis went on a catamaran cruise around the Bay of Islands. His group saw all types of marine life, and he captured this dolphin jumping out of the water! 
The dolphin cruise also sailed to Hole in the Rock on Motukokako Island, a natural wonder that you can pass through.
Arr, there be pirates in Paihia. After spending time on the water, I understand why many travel bloggers consider New Zealand one of their favorite destinations.
I've heard of bus tours that force you to stop in tourist traps such as warehouses. This was never the case with Contiki — we always took lunch and bathroom breaks in charming towns, where we could find lunch or mosey around.
In Whangarei, I strolled by the sailboats and went into a free art exhibition. 
If "The Sleep of Reason Produces Monsters," I wouldn't mind dreaming about these creatures.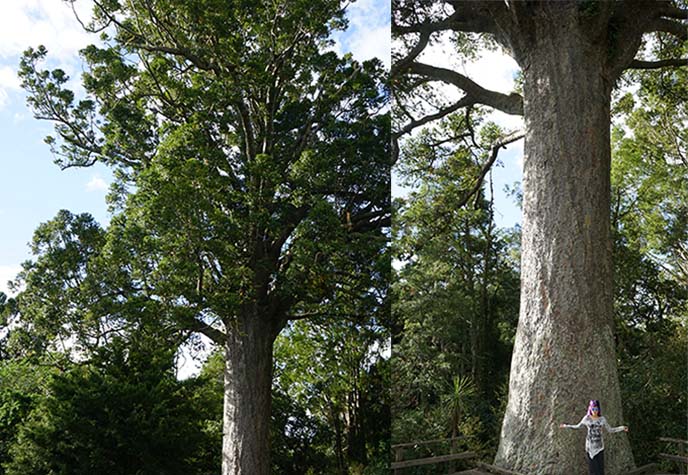 The Contiki bus also stopped at Tane Moana, home of the giant Kauri Tree. Check out the size of the trunk compared to little ol' me. (The entire tree wouldn't even fit in a vertical photo.)
Tane Moana also had a rainway walk that led through the forest. I looked up at this canopy of leaves.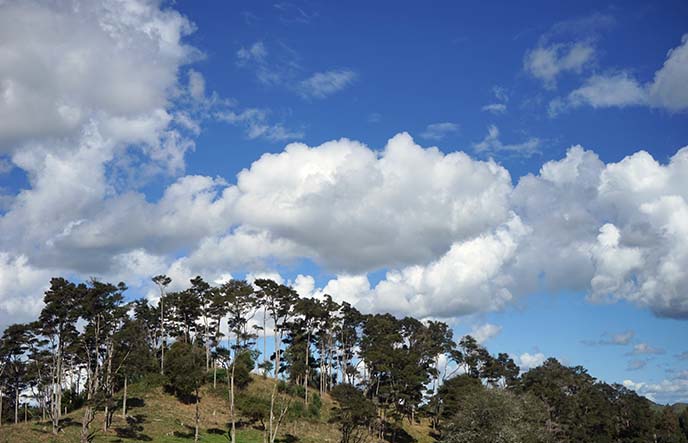 The bus ride itself was a pleasure. Everyone enjoyed the ever-changing scenery from the window, and chatted and listened to music.
Contiki buses are also equipped with Wifi internet, in case you need to Instagram or Snapchat your experience. (I did — I'm @lacarmina on these social networks).
Looking back at these photos, I'm amazed at what I got to experience in just seven days. I didn't get to see New Zealand's South Island this time, but that gives me a good reason to come back soon.
What do you think of my Contiki tour experience? Have you ever spent time in the great outdoors, on an eco or adventure trip?
PS: I'm gearing up for six new destinations this summer… announcement soon. I'll give you a hint. Miffy!