Kyoto Fushimi Inari shrine: famous red-orange Japanese temple gates! Hotel Gracery Sanjo, kabuki themed room.
Kyoto! Hello! Even though I'm frequently in Tokyo, I haven't been to the city of temples in years.
I had the perfect opportunity to visit Kyoto with my Japan Rail Pass, which gave me unlimited access to Japanese trains, buses and ferries for a week. In less than 3 hours, I arrived by bullet train and made it to the famous gates of Fushimi Inari shrine.
I have a feeling you might be seeking a sense of peace… so in this post, I'll show you some of Kyoto's magnificent temples. This was the Imperial capital for over 1000 years, and is still considered the cultural and spiritual center of Japan.
Kyoto was spared from the WWII bombings, which makes it one of the best preserved cities in the country. With nearly 2000 Buddhist temples, 500 Shinto shrines and world class art museums, this is a culture-lover's dream destination.
If you only have a brief time in Kyoto, I urge you not to stress about seeing all the temples. Go with the flow, wander into small shrines and graveyards, eat the seasonal and local cuisine, browse artisan shops — that's the magic of Kyoto, Japan.
(I'm wearing an Alien Botany dress by Zoetica Ebb, illustrator and designer. Here are more detailed photos of me in this dress, shot in NYC.)
I wanted every aspect of this trip to be immersive — so we stayed at Hotel Gracery Sanjo Kyoto, which has a special kabuki themed room!
This hotel is affordable, and in an ideal location: right in Teramachi Shopping Arcade, which is filled with antiques, cute goods, kimono shops, you name it.
You can request to stay in their unique kabuki room, which is inspired by the classical Japanese drama. Kabuki performances date back to the Edo period, and are characterized by stylized movements, elaborate makeup and traditional tales.
I was impressed by how Hotel Gracery captured the ambiance of Kyoto's theater culture. The room is gracefully decorated with cherry blossoms, glowing red lanterns, and silky red floral prints that match the kimono in the painting. Even the ceilings are painted with elegant panels.
(I'm wearing a circular metallic choker similar to this necklace.)
All of the hotel's rooms are comfortable, with modern toilets and giant bathtubs. There's a fantastic spread of international and Japanese food at breakfast: every morning, I ate my fill of soft tofu, matcha, seaweed, and rice with tiny fish.
Hotel Gracery Kyoto Sanjo has my thumbs up. You can book a stay and find out more here, including room prices and options.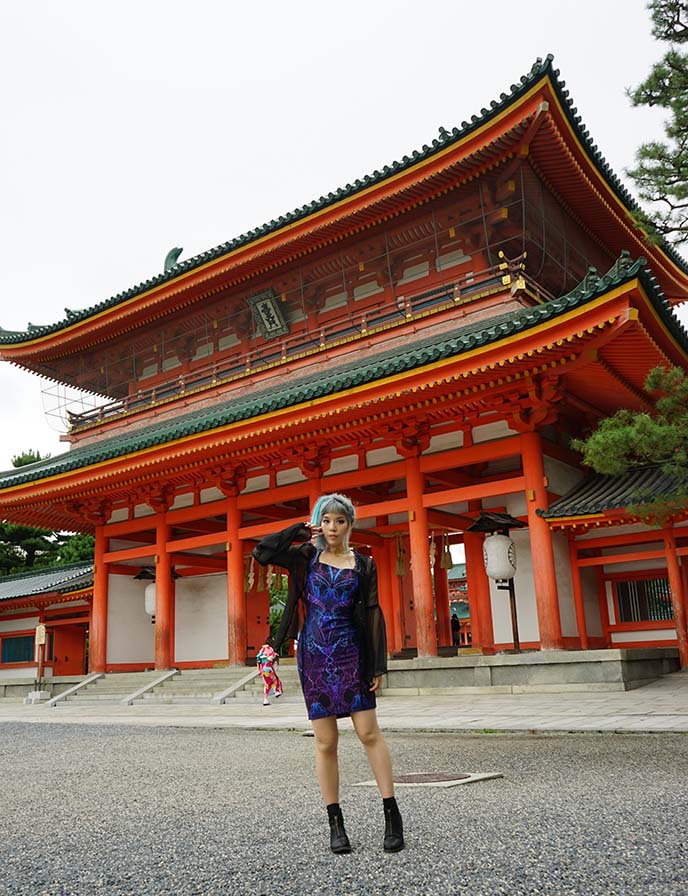 Our hotel was a quick walk to Gion (the geisha district) and the major attractions in Kyoto. Many tourists rush around trying to see everything, and end up getting "templed out." I preferred to explore at a leisurely place, an approach that jived with the peaceful atmosphere of the city.
We walked to Heian Jingu, one of the most famous Shinto shrines. Built in 1895, this shrine is dedicated to the Imperial family, and commemorates the first and last emperors to live in Kyoto.
Let's talk about the rituals and objects you'll usually encounter, and their special meanings.
Outside many Shinto shrines, you'll see a stack of empty sake barrels. These are "kazaridaru," or decoration barrels marked with brewery labels. Sake represents the spiritual connection between humans, brewers and gods, who drink and rejoice during festivals.
In the courtyard of Heian Shrine, I made my way to the chozura or temizuya — a Shinto water pavilion found at the entrance of shrines. Before entering, visitors perform a purification rite: they scoop up some of the water to wash their left hand, right hand, mouth, and handle of the ladle.
A Japanese dragon watches over the water ablutions. To the right, a closeup on the ema: Shinto worshipers write their wishes and intentions on these wooden plaques.
Both Shinto and Buddhist shrines often have wire racks or tree branches covered in strips of paper. These o-mikuji are fortunes that you randomly choose from a box. If the news is good, you can keep it or tie it up. If it's bad, you'll want to tie the paper securely so that it doesn't go home with you.
Finally, these zigzag paper streamers are called shide. They're often attached to a wand and shaken, as a Shinto blessing. These ones hang from a prayer rope called a shimenawa, warding off evil and delineating a sacred space.
While it's nice to see the biggest and most popular sights in Kyoto, they have their downsides. Some places, like Nijo Castle, have entrance fees and hoards of tour buses, which can spoil the mood.
I highly encourage you to wander around and visit the smaller, local temples. My friends and I came across this one (we don't even know the name of it) on a walk, and it turned out to be one of my favorites.
The dark wood architecture was beautiful and rather Gothic. There was also nobody else there, which let me pause and take in the surroundings in peace.
Another bonus: we discovered a traditional graveyard in the back! These tall wood tablets or sticks are sotoba. They're carved with the Buddhist names that practitioners receive after they die. (Photos by John S.)
Kyoto is one of my favorite destinations for architecture. So many forms, natural materials and textures in a single photo.
(I'm wearing an Alien Botany dress by Zoetica Ebb, you can see more photos here.)
Kyoto is home to Ryoan-ji, the most famous Zen rock garden. However, in the little temples, you'll find unexpected and lovely gardens such as this. Don't miss out on these little-known gems.
On the other hand, I encourage you to see one of the most famous sights in all of Japan: Fushimi Inari Taisha. I'm sure you have seen photos of this unmistakable shrine, with a path lined with thousands of orange torii gates.
You'll likely to take a taxi or subway to Fushimi Inari, which is about 20 minutes from Gion. This is the head shrine of Inari, a Shinto god with thousands of dedicated shrines (as well as Buddhist temples) all over Japan. These fox statues (kitsune) are the messengers of Inari, bearing symbolic objects in their mouths or paws.
We saw Shinto priests performing a ceremony, clad in white robes and black hats.
Founded in the year 711, the shrine sits at the base of Inari mountain, and has trails that go up several kilometers. If you walk the entire pathway, lined with vermilion torii gates, it'll take you about two hours. (We only went up part of the way.)
The gates are arranged so that everyone walks upward in the same direction, and down on the opposite side. If you want a photo without anyone else in the shot, walk further up and be patient, since the path can be quite crowded.
There are about 5000 red-orange gates in total. Walking through these seemingly endless arches turns into a type of meditation; you feel protected by the warm tunnel, and can peer through the posts into the trees and sky.
(The engraved Japanese characters, or kanji, represent the names of donors.)
The kami Inari is the god of foxes, fertility, agriculture, and general prosperity. We couldn't resist buying one of these blank wooden boards shaped like a fox for 500 yen. Fushimi Inari provides black marker pens for you to draw a face on the front, and write down your name and wishes on the back.
Who else but La Carmina and friends would decorate it with a Miffy X-mouth, Satanic pentagram, decadent eyelashes, and kawaii cheeks? 
When the ema is complete, you hang it up with the others. How fun to see the creativity of everyone's drawings.
Fushimi Inari is rich with history, and the gates are magnificent to see in person. There's no entrance fee, so you have no excuse for missing it!
Now, how about lunch? I could spend weeks in Kyoto simply trying all the fantastic food.
On the recommendation of DJ Mistress Maya, we ate at Daruman Kyoto (8-4 Okazaki Saishojicho, Sakyo Ward). This is a vegetarian obanzai restaurant, which means everything is cooked in the traditional style, and at least half the ingredients are produced locally. Obanzai cooking is simple, healthy and focuses on avoiding waste — and yet, the dishes are imaginative and incredibly tasty. 
I love homey, local restaurants such as Daruman. The interior is filled with adorable touches such as this owl toothpick pot, and a chopstick holder shaped like a daruma (round dharma doll). (My Pokemon Go nail art is by Glam Nail Studio.)
The owner is an electro/techno musician, and he came by the table to personally greet us and offer suggestions. We chose the hot sake that he recommended, and at the end, he brought out a special green tea and red bean dessert — on the house.
How enticing is this vegetarian "moriawase" spread? Obanzai cooking relies on seasonal produce: I was happy to see kabocha, or Japanese pumpkin, for the fall. The matcha (green tea) tofu is a local specialty, made by monks at a nearby Zen temple. We also got to choose between hot or cold soba, perfectly prepared with a side of crispy tempura.
You'll find fantastic vegetarian or vegan food in Kyoto, and Daruman is proof of how well it can be executed.
On the non-veg side, I am still salivating over the spicy miso ramen I had at Sen no kaze, a counter-style restaurant run by women wearing hats. It's quite possibly the best ramen I've ever had — and I've had a lot.
Later, I stopped by Cafe Dong, located inside the modern Sfera design building. I slowly sipped at a whisked matcha and took in the surroundings — such a change from fast-paced, go-go-go Tokyo.
The Sfera building also houses a design shop and museum with changing exhibitions. The minimal, Zen interior decor gave me inspiration for my apartment.
I hope you enjoyed reading about the temple culture of Kyoto. Coming up, I'll post photos of the vintage and artistic boutiques I found during my stay, as well as another cute shrine.
Arigato to the kind staff at Hotel Gracery Kyoto, and JRailPass  for a week-long unlimited train pass that made these travels possible.
Have you heard of Fushimi Inari shrine before? If you've visited Kyoto, what did you love best about your experience? I hope this post brings you a sense of tranquility, in these crazy times…