It's Black Friday! Where to shop for Gothic clothes & buy Goth fashion. Shinjuku cute shopping.
It's Black Friday — the best time of year to get discounted Gothic fashion. Case in point: all the Goth clothes at Dollskill are all 30% off now!
(And here are many more discount deals, all on one page. These include Killstar, Disturbia, Tripp NYC, Long Clothing, Morph8ne, Sourpuss, YRU, Demonia etc).
Since I'm often asked where I buy my clothes, I did a handy round-up of my favorite retailers. You might have noticed I've been wearing less Japanese and Lolita clothing these days. While I still love the style, I'm enjoying a more minimal Gothic look recently.
Above is one of my current favorites: Morph8ne, an independent designer based in Thailand. They produce dark dolly fashion, with unique details like ribbon corset lacing. In the above right photo, I'm wearing this exact sweater, which is now on sale.
Below are more discounted items from Morph8ne.

I've been wearing Long Clothing a lot on my travels. Their oversized streetwear is comfortable yet eye-catching (get it?).
Click to get the Long Clothing eyeball shirt that I'm wearing above.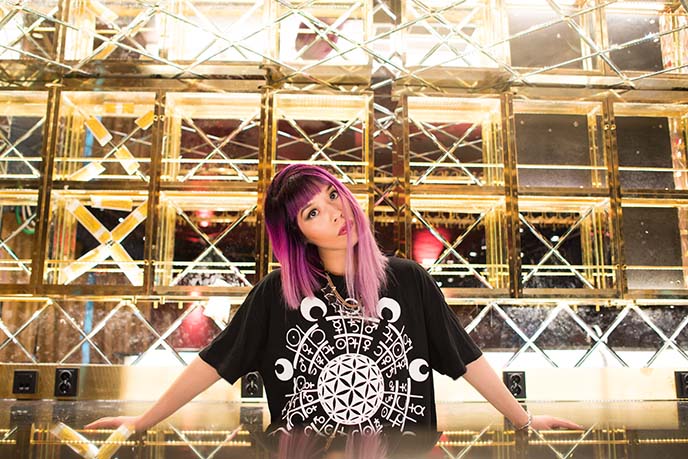 Long Clothing did a fantastic collaboration with Grace Neutral (the hand-poke tattoo artist, model and body modification aficionado) — including this mandala shirt. I also have several pieces from their Long Clothing x Mishka clothing line.
I've selected my favorite designs below; toggle the arrows to browse:

Killstar needs no introduction. This leading "Nu Goth" brand is known for dark, occult designs that incorporate Satanic symbols and runes (like in my outfit).
Killstar recently released a Marilyn Manson collection, which rocks. They have a range of styles for both men and women: I'm coveting this Wednesday Addams dress, and pentagram harness. I'm also tempted to get Killstar's coffin shaped wallet… And basically everything in the images below!


Some of my favorite wardrobe pieces are by Disturbia, who consistently produce edgy, Gothic designs.
Above, I'm wearing this exact spider bomber jacket, which is now discounted. Disturbia also makes a Lucifer jacket with rainbow font.
Disturbia is also all about occult and wiccan symbology. Some of their designs pay homage to horror writer Lovecraft. Take, for example, this triangle seeing eye backpack, and skull sweatshirt with extra long sleeves.

Now, let's talk footwear! I purchase Goth / alternative boots and shoes from TUK, Demonia and Iron Fist.
YRU Shoes makes the best platforms ever. Above, I'm wearing clear cloud-sandals available from my closet sale.
Y.R.U. also produces reflective metallic lace-ups, these rainbow-heel booties, and Sanrio Little Twin Stars pink platforms.


And then, there is my beloved Miffy. Chinti and Parker did a beautiful collaboration with the cute bunny: their adult tops are made with luxury fabrics like cashmere.
If you're "mad for Miffy" like me, you'll want to get the striped top I'm wearing in the photo, or the black version of this shirt. How adorable are these designs?

Finally, don't miss the Shopbop Thanksgiving sale: with the code "GOBIG16", you get 15% off orders of over $200. The percentage rises if you purchase more, so come take a look.
Shopbop carries dresses by Jen's Pirate Booty: the name says it all. The one I'm wearing is similar to the Pirate Fairytale and lace up black dress (and more underneath).

I hope this helps answer the question of where I get my Goth Alternative clothes! It's a great time to order items online, as there are tons of sales and you don't have to battle the crowds.
(Don't forget to also check out my wardrobe sale here. You can also see all my favorite Gothic items on one shoppable page.) 
I also compiled discount codes for all my favorite brands, all on one page. These include Killstar, Disturbia, Tripp NYC, Long Clothing, Morph8ne, Sourpuss, YRU, Demonia and many more alternative labels! There are also coupon and promo discounts for general clothing, makeup (Sephora, MAC etc), travel, hotels and home goods.
See ALL my promo / gift codes here — feel free to share! Just click on the link to the retailer, and it'll automatically apply the best possible discounts.
For more shopping inspiration, I'll share some photos I recently took in Shinjuku, Tokyo. In this district, the cuteness factor is always through the roof.
This was a big year for Pokemon. At the department store Studio Alta, Pikachu and his compadres had a pop up boutique. (Alta is located right across from Shinjuku East Exit.)
Pokemon Go fans went cray for these kawaii pins, keychains and other cute character goods.
My Pokemon Go ghost-character nail art fit in with these plush Pikachus.
How amazing is this adult skeleton onesie (available here)? Inside Studio Alta, you'll find "spoopy" accessories any time of the year, like zombie eyeball knee highs.
Gyaru, decora and ganguro girls would go nuts for the rainbow striped and leopard print socks.
These plush toy frogs look like they're into the fetish scene.
At Algonquins, a pumpkin-headed gentleman greeted visitors. The store carries Goth Punk Aristocrat and Lolita styles (I have a few Algonquins items for sale, email me if you can't find the listings.)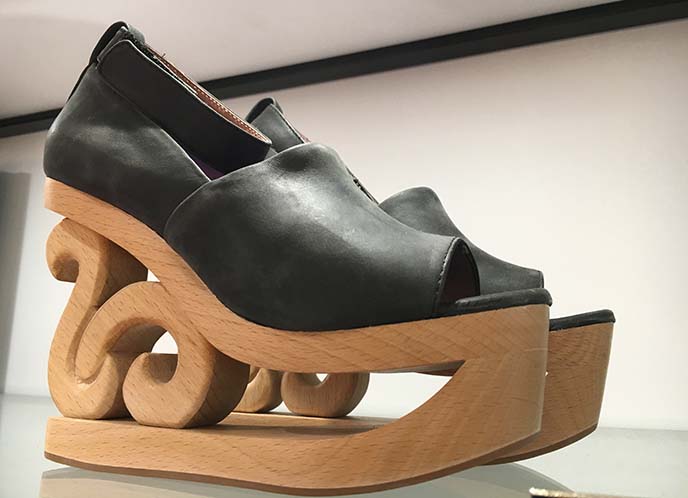 Cut out heels are everything. (YRU has platform shoes with star and moon cutouts!)
Monsters, Inc? Beautiful faux fur, with a gloomy eye and vampire teeth.
Disney products are popular in various Tokyo stores. I encourage you to visit Studio Alta and walk around; there are always new, trendy items on the racks.
One of the boutiques had Junie Moon and Blythe dolls, in sweet Lolita doll garments.
Lots of Lolita, royal and pirate influences. Which of these outfits do you like best?
Don't forget the basement / lower levels of Studio Alta. You can buy yuzu drinks from the 7-Eleven, and pick up a smiling bear or cat cake from Swimmer.
Love the creative decoration: chocolate cookie ears, raspberry bow ties. These Japanese animal desserts are too cute to eat!
Shinjuku is one of the best neighborhoods to find cute accessories and gifts. These kitty-faced bags are similar to this Lulu Guinness glittery cat coin purse. 
At Odakaya, you can find special effects / movie makeup, latex, wigs, eyelashes, feathers, fabrics… It's essentially like a drag queen's closet.
Japanese makeup is always fun and slightly bizarre, such as these "color eyebrow" mascaras modeled by anime elves. 
(Browse my favorite fashion with a click below — most items are heavily discounted right now.)



I leave you some Jrock and Visual Kei posters (you can find CDs and merchandise in Shinjuku). V-kei band Daizy Stripper is looking fresh as a daisy, for their 10th anniversary.
As always, these Visual Kei bands feature extravagant makeup, and colorful teased hair.
Marilyn Manson from the 90s, is that you?
The J-rock band Kauka asks, "Can you feel this kisses?" I sure hope so.
Neverland had a signed poster up on the wall. Since this is Japan, nobody would ever steal it.
Karaoke and giant bug monsters — this is why Tokyo is the best.
I leave you with a lucky fortune cat (maneki neko). What do you think of the latest Jpop fashions?
(If you're looking for Christmas gifts, come see my wardrobe sale here. You can also shop all my favorite Gothic fashion brands on this page.)