Visiting the Depeche Mode theme bar in Tallinn, Estonia! DM Baar, Estonian restaurants & mobile responsive blog theme.
Before we descend into the Tallinn Depeche Mode bar… look closely. Adjust your glasses. Notice anything different? Yarr, La Carmina blog got a makeover!
I'm happy to announce that this site is now fully mobile-friendly, with a streamlined and responsive design. My designers updated the social shares at the bottom, and added a "related posts" option. They made various backend tweaks to prioritise your user experience (such as improved readability, and dynamically scaling images).
If you visit LaCarmina blog on your phone, there's a handy Menu drop-down bar at the top. The theme also fits your exact screen size (see above screenshots).
A million thank yous to Naomi Rubin of Naomiyaki (my Pirate first mate, illustrator and web designer) and Kevin Wilson (designer, writer and cartoonist) for the magnificent coding and design work. I'm thrilled with how they updated the site. Both of them are based in Portland, OR — please keep them in mind if you're looking for web design or illustration work! They'll rock your socks, guaranteed.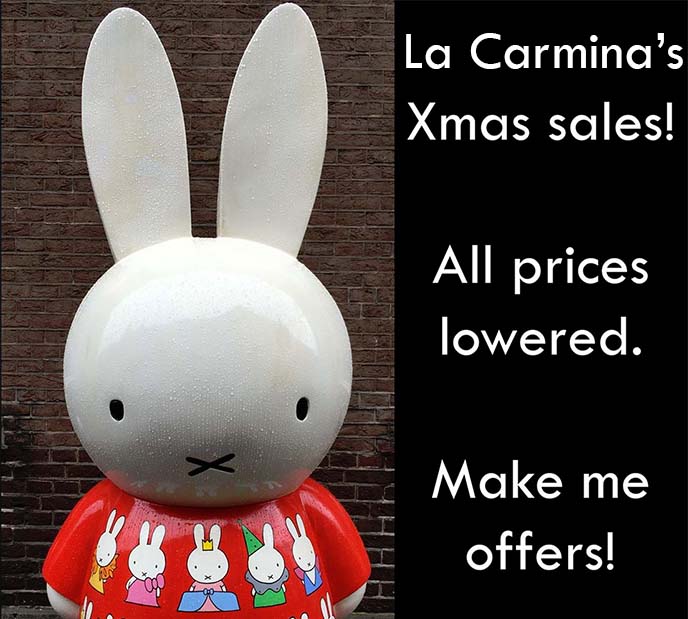 One more announcement: as the holidays near, I've put up more cute items on my shop — including the striped Peace Now jacket in the first photo!
I'm selling hundreds of items from my personal collection, from $5 + up. These include Japanese Gothic Lolita / Kawaii / Gyaru purses, coats, dresses, accessories, makeup and more. I also have a selection of designer purses (LV, Valentino, Prada) Sanrio Hello Kitty, vintage, Asian labels, you name it.
* Intrigued? I invite you to check out my sales listings here (there are photos, prices and details).
* Then, email gothiccarmina @ gmail dott com, letting me know what you'd like. I'd be glad to do bundle discounts and exact shipping, and work out a great price! Talk soon.
Now, back to tales of travel. Unless you were closely following my Snapchat (@lacarmina), you may have missed that I was in Tallinn, Estonia earlier this year.
I discovered an unexpectedly cool underground culture here — including a dive bar dedicated to the band Depeche Mode! Ever since I heard of DM Baar, "All I ever wanted, all I ever needed" was to visit. Read on for lots of photos.
My travel filmmakers and I spent a few days in Tallinn, the capital of Estonia. I'd heard that there was a hip, emerging art / food scene here — and with the help of Visit Tallinn, we got an insider's look.
You might recall that we were in Helsinki, Finland. From here, it's only a two hour ferry ride south to Tallinn (which borders the Baltic Sea and Gulf of Finland). If you're in Helsinki, we highly recommend that you take this scenic ride to Estonia — it's possible to do a day trip, but I suggest staying for several days.
There are a few ferries and dozens of departure times each day, as this is a popular route. Definitely book with Tallink Silja, which provides the best service and sailing experience. Tallink Silja's ships are large and modern, and the VIP area has a full buffet and free magazines. We were even invited up to the captain's deck to say "tere" (hello in Estonian).
I went out onto the deck to take in the landscape. Before long, I spotted the signature pointed spires of Tallinn: we had arrived!
The capital is small and easy to get around by foot. We stayed in a hotel by the Old Town Square (Raekoja plats). This quaint public area, pictured above, has a town hall and colorful buildings that that date back to 1322. 
Not far from Tallinn's main square is DM Baar, the world's only Depeche Mode bar! (Address: Voorimehe 4, Tallinn, Estonia). That's right: there's a theme bar in Europe entirely dedicated to Depeche Mode, the synthpop / electronic music pioneers from the 80s and 90s.
Look for a black door and hanging red sign, which features the flower cover design of their Violator album ("Personal Jesus" and "Enjoy the Silence" are on this LP.).
Estonia's Depeche Mode Baar originally opened in 1999, by a die-hard fan. The interior is a homage to the much-loved English band, filled with posters, photos, and rare memorabilia.
As you might expect, DM Baar only plays songs by one artist: Depeche Mode. I adore them, and was excited to drink and listen to their music all night long.
On the left, you can see the giant menu with dozens of cocktails named after Depeche Mode songs, like "People are People" and "Just Can't Get Enough." The drinks are standard concoctions (such as gin and orange, rum and Coke) but served with a generous pour.
In 2001, Depeche Mode members Martin Gore, Andy Fletcher and Christian Eigner came to Tallinn to perform a concert. That evening, they graced DM Bar with their presence and parted all night! The walls are filled with photographic evidence, as well as snapshots of other visiting celebrities.
The bar has several large TVs, which continuously broadcast Depeche Mode live concerts and music videos. There typically aren't too many customers here, and they tend to be fellow fans. I enjoyed relaxing on the lounge chairs with my friends, and nodding along to their famous tracks.
DM Baar has a large, cavernous second room. (If scientists ever invent teleportation, I'd have a big birthday party here.) I spotted a red lamp with the "Playing The Angel" album cover logo.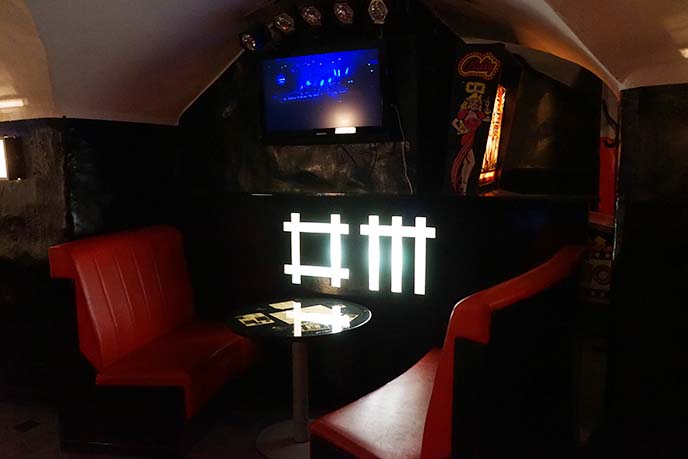 The adjoining room has private booths, lit by the glowing DM font from their "Tour of the Universe."
I uploaded a short video on Instagram, which lets you see and hear the Depeche Mode bar for yourself. You can hear the sounds of their 1987 single: "I'm taking a ride. With my best friend. I hope he never lets me down again."
If you're a Depeche Mode fan, you simply must make a pilgrimage to their themed bar in Tallinn, Estonia. And even if you're not familiar with their music, I'd recommend coming here for the magnificent songs and atmosphere. After all, as Dave Gahan sings, "Is it a sin / To be flexible / When the boat comes in?"
(The bar had lots of Depeche Mode items on display — you can shop their music and merchandise below, with a click.)

In addition to a cool nightlife, Tallinn (pronounced "Tahh-lean") has a creative culinary scene. I didn't know anything about Estonian food, and was pleased by what I discovered.
We ate lunch at Fabrik, one of the city's top rated restaurants. As you may have seen on my Snapchat (@lacarmina), their Nordic style menu and interior decor are feasts for the eyes.
We sat down in this modern / minimal interior (my favorite type of decor), and whetted our appetites with shots of Vana Tallinn. This is a dark, spicy rum-based liqueur that warms your bones right up.
Fabrik's menu is inspired by the seasons and high-quality produce: the dishes are playful, and presented in eye-catching color. Case in point above: beetroot with sea buckthorn (little orange berries with medicinal properties), goat milk yogurt and shiso — three ingredients that play unexpectedly well together.
The same goes for the smoked eel consomme with king trumpet mushrooms, and seabass with leche de tigre and coriander. And don't leave without trying a sweet or two from Fabrik's glass case of desserts. 
As you can see, Tallinn is a study in contrasts. It's an old city filled with historic architecture, but with a hipster creative culture that has sprung up fairly recently. 
Estonia is a wonderful destination for foodies. In Nordic Europe and Scandinavia, open-faced sandwiches on dark grain breads are a favorite dish. The local version is called võileib, which means "butter bread" — and once again, it's prepared in tantalising colors.
We had another memorable meal at Leib Resto & Aed, an atmospheric restaurant with a large garden, surrounded by Tallinn's old Town Wall. Chef Janno Lepik and sommelier Kristjan Peäske create local, seasonal food that is innovative, yet based on traditional cooking. 
The word "leib" refers to Estonian black bread: warm, honest, filled with dark grains. The fresh-baked bread that they served was so good that I took home an entire loaf for later!
The menu's simple farm-fresh ingredients come together in creative dishes, such as Kalamatsi dairy soft cheese with Intsu farm tomatoes, marinated onion seeds and coriander.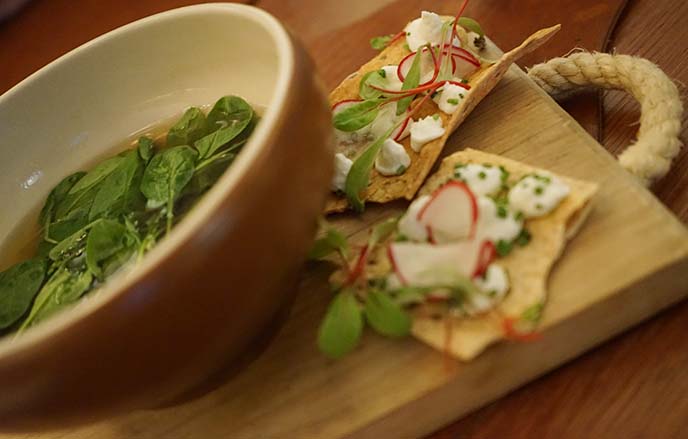 We started by tasting their homemade liqueurs, made with black currant or rhubarb. Next came a clean, soulful soup and flatbreads; as always, the presentation was delightful.
The mains proved why Leib Resto ranks consistently among the best restaurants in Tallinn: it's a fine-dining menu, in an unstuffy and rustic setting. 
Highlights include the pike perch with cauliflower cream, slow-cooked Liivimaa grass-fed beef cheek with potato foam and marinated vegetables, and desserts topped with fresh edible flowers.
It's fascinating to see the contemporary culture in Tallinn, a city with numerous historical influences. Above is Alexander Nevsky Cathedral, built when the country was part of the Russian Empire. Estonia was also a republic of the Soviet Union from 1940 until its independence on August 20, 1991.
Above, a cyclist performs tricks in front of the Liberty Cross monument in Tallinn's Freedom Square. This was established in 2009 as a memorial for those who died while fighting for Estonia's freedom and independence.
Let me assure you that Estonia is a safe and modern country today. There's a feeling of young energy here, especially in the artistic scenes. (Photos by La Carmina and Borderless Media.)
From street art to sugar skull bars, Tallinn rocks!
Coming up, I'll take you inside Tallinn's art factories and collectives, run by young creatives. There's so much to discover here — I'm glad we spent a few days exploring.
Isn't it wonderful that there's a Depeche Mode bar in Estonia? (I uploaded a short video of our visit here.)
If you also love this UK synthpop band, enjoy these favorite items below that I've picked out. And don't forget to check out my clothing and accessories sale, before items are gone!