Hipster Helsinki travel guide: steampunk bar Hell-Sinki! Kallio district, coffee shops, modern design stores.
For those who love alternative subcultures… Helsinki is one "hell" of a travel destination!
In part one of my "Finlandia" journey, I took you to a mod furniture exhibit, and sauna / restaurant by the water. Now, I'll show you around the coolest restaurants and shops in the hipster Kallio district. We'll end up in a Steampunk bar that looks like an airship, complete with jets of steam.
(I'm wearing this Spider bomber coat. It's one of my favorites, and currently on sale.)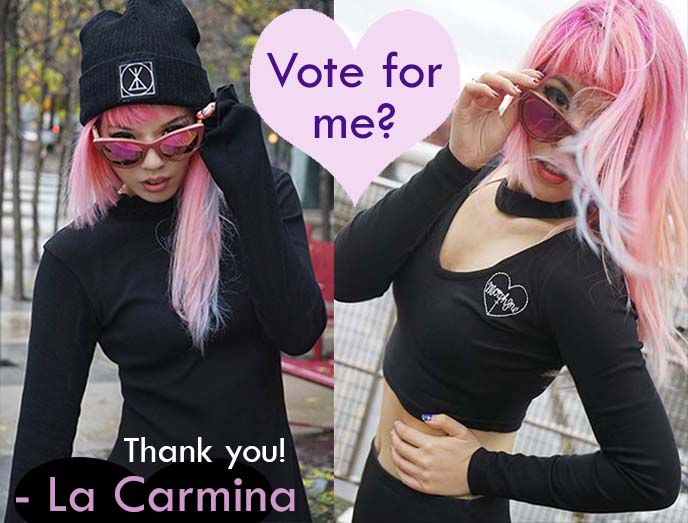 But first, some quick happy news: La Carmina is nominated for the Best Blog Award!
I was wondering if you'd be willing to take 10 seconds to vote for me? Every bit of support counts, and you can vote once a day.
● Just click here to vote for La Carmina – I'm at the end of the check list. Thank you so much for believing in me, I really appreciate your kindness over the years!
Helsinki is one of the world's most liberal and progressive cities — to the point where the pamphlets say, "We are not gay friendly. We are gay!"
My film team and I spent an afternoon in the Kallio district of Helsinki, where young artsy types tend to congregate.
Quite a few readers recommended Good Life Coffee, in the heart of Kallio. I was sold by their motto:  "Avoid Bad Coffee."
This coffeeshop chooses high grade beans, and takes a "no bull" approach to roasting and brewing (in their words). The result is simple, honest and delicious.
Good Life is a cozy spot for meeting up with friends, and flipping through design magazines. They also sell baked goods from local bakers; the restaurant / bar Sandro next door is also highly rated.
There's a similar "Coffee Is Always a Good Idea" wood wall art available here.
I'm wearing the Joanie Mule shoe, which comes in black and marble white (like the exact ones I'm wearing).
If you're digging my purse, you might like these Sanrio bags and platforms below:

A city with "hell" in its name has to have a dark subculture, right? At the rock shop Hell-Sinki, we found Scandinavian death metal soundtracks that would be perfect for a Viking invasion.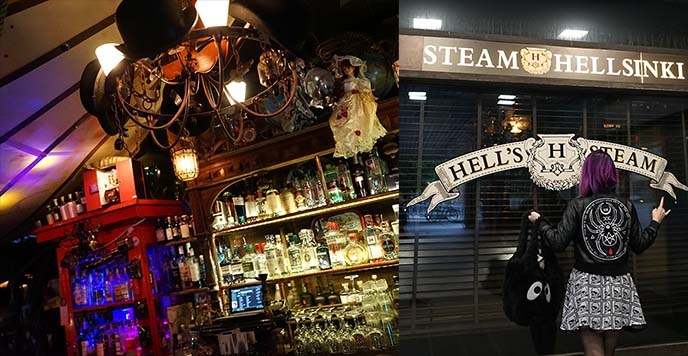 Then, it was time for a drink at the Steampunk bar, Steam Hellsinki. 
The bar is a futuristic, fantasy vision of the Victorian era meets the Wild Wild West. Old fashioned steam technology is reimagined in creative ways, and displayed all throughout the space.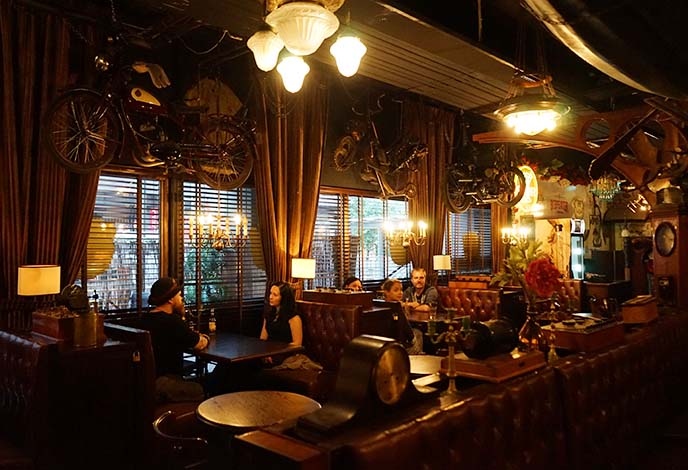 It's amazing to see how Steampunk has spread all over the world. (Remember when we went to a steam punk coffee shop in Cape Town, South Africa?)
The decor at Steam Hell Sinki is on point. We saw Gothic types hanging out on the retro couches, beneath vintage bicycles and lamps.
The piece de resistance… is a giant zeppelin airship that doubles as a bar! Colored lights dance over the blimp, giving the impression of movement. Every so often, fog spews out from the hull. 
Flowers, old pianos and vintage Victrolas add to the retro-fantasy Steampunk theme.
The resident dog is trained to put his paws up on the bar, upon command. Good boy.
Steam HellSinki has almost 100 types of gin available. The famous gin and tonics are garnished with berries and spices, and the special menu includes cocktails that come in teapots and cups.
We loved spending a relaxing evening under the chandeliers. Steampunk fans, don't miss out on this "hell" of a bar.
No doubt, Finland is a world leader for interior design. I'm obsessed with Scandinavian and mid-century modern, so it was a joy to visit the Artek store. (They carry designs including the ones below).

I smiled when I saw this Ape by Kay Bojesen, which comes in small and medium size.
I couldn't resist sitting in Eero Aarnio's iconic ball chair (available here). On the right is this Tea Trolley by Alvar Aalto, one of the founders of Artek and masters of Finnihs modern design.
If you're as much of a design fangirl as I am, don't miss out on the DesignMuseo (where I caught the Eero Aarnio retrospective) and nearby Design District Helsinki.
Helsinki has innovative interiors everywhere, including restaurants. I had lunch at the wonderfully named cafe, Why join the navy when you can be a pirate. Good question, arr.
I love eating clean, and feasted on the fresh fruit and vegetable smoothies, juices, and healthy wraps. Since we're pirates, we ordered a round of local gin (try Fevertree or Napue), garnished with rosemary and cranberries, and mixed with local tonic.
(My Spider bomber coat is fit for the captain of a pirate ship.)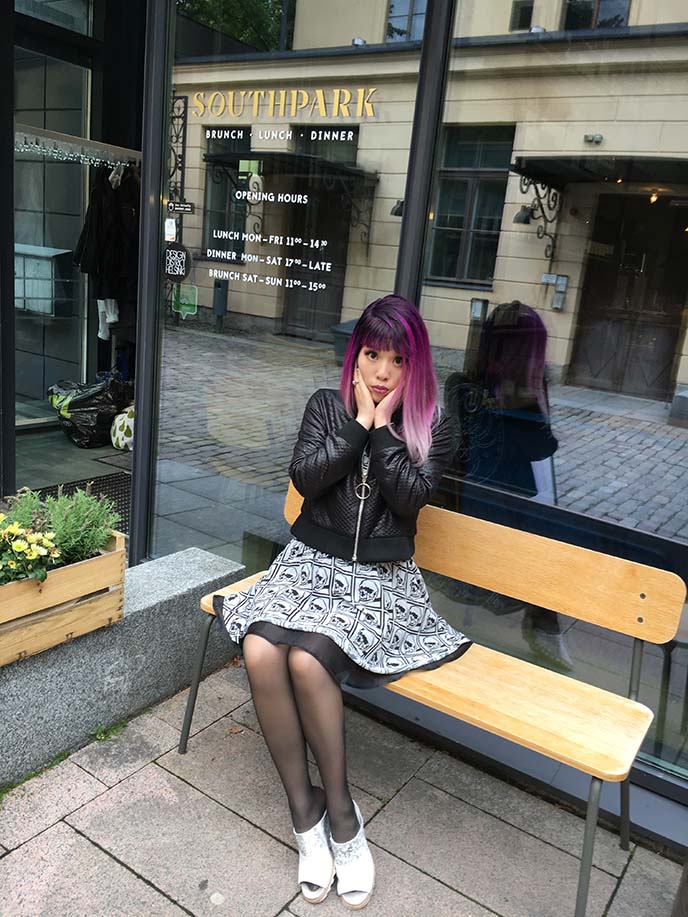 We had dinner with a view at Southpark Restaurant. You might be thinking "Omg they killed Kenny" — but this is not actually a theme restaurant based on the South Park cartoon. It's a "ravintola" named because it is in the south end of Helsinki's Sinebrychoff park.
(Find my Joanie Mule sandals in black or marble white here.)
Southpark has a wonderful atmosphere filled with light, and walls decorated with modern art. The hashtags say it all: #HellaGoodFood, #SoCalSoCool.
A lot of regulars come here, which give the room a neighborhood vibe. We loved how the owners personally took care of us, and came by the tables to chat with their guests.
All the cocktails get my top marks, especially the 1919 Sour. (They're pictured with postcards of Tom of Finland, who pushed the boundaries of gay art in the mid 20th century.)
I know Californian food well, and Southpark nails it. The tacos were magnificent (and I'm picky), and their recipes fuse this style of cuisine with local catch and produce.
For a meal that's fresh and full of color, and served by a friendly staff — come to Southpark, "Mmm-kay?"
For a hip combination of fashion and food, visit Nudge (clothing shop) and Rulla (cafe), located side by side in the centre of Helsinki.
Both share a passion for sustainability and organic production. In Nudge, you'll find one-of-a-kind clothing made by Finnish designers, like this dreamy bird kimono.
All the designs come from independent creators: you'll find natural cosmetics, eco-friendly accessories, and Finnish children's items. (The bat necklace was calling out to me.)
Located in the same space is Rulla, where you can feast on hand-made healthy rice rolls with a Scandinavian twist. The options include salmon and shrimp with herbs, and side of tangy sauces.
Time to wind down at the hippest hotel in Helsinki, Scandic Paasi. The building overlooks the water, and is located next to a lovely park.
A picture is worth a thousand words… Scandic Paasi has outstanding modern design, in the lobby and spacious rooms.
We're big fans of Scandic Hotels, which give great service and luxury at an affordable price point. (Remember our stay in Stockholm's Grand Central by Scandic?)
The color-blocked bar was a mod dream. I encourage you to book a room Scandic Paasi if you're going to Helsinki.
"Kiitos" (thank you in Finnish) to BorderlessMedia.tv for all the photography.
Helsinki is a city full of creativity — wouldn't you agree?
● PS thank you for taking a few seconds to vote for me in the Best Blog Awards! It'll make a huge difference in the final round (ending Jan 20), and I really appreciate your support over the years.
Click to VOTE now for La Carmina – Thank you!