Amsterdam's Weirdest, Strangest Museums! KattenKabinet cat museum, Dutch cocktail making & tasting tours.
Meow from Amsterdam! Welcome to my adventures in the Dutch capital.
One glance at my blog, and you know that I love all things bizarre, unusual and quirky.
To my delight, Amsterdam has museums that veer gloriously into this territory… including a cat-themed museum, Katten Kabinet!
As a cocktail-lover, I also adored the creative, interactive tours at The House of Bols and Wynand Fockink. My friends and I got to taste Dutch spirits, and mix our own cocktails.
Ready to explore Amsterdam with me? Read on for a prowl inside the cat museum, and then we'll get tipsy.
I teamed up with I Amsterdam, and they put together an itinerary that was tailored to my offbeat interests. (How do you like my flying outfit?)
I had a smooth direct flight from Vancouver to Schiphol Airport on KLM, the Dutch blue airlines known for its comfortable service. They're one of my personal favorites, and even sell a Miffy bunny toy dressed in a flight attendant uniform.
● Outfit Details ● I'm wearing MySwear customized Hoxton creepers from Farfetch, which I designed to be shiny pink with an LC monogram. I'm towing this pink Samsonite suitcase, and you can see more photos of my faux fur coat here.
Before long, I was strolling through Amsterdam, a city known for its iconic bicycles and canals. Spring-time is also a great time to visit, as the weather is warming up but the tourists have yet to arrive.
● I'm wearing a sweater that belonged to my friend Rose — but you can find a similar star sweater by Wildfox (also sold in white), and a pink knit top with stars by Acne. Check out more below:

I reunited with my local friend Leyla, who runs LeylaFashion blog. (Remember when we visited the Miffy museum in Utrecht together?) Together with photographer Arina Dresviannikova, we were ready for an epic girls trip.
The fun started at KattenKabinet, a cat-themed museum. My friends and I donned pointy-eared headbands, and walked over to the centrally-located building that looks over the canals. (Address: Herengracht 497, 1017 BT, Amsterdam, Netherlands).
The black kitty sign beckoned us to enter.
(Watch Leyla's travel vlog about Katten Kabinet to see us exploring).
Most tourists stick to the popular attractions (Anne Frank House, Rijksmuseum), but I was keen to get off the beaten path, and discover a lesser-known collection — featuring nothing but cats.
The museum is small (two floors) but the cat artwork is beautifully presented, with original pieces by masters including Pablo Picasso, Rembrandt, and Henri de Toulouse-Lautrec. 
We went up a winding staircase, and found ourselves in this Baroque-style room finished in red and gold.
This collection of cat-themed objects is not at all kitschy or tacky. The works are masterpieces, carefully chosen and arranged in royal style. 
KattenKabinet was founded in 1990 by Bob Meijer, in memory of his red tomcat John Pierpont Morgan (named after the American banker J. P. Morgan). To this day, Meijer and his family live in the upper floors of this house.
Several of his cats roam freely through the rooms. At  first, we weren't sure if this lazy fellow was real, or a stuffed kittycat!
Katten Kabinet's collection includes depictions of all types of cats (various species, colors), in a variety of mediums. I had a stare-down with this grumpy gold statue.
Many of the works are from the family's personal collection, which gives De KattenKabinet a pleasingly non-commercial feeling.
This classic Amsterdam house once belonged to a 17th century merchant. Look up, and you'll see a restored ceiling painting from this era.
However, there are contemporary works as well. In one corner, I found a spectacular costume from Andrew Lloyd Webber's "Cats" musical.
Without taking itself too seriously, the Cat Cabinet lets visitors learn about the role of felines in culture, over the centuries. These works range from advertisements for household products, to fine porcelain figures.
The gallery has partnered with famous museums like the Van Gogh, in order to present special works by famous artists. The "Cat-A-Logue" includes pieces from all over the world, such as this antique Chinese lucky cat statue.
You can't help but smile as you walk through the exhibitions. I've never seen so many cats in one place! 
Arina played a few songs on the grand piano. Behind her, it took us a minute to find out why this sprawling painting was cat-related.
Movie buffs may recognize this as a filming location for "Ocean's Twelve."
(If you like my star sweater, click for more designs below:)

The gift shop is just as joyful. The perfect place to pick up a unique souvenir for a cat enthusiast.
Isn't the wide range of kitty-designs inspiring?
If you're a fellow cat-lady, come on down to KattenKabinet. This funny Amsterdam museum has our paw-stamp of approval.
(You can watch Leyla's video about our day here and above.)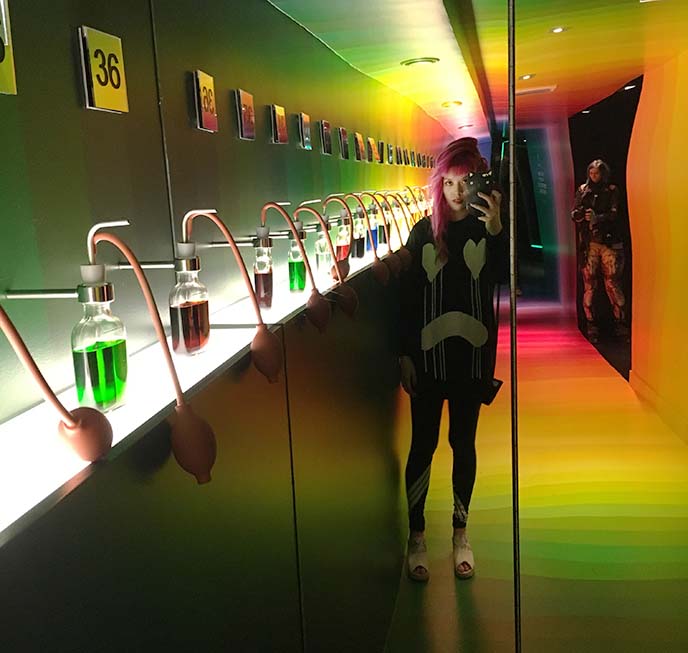 Now, let's get trippy at The House of Bols! Once more, this is not a typical museum. Bols is better described as an interactive cocktail / liqueur experience for all five senses.
(I'm wearing this Long Clothing Drippy sweatshirt with side pockets.)
House of Bols is located on Amsterdam's Museumplein — where the major museums are — and was recently renovated. (Address: Paulus Potterstraat 14, 1071 CZ Amsterdam, Netherlands)
The new design is modern and intriguingly lit, and each room is designed to stimulate the senses. In the rainbow-colored "hall of taste," I got to squeeze the bottles and guess the liqueur aromas, ranging from green apple to butterscotch.
Using various media (video, sound, sculpture, photography), the museum tells the story of the Bols family, who started producing bottles of liqueur in 1575. Lucas Bols is the world's oldest distilled spirits brand, and remains popular worldwide today.
Bols currently has 48 creatively flavored spirits, as well as genever: the neutral or juniper-flavored national liquor of the Netherlands. This is a 35% alcohol that can be a bit similar to gin, and ideal for mixing cocktails.
I thought these blue houses were toys, but they actually are bottles with a cork on top — and contain Dutch Genever!
Starting in 1952, KLM Airlines has given these "Delft Blue Houses" to business and royal class travellers. There are 96 different styles, and collectors are keen to have one of each.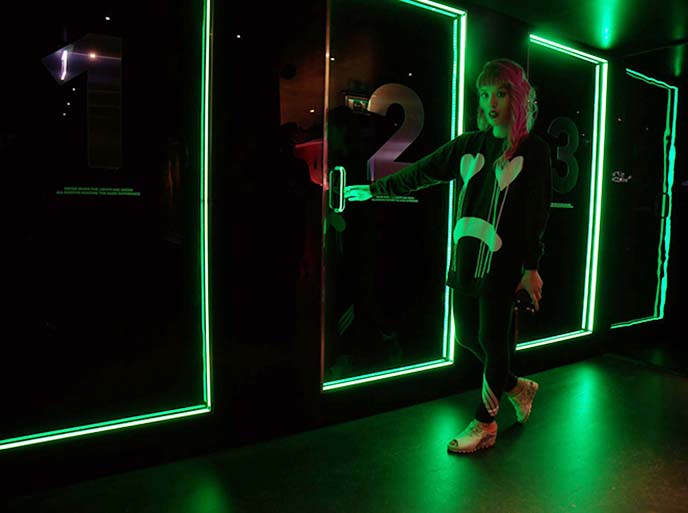 What lies behind Door #2? I received a small jar of liqueur, and went inside to find out.
Suddenly, I was transported into an interactive experience called "The Art of Flavour." Lights flashed and swirled, the floor buzzed, and music played. The taste on my tongue shifted along with these sensory changes — amazing.
In the distillery room, I learned about the extraction process and distillation of flavors. The Bols portfolio includes more than 20 brands including liqueurs, genever, gin and vodka.
Guests are encouraged to dip their hands into these bins, and smell the various natural ingredients that go into the century-old recipes.
The 48 infusions include berries, fruits, herbs and botanicals. Ginger, peppermint, blueberries, dates, amaretto, and more. 
The final stop: Bols' Mirror Bar. You can ask the professional bartenders to shake you a delicious cocktail (they are graduates of a special in-house training program)… or create one yourself.
I chose the latter, so I picked and printed out a cocktail recipe on the touch screen. I selected the "Dutch n Stormy," which combines fresh lime and ginger beer with genever (instead of rum).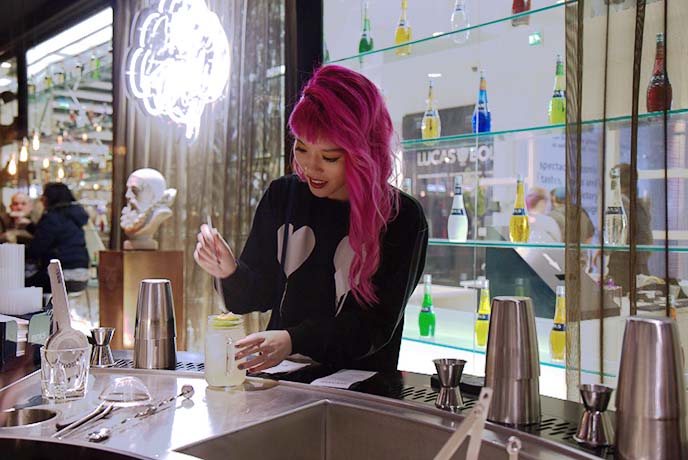 Time to shake, shake, shake! I had never made a professional cocktail, and it was fun to test out various recipes using jiggers (the measurement device) and shakers.
Visitors can also come here for group cocktail-making lessons, or book a Bols tastings or food pairing.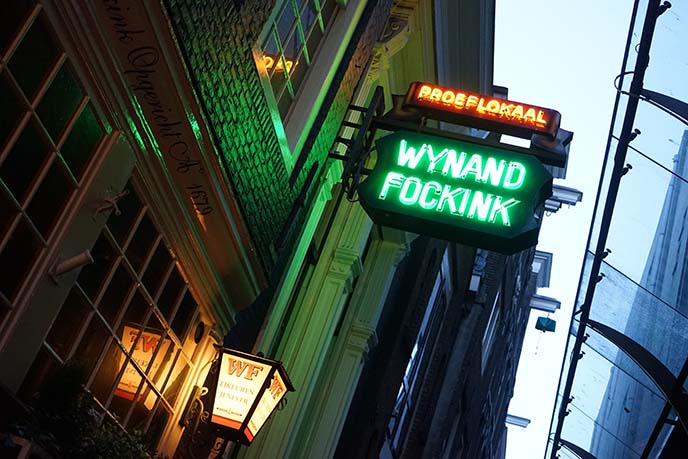 On another evening, we tried a variety of spirits at Wynand Fockink, a Dutch tasting tavern (proeflokaal). Established in 1679, this is the oldest tasting room and distillery in the city.
The bar is located not far from the Red Light District (address: Pijlsteeg 31 & 43, Amsterdam, Holland).
We took part in a tasting session, but you can also walk into the adjoining Wynand Fockink bar any time for a drink. It retains the 17th century atmosphere, and serves the liquors in the traditional fashion: filled to the top, in a tulip glass. 
The "proper" way to take your first sip is by putting your hands behind your back, leaning over, and slurping the head off the top. Not even the royal family can get out of bowing to the drink — if you try to pick it up, you'll inevitably spill it!
We tasted a variety of liqueurs and genevers, which are still made using the same 17th century traditional craft methods. The Dutch distillery produces more than 70 varieties in small batches, which preserves the high quality of the product.
Our guide took us into Wynand Fockink's distillery — which had a "Breaking Bad" vibe! There were rows of flasks, filled with fruit and herb infusions. Everything is hand-brewed in this small space, just as it was centuries ago.
The equipment has been updated (and has a steampunk look), but the process of making these traditional Dutch liqueurs is exactly the same.
Back in the tasting room, our guide entertained us with stories about the spirits while we tried them. For example, the Dutch would historically serve "Naked Belly Button Liqueur" at parties, where a pregnant mother would show her growing belly!
Wynand Fockink is not afraid to experiment with limited-run flavors. They created a pine-infused Christmas tree one during the holiday season, and a charred red pepper flavor that was unexpectedly delicious. (We picked up a few flavors at their candlelit shop next door).
I hope you enjoyed this first taste of Amsterdam! Coming up, there's a visit to the Miffy store and more… stay tuned.
PS: If you're a museum-lover like me, I highly suggest you pick up the I Amsterdam City Card, which is what we used during this trip. It's an unlimited travel pass for 1, 2 or 3 days, with tons of benefits.
The IAmsterdam card includes free public transport and entry to all the major attractions, including quirky museums and canal cruises. The perfect way to maximize your visit, and visit tons of places for a much lower price than if you bought individual entry tickets.